Pop culture descends on Shreveport
Melanie Comb isn't ashamed to admit it.
"I'm a proud geek!" she said with enthusiasm.
So, it's understandable why Comb is looking forward to Aug. 19-21. That's when the seventh Geek'd Con event – organized by Townsquare Media – will take place at the Shreveport Convention Center.
Pre-sale ticket prices are from $20 (kids) to $80. Day-of-show ticket prices are from $25 (kids) to $100.
Geek'd Con is, frankly, hard to describe. Simply put, if you like things that you think make you a geek, you will probably find something of interest.
"My husband and I like to go to this kind of thing," Comb explained. "This isn't the only one we've been to, but this is the one for which we generally dress up."
And by "dress up," Comb doesn't mean she and her husband are putting on their Sunday best. She means dressing up like a character from a movie, television show or comic strip.
"We're among the group that likes to cosplay," Comb said. "So, if you're an avid Harry Potter fan, maybe you will dress up like Hermione, Harry Potter or a character from that franchise. Or, if you're really into a certain show or maybe an anime (short for animation) show, maybe you'll try and replicate that character. If you do it well, you get to be kind of like a little celebrity for a day."
Used to be, if someone called you a geek, they weren't being nice. But as with most everything else, things have changed.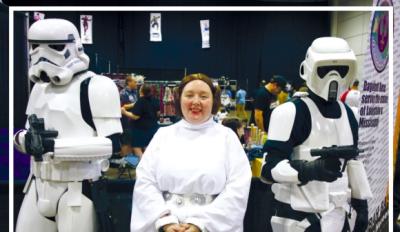 "Geek used to be a derogatory term," said Greg Atoms, live events coordinator at Townsquare Media. "Thirty years ago, you could hurt somebody's feelings by referring to them as a geek. Now, it's like a self-descriptive badge of honor. Yeah, I'm geeky. I'm into geeky stuff. So are you. People rush home to watch 'The Walking Dead' on TV, which is a show based on a comic book. People make sure they are at the theatre to see the new 'Star Wars' movie on opening weekend. That's super geeky. Pro wrestling, card games, anime, Superman – all of that stuff falls under the umbrella. Pretty much everybody has something in their life that is geeky in one way or another."
Including Comb, who feels a sense of freedom about being a self-described geek.
"As a culture, we're being encouraged to be a little more open about the things we enjoy. That's another great thing about this convention. If you run into somebody you see every day, but maybe you never brought this kind of interest up in conversation, you would have never known that this person had a similar interest as you."
This year's geeky celebrity lineup includes a monster named Herman, a bounty hunter named Dog, and a wrestler named Bunny. But, while Geek'd Con is not promoting anyone as a "headliner," there are three people – two in particular – Atoms is particularly "geeked" about.
"We ended up finding some of the guys from the original 'Scream' movie – Matthew Lillard and Skeet Ulrich, who played Billy and Stew, the original ghost-based killers in the 'Scream' movie," Atoms said. "Pairing them together for an event seemed like it was a really good idea."
Lillard is also the voice of Shaggy in the Scooby Doo movies and animated series.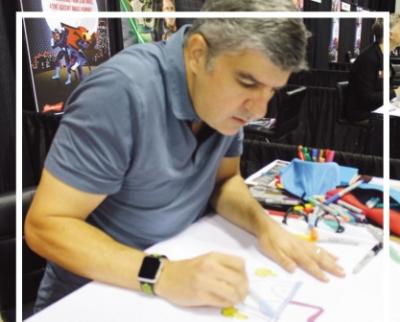 "Getting those guys together is a pretty big deal for any convention," Atoms said. "Recently, we had an opportunity to add Jamie Kennedy to the lineup, who is also another original from the 'Scream' movie. So now, we have three of the stars from the original 'Scream' movie, and all of them have been in the extended franchise as well, which is a pretty big deal. The 'Scream' franchise is huge. This is really big for a show in a market our size."
You will have a chance to meet, get an autograph and have your picture taken with any of the more than 30 celebrities expected to attend. But know going in, those things will cost you extra.
"Each one sets their own price. We have no say or take in the autographs. We do not receive proceeds from the autographs. When you are buying an autograph from a celebrity at our event, you are supporting them and their creative avenues in the most direct way possible. That money goes directly to them."
In addition to the celebrities, there will be more than 200 vendors set up for you to visit. If you've been looking for a certain comic book, trading card or action figure, you just may find it.
"A lot of the vendors, artists and authors are local people who may never pop up on your radar," Comb said. "But at this convention, you get exposed to things that are related to an interest you already have. It's really exciting to explore things you didn't realize were right around you."
Geek'd Con, a name Atoms came up with when he was planning the first show in 2015, has been popular from the start.
"The first year, it was bigger than I think any of us anticipated," Atoms remembered. "It's steadily grown since then. We've grown into the biggest Comic-Con-style event in Louisiana."
And Atoms is not surprised.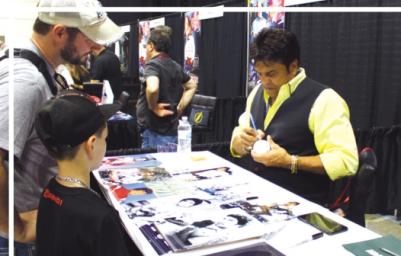 "Shreveport and Bossier City is, pound for pound, the geekiest place in America. When I first came here and was looking around town, I saw multiple independent comic bookstores and multiple independent game stores, in addition to all of the corporate and regional video game and gaming stores in this market. For a metro area this size to support as much as it does in a geek fashion, there was definitely something here that was regularly ignored. We just tapped into that."
But there's also a lot to be said for being at the right place at the right time.
"The timing was pretty perfect, nationally, because geeky stuff is super mainstream now," Atoms said. "If you look at the biggest box office movies every year – if you look at the biggest in history – they're all geek-related movies. They're either inspired by a comic book or they're sci-fi movies. Some of the biggest shows on TV are of a geek nature. Things that used to be pushed off to the side outsider culture is now mainstream culture. That's helped us gain traction and embrace people who 20 years ago would have never considered going to a Comic-Contype event. Now, they make an annual pilgrimage to Shreveport."
Where Geek'd Con has survived and thrived, similar conventions have not.
"There are hundreds of these style events that start up every year and don't see a year two," Atoms said. "There are a lot of people who think this is really easy to do, and you can just say 'OK, we'll get some celebrities, and everyone will come and love the event.' You've got to actually love this kind of stuff because it's a lot of work. It's a lot of late nights. It's a lot of emails. It's a lot of 'No's.'
While Atoms works on Geek'd Con 12 months out of the year, he gives credit to past attendees for the success of future shows.
"Every single year, we send out questionnaires and research pieces to find out what our ticket buyers – attendees – liked and didn't like. What they want to see more of. What they want to see less of. We listen to those people, and when they tell us, 'Hey, we really wish you guys had more guests who have horror movie credentials,' OK, we can work on that. When they say, 'Hey, we really want to see more (people who provide voice overs),' OK, we can make that happen. 'Hey, we would like to see some tabletop gaming tournaments. Can you get some D and D (Dungeons and Dragons) there?' We'll work on making that happen."
To find out more about Geek'd Con, including ticket prices and the lineup of guests, you may visit www.geekdcon.com.