Celebrating Heroes, Healing and Hope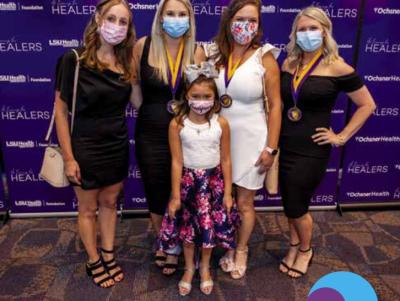 The LSU Health Sciences Foundation will host its 11th annual fundraising gala benefiting LSU Health Shreveport, An Evening for Healers, on Thursday, Sept. 22, at the Shreveport Convention Center.
Each year, An Evening for Healers shines a light on the Shreveport-Bossier community's first responders, physicians, nurses, allied health professionals and other healthcare providers who play a vital role in saving the lives of patients at Ochsner LSU Health Shreveport. The patients' stories are retold during the event through documentaries directed and produced by local video producer CRM Studios.
Since the event debuted in 2011, more than 700 healers have been honored, 22 inspiring patient stories have been shared, and nearly $3 million has been raised for LSU Health Shreveport. Funds raised through An Evening for Healers help LSU Health Shreveport recruit and retain top faculty, acquire cutting-edge technology and equipment, and support programs for students at all three LSUHS schools – the School of Medicine, School of Allied Health Professions and the School of Graduate Studies.
This year's An Evening for Healers will honor 70 more dedicated "healers" and retell the moving stories of two patients. These patients likely would not be alive today if not for the expertise of LSU Health Shreveport physicians and the care they received from their team of heroes.
Those in attendance on Sept. 22 will be the first to hear the story of a local chef who endured a debilitating stroke. They'll also hear the story of the first COVID-19- positive mother to successfully deliver her baby while on ECMO (extracorporeal membrane oxygenation). The mother was transported from Lafayette to Ochsner LSU Health Shreveport, North Louisiana's only Level 1 Trauma Center, via Life Air Rescue to save her life and her unborn baby's.
Thanks to the life-saving care they received, these patients overcame their greatest life challenge and will attend the event to thank their team of healers.
Kim Mulkey, head coach for LSU Women's basketball and a Louisiana native, will be the honored guest speaker at this year's event. "I am honored to have the opportunity to speak at An Evening for Healers.
This is an important event because of how it highlights our first responders and healthcare workers. They work hard to save lives every day so I am grateful to have the opportunity to give back," said Kim Mulkey.
Valarie Jamison, purchasing manager for Caddo Parish and current LSU Health Sciences Foundation board member, will chair the 2022 An Evening for Healers with her son, Taylor Jamison, and his wife, Destiny Talley Jamison. "It is an honor to chair this important event to ensure LSU Health is available and thriving for future generations," said the Jamisons. "Partnering with LSU Health Shreveport for this event is personal to us as our family has entrusted our health care to LSUHS physicians for three generations. We are grateful to support an institution that has given our family so much."
Ochsner Health is the presenting sponsor of An Evening for Healers for the fourth year. "We are thankful for Ochsner's continued support of this important event. Our community supporters are vital to creating a bright future for North Louisiana's health and economy", said Kevin Flood, president and CEO of the LSU Health Sciences Foundation. "We expect attendance to exceed 1,000 with more than 80 sponsorships from community leaders, businesses, LSU Health Shreveport faculty, staff and alumni. We deeply appreciate the support and acknowledgment of the irreplaceable value of LSU Health Shreveport in our community."
How to Attend: Sponsorship opportunities remain available starting at $2,000, and individual tickets can be purchased for $150.
The doors will open at 6 p.m for the welcome reception, with dinner and the program beginning at 7 p.m.
More information can be found at www.lsuhsfoundation.org/healers or by calling Katie Bursley at the LSU Health Sciences Foundation at 318.861.0855.