City welcomes new eateries
It's no secret that the traffic situation on Airline Drive in Bossier City has looked more like bustling Dallas/Fort Worth than sleepy Shreveport/Bossier City for several years.
So, it's no wonder that several savvy entrepreneurs in the food service industry would figure out that all those people in all those slow-moving cars would eventually get hungry or thirsty. Why not make sure they had some tasty things to choose from right where they were? Here are a few familiar places making their presence felt along the busy Bossier City corridor.
BUTTERCUPS

2850 Douglas Drive
What started as a hobby for a pregnant lady on maternity leave from Dillard's has grown into a thriving sweet shop business that's outgrown two locations and has landed in a third.
Kim Hand was at home awaiting the birth of her first child when she fell prey to a craving for sweets. "I was watching a Food Network show, and I followed the recipe of someone's made-from-scratch chocolate chip cookie. When I tasted it, I was blown away with the difference it makes when you make something from scratch."
That was the catalyst for what became Buttercups, although she said she never intended to have a business, let alone open a bakery. She eventually returned to her job at Dillard's and found a ready test group for baking adventures in her coworkers. She workshopped recipes with them, tested samples and eventually found herself being asked to make treats for special events for a fee.
She worked her day shift at Dillard's for a couple of years and then baked at home.
But, as the baking side got more demanding, she eventually had to forgo her "day" job for a life as a baker. When her original location, her home kitchen, got too small for the demand, she made it official. "We opened over 12 years ago. This November will be 13 years," she said. Her first child is now almost 17 years old. Her second came at the beginning of the Covid outbreak.
Unlike many small businesses, Hand and Buttercups weathered the Covid storm.
"I thank God, and I'm thankful for my staff that stuck with me. I didn't lose anybody. We just kept trucking," she said. "I've got a great staff. My general manager, Mary, has been with me since day one. My kitchen managers have been there for over six or seven years. I've got a lot of great employees, and I know that in this day and age, that is really hard to do.
"We were at a growth plateau of how much we could bake at my store in Shreveport. I said I need to do something to create more opportunity for these people who have showed me such loyalty and dedication."
That loyalty paid off. After a monthlong Covid shutdown, things took off.
"We reopened with curbside only, and we did that for a long time. And I'm telling you, I was amazed with the business that we had," Hand said. "We ran increases. We ran like 20-percent increases for 2020 over the year before. It was wild. That sales increase continued throughout the whole next year through 2021. It was really a good run."
Thus, her third location, including her kitchen, opened in June on Douglas Drive in Bossier City.
Now you can run to Bellemead Center in Shreveport or Douglas Drive in Bossier City to quench your cravings for Buttercups.
https://www.facebook.com/ButtercupsShreveport/

WE OLIVE & WINE

2620 Beene Blvd.
Just up the road on Airline, you'll find We Olive & Wine's new Bossier location if you turn on Beene Boulevard. Manager Josh Calhoun said he's been open for about eight weeks, from 10 a.m. to 9 p.m. seven days a week.
He said the unique thing he brings to the busy corridor is a mixture of retail and restaurant. "You see a lot of restaurants, and you see a lot of retail s h o p s , but you d o n ' t necessarily see them together. That's what ours is. We have a mixture of a restaurant and a retail shop with a wine bar.
"The good thing about the restaurant with our retail side is every single thing that you can get from our restaurant side you can buy from our retail side, take it home and make it yourself. All the tapenades, all the mustards, all the honeys, everything that we have, we have it out in retail for purchase."
Calhoun also said they offer a brunch menu from 10 a.m. to 1 p.m. each day.
"We were starting to burst at the seams in Shreveport. And a lot of people were coming from Bossier to Shreveport," he explained, so he went where the customers were. https://www.weolive.com/shreveport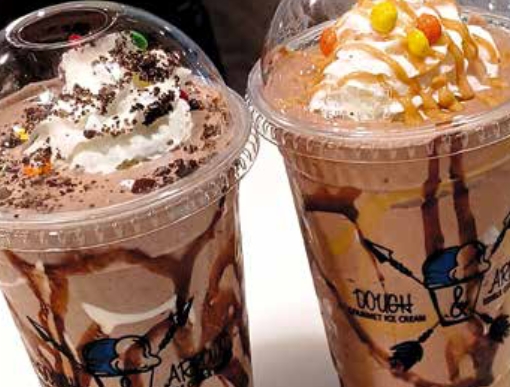 DOUGHS & ARROWS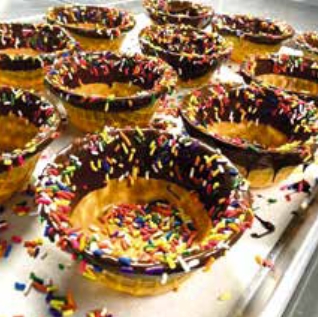 4200 Airline Drive, Suite 800
Still a little farther up Airline is the first franchise in a new company started by Mike Edwards. He calls his establishment Doughs & Arrows and says he specializes in edible cookie dough, ice cream, cheesecake, pies, brownies, Rice Krispie treats, cookies and more.
Edwards opened at the beginning of June and is still getting the name out to the public. He said customer traffic has been good.
He's open Monday through Friday from 2 p.m. to 9 p.m. and Saturday and Sunday from 12 p.m. to 9 p.m.
"This is a great spot for families to unwind and disconnect from all the technology and spend some quality time together," Edwards said. "I was a chef for 18 years. This is much funner than having a restaurant."
(318) 550-5322

https://www.doughandarrows.com/index.php/location/bossier
PAPA AND COMPANY
https://www.facebook.com/papacompanyburgers

Christie Hicks said she decided to open a second location along the busy Airline corridor because customers kept after her to do it.
"Really, just the opportunity presented itself, and we just jumped on it," Hicks said. 'We've been [in Shreveport] for about nine and a half years. And we have people who are always asking us to go out that way, so we just decided we'd give it a try."
The Shreveport location will remain open, but there will be some changes in the Bossier menu due to the size of the facility.
"The menu will remain mostly the same. I am going to have some appetizers and things. The restaurant is so big I'm going to have to make it a sit down instead of straight counter service."
RED RIVER BREW PUB

3010 Mansfield St., East Bank District
Headed back into town, the East Bank District is going to be the new home of Red River Brew Pub, according to Executive Director Allie Bean. "We feel like our presence down there kind of help to tie up loose strings on the entertainment district. Not that that's not what's already going down, but we add to that ambiance."
The Pub is scheduled to open in the early fall, and Bean said they would boast live music just like they did in the Shreveport location, which has closed.
"We'll continue to do our jam sessions down in the East Bank District. We'll have Red River Beer on tap. We're bringing the burger down to the East
Bank District. You've got pizza and the twist on Cajun food down there already. So, we're going to bring the burger.
And what goes better with beer than a nice burger?" Facebook at RedRiverBrewPub, or online at redriverbeer.com.