Wednesday, Sept. 21, 2022
New shop offers chemical-free products
For many, reading the ingredient label on a body care product may feel like reading an unknown language. But a local company that sells products with easily recognizable ingredients has opened a new shop, making it easier than ever for consumers to know what they are buying.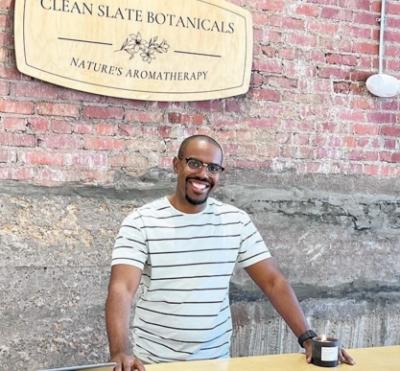 Ben Whalen founded "Ben's Body Basics" in April 2017, in part to ensure customers could easily identify the ingredients in the products they use. After extensive research and experimentation with plant-based ingredients, he began producing natural skincare products such as moisturizers and exfoliants. The company experienced significant growth by providing products free of harsh or harmful chemicals.
Recently Whalen decided to refresh the brand. On Sept. 3, Ben's Body Basics rebranded to Clean Slate Botanicals.
Along with the new brand came a new brick-and-mortar location that customers may browse in person. The company and its line of skincare products, candles and more are located inside the Andress Art and Entrepreneur Center in downtown Shreveport.
"The atmosphere of the store is a product of its own," said Whalen. "We have products that we pride ourselves tremendously in the effort that we put into them. We feel the same when it comes to the experience of our storefront. We really approached it as if it were a product as well, putting our vibes and energy and passion into it."
has many classic products that have been around for a long time. All of the skincare products are 100% vegan with locally-sourced, plantbased ingredients. Everything is handmade on site. Core offerings include face care products such as face wash, scrub and serum.
The company also has a very popular deodorant. "It is aluminumfree and baking soda-free, so it's allnatural," said Whalen. "It actually works. So many people have had a rough go when it comes to natural deodorants. Customers say the thing they like the most about our deodorant is that it actually works."
Coming up with a deodorant formula that didn't irritate the skin and prevented odor took time.
Whalen began working on it when he first started his business but took a hiatus because it was so challenging. "They would smell great, but they just wouldn't hold up to perspiration or any type of activity," said Whalen. "Over the years I learned and developed new skills. I came back to the deodorant and was finally able to crack the code."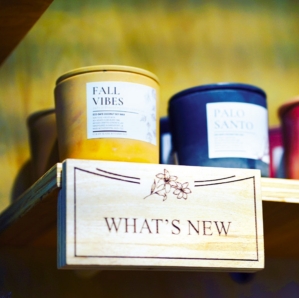 While the deodorant is a customer favorite, Whalen says that Clean Slate Botanicals is most known for its candles.
The company pours each premium-line candle into an artisan-crafted concrete vessel. Whalen and his team create each vessel in the back of the shop, using different pigments that create unique colors. Each vessel comes with a lid, so clients may repurpose them after their candles burn out.
"We know people love to have options, so we give them options," said Whalen. "When you're done with your candle you can keep your vessel. You can put a succulent in it; you can use it for jewelry ... whatever you want to do with it."
Customers may also return their vessels to the shop to be recycled. Returned and reusable vessels earn customers a 15% discount on their next candle.
The company's most popular candle is a premium candle named Palo Santo. Whalen says the most popular candles in Clean Slate Botanicals' Core Candle Collection include Louisiana Linens, Nature Walk, Brunch Vibes and Sweet Dreams.
Clean Slate Botanicals also carries seasonal candles. Autumn aficionados may snap up Pumpkin Sumthin', How You Like Them Apples Then, or Whalen's personal favorite, Fall Vibes. "I love Fall Vibes because it smells very outdoorsy," he said. "It's got salted driftwood, cedar – it has a nice, sweet-salty scent."
Clean Slate Botanicals currently partners with several local businesses that carry its products, including Well+Fed Louisiana, The Agora Borealis, 318 Art & Garden and Jolie Blonde Gifts.
Customers may also visit cleanslatebotanicals. com to view the current products, plus any deals or promotions, from the comfort of their couch. The website is also great for learning about special events or classes.
Clean Slate Botanicals is also making its Red River Revel debut this fall. Whalen says they'll be on site for the full week of Revel festivities introducing the brand to a host of new customers.
"I always knew I wanted to create and be an entrepreneur. I wanted to have something I could share with people that added value to them," said Whalen. "We are so excited to have people come in and experience our space."
Clean Slate Botanicals is open Mondays through Saturdays from 10 a.m. to 6 p.m. at 717 Crockett St.