Center for Medical Education
New research, training opportunities for students, faculty
The at LSU Health Shreveport was designed to reimagine the overall student experience as this new facility will connect mind, body and nature.
As medical education and technology improve across our nation, so must the training curriculum and teaching spaces at LSU Health Shreveport. When the LSUHS School of Medicine received approval for construction funding in 1970 for a first class of 32, consideration for wellness, cell service, the internet or accommodations for those with disabilities was not a factor in the design.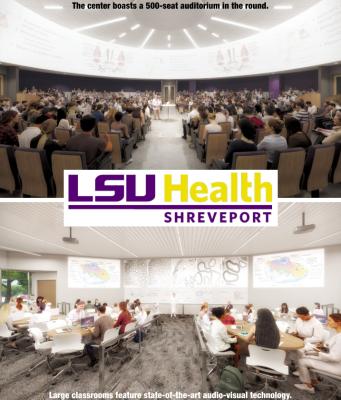 Today, all of these factors were at the forefront of construction planning, with design inspiration beginning before entering the building. Students and visitors will approach the building via a unique, shaded plaza bordered by landscaping and trees. A striking feature of the architecture is a long-span superstructure floating high above the entry plaza. Students, faculty and visitors will enjoy the prevailing breezes under the shade of the upper-level form. Upon entering, individuals will be met with multiple floors of blended instructional and recreational spaces, all enhanced by large windows and natural light.
The 155,000-square-foot Center for Medical Education will be home to large classroom spaces, clinical skills labs and simulation suites – each designed to encourage collaboration, active engagement and innovative thinking. Notable features include:
• 250-seat, tiered, active learning classrooms with state-of-the-art audio-visual technology.

• 500-seat auditorium with unique "in-theround" layout providing an immersive experience and increased occupant engagement.
• Medical education spaces include standardized patient exam rooms for live clinical simulation and training, clinical skills labs for practice and training with procedures and instrumentation, and simulation training classrooms with high-tech, immersive educational technology.
To address student, staff and faculty wellness, the center features a selection of curated amenities and opportunities to enhance the overall experience. Highlights in the wellness category include individual and group fitness spaces, meditation rooms, nutrition and cooking classes, a multi-activity center, dining concepts and group assembly spaces.
Currently, LSUHS has simply run out of physical space, making the construction of the Center for Medical Education a necessity. With each passing year, the health of Louisianans becomes more dire. In 2020, America's Health Rankings Annual Report declared Louisiana the least healthy state in America. Our citizens bear several health risk factors, including high rates of obesity and diabetes, as well as socio-economic barriers.
With enhanced delivery of cutting-edge medical education and contemporary facilities, LSU Health Shreveport can recruit even more high-level students who are invested in improving our state's health when they enter the workforce. It is also important that LSU Health Shreveport continue to attract outstanding faculty members who will bring new ideas and innovation to all aspects of our medical education.
With a mission to teach, heal and discover, LSU Health Shreveport will foster research innovation by including the Center for Emerging Viral Threats (CEVT) in the Center for Medical Education.
The CEVT will provide cutting-edge research and training opportunities for students and faculty while positioning LSU Health Shreveport as a national leader in diagnosing, testing and treating new viruses and other pathogens. The Emerging Viral Threats (EVT) Lab was first created to address the ongoing threat of coronavirus in Louisiana and quickly became one of four Centers of Excellence at LSU Health Shreveport. With the expertise of nationally and internation ally renowned virologists and the support of Governor John Bel Edwards, the EVT Lab was taken from conception to operation in just 12 days.
Since its inception on March 25, 2020, the EVT Lab has been an invaluable resource for North Louisiana in combating the pandemic, as they have processed over 756,000 PCR tests for 98% of Louisiana's parishes. The EVT Lab currently processes 0.13% of all COVID-19 tests in the U.S. These test samples have allowed LSU Health Shreveport to lead Louisiana in genome sequencing, which holds the potential for long-term control of COVID-19 and in preparing for the next generation of SARS viruses.
The addition of the EVT Lab housed in the Center for Medical Education will ensure research innovation for years to come in Northern Louisiana. The EVT Lab, like the School of Medicine, is limited by space. Relocation of this lab allows it to become a Biosafety Level 3 (BSL-3) Lab, greatly enhancing research capability to address future viral threats.
The success and impact of EVT Lab during the COVID-19 pandemic resulted in an established diagnostic lab that is expanding, allowing it also to serve to detect multiple pathogens that could affect the health of Louisianans and serve as a surveillance lab for the entire state and region. The Center for Emerging Viral Threats will provide a strategic recruitment tool for faculty and students nationally and internationally.
Faculty, staff and students are excited about this new facility which will physically unite all three schools with welcomed synergy and social connections. The Center for Medical Education will be the first new building on the LSU Health Shreveport campus since the School of Allied Health Professionals opened in 2007. Deepest thanks are extended to every donor, the state of Louisiana, and Senator Bill Cassidy. He was instrumental in securing a $7 million federal appropriation for their generous support of this transformative project.
If you are interested in the remaining naming opportunities in the Center for Medical Education, contact Kevin Flood at the LSU Health Sciences Foundation at 318-861-0855.
Lisa Babin, executive director of public affairs, communication and development, LSU Health Shreveport.