Adding an outdoor oasis and repurposing attic key to entertaining destinations.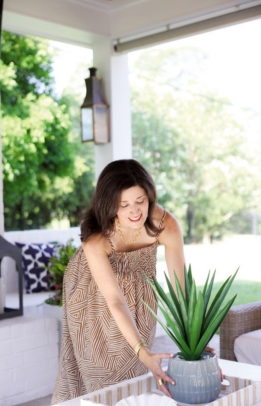 Making the traditional new again is something that Molly Vance was determined to do when she collaborated with the Irion family on their South Highlands home remodel.
For this project, Vance was tasked with remodeling a halfbath, creating an entertainment room in the original attic and crafting an outdoor entertainment space.
"The homeowners had plans drawn up with a draftsman.
Then we hired a contractor, Richard Lopez of BRL Construction, to do a walk-through with us and take the plans and make sure everything was feasible," Vance explained.
"It was a very basic attic. It wasn't a bonus room with existing flooring and walls. It was a no-flooring kind of storage attic.
We were able to add a half-bath, a kitchenette and a big TV for watching sports. There's a banquette with a long table for playing games or just entertaining guests. It turned out to be a really nice, large space. They really wanted it for sports."
She said the homeowners had checked out some other entertainment areas before making their plans. This design was inspired by a cigar room with dark walls, rich leather club chairs and shelving to display a few of the family's treasures.
The challenges she faced in repurposing a space meant to be merely an attic involved the age of the home and turning an area not intended for entertaining into a warm and inviting environment. Not to mention making it function as a place with a half-bath, a kitchenette and a large television space.
"Every job that I do has its own quirks," Vance said. "This was probably a little more complicated just because of the shape of the space. When you're working with an attic, it's not just a square room. It's lots of angles to work with. That changes the sizing and placement of the furniture and lighting."
And her challenges didn't end inside. "The pavilion outside, they wanted to add an outdoor kitchen. Since it's a South Highlands home, they're not really constructed to have an outdoor kitchen a lot of times. They decided to do a pavilion detached from the home, but they were able to get a lot more space that way."
Accommodating the modifications is always a design issue. "To marry the pavilion to the house, my clients replaced the flooring of the side porch to match the brick floor of the pavilion, and we added the same copper lanterns as in the pavilion. The brick path is a great transition from the porch to the pavilion that makes it a very cohesive design."
Outside amenities include copper lanterns on the inside of the pavilion rather than on the outside. Vance said that was "to create a glow and an ambiance in the space whether they're enjoying a glass of wine, entertaining guests, or having family movie night. We also installed motorized sunscreens to help block out some of the sun and keep it a bit cooler in the summer months. The bar with seating for eight is painted brick with a leathered granite countertop and stainless-steel appliances."
The challenge of this project was improving the property without destroying the history of the home and its neighborhood. "South Highlands homes, a lot of time, have plenty of formal living space and they're often a little short on the informal," Vance noted. In the Irions' home, she said both spaces would allow the family to have a less formal area to relax and entertain, even if it's just the family or they're having friends over.
She said this kind of space is becoming the rule these days as entertaining customs evolve. "Most of the new homes being built now are not including a lot of formal space. Some don't include a dining room at all. A lot of them are not including a living room and a den. They're just doing a den. Over the years that space was just used less and less."
You can check out more of Vance's work at www.mollyvacedesigns.com or follow her on Facebook and Instagram.