Bullying: Seeing It and Stopping It
Bullying can have lasting impacts
While the pandemic was challenging to most students' education, one small positive was that rates of bullying appeared to have gone down. Now that students are back in the classroom, bullying is expected to return to prepandemic levels. Once viewed as a normal right of passage in school, the full detrimental effects of bullying are finally beginning to be understood. Bullying can have lasting impacts on everyone involved:

• The person being bullied.

• Bystanders who witness the bullying.

• The person who bullies others.
Bullying is considered an Adverse Childhood Experience (ACE). ACEs are potentially traumatic events that can negatively affect a person's development, how they interact with others and how they perform in school. Research has shown that children reporting more ACEs may be more likely to exhibit bullying behavior.
Bullying, which is "systematic behavior defined to hurt any one person," can range from overt behavior, such as fighting, hitting or namecalling, or covert behaviors, such as gossiping about another or excluding another person from activities. Both types of bullying can be very harmful. The current generation of students must also deal with cyberbullying, where they are targeted on social media platforms. Cyberbullying presents a unique challenge to school officials, as this bullying may occur outside of school hours and is very difficult to police. In previous generations, if you were bullied at school, your home life provided some respite, but with cyberbullying, a student can be bullied day and night, seven days a week. A 2019 article entitled "Cyberbullying Data" reported that "about 37% of young people between the ages of 12 and 17 have been bullied online. Thirty percent have had it happen more than once." A common form of cyberbullying is sharing a student's private photos or videos without their consent.

Causes of Bullying
There is no single cause of bullying behavior, and we know that any student can become a target for this type of behavior. Some students who bully others have low self-esteem; others have much higher selfconfidence. Those with high self-confidence tend to lack compassion and empathy and can respond aggressively whenever they feel threatened. In some cases, students' need for attention and the desire to be perceived as brave and confident can cause them to bully. Students with a tumultuous home life, which might include abuse or neglect, may bully others as a learned behavior or as an outlet for their anger. One group that is particularly "at risk" of being bullied is LGBTQ youth. In 2019, the Centers for Disease Control (CDC) reported very concerning statistics: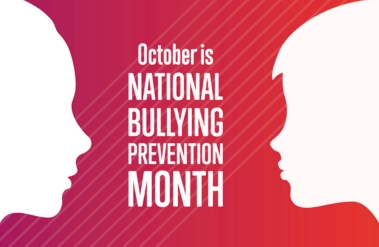 • 29% of transgender youth had been threatened or injured with a weapon on school property, compared to 7% of their peers.

• 16% of gay and lesbian youth and 11% of bisexual youth have been threatened or injured with a weapon on school property, compared to 7% of straight youth.

• 21% of gay and lesbian youth and 22% of bisexual youth have attempted suicide, compared to 7% of straight youth.
Clearly, some groups are more "at risk" than others, and parents and educators should strive to protect all vulnerable youth.

Bullying Prevention
Since bullying can have lifelong effects on the individual, every effort should be made to decrease the chance of bullying from occurring and intervene promptly when it does. We also need to encourage peers to intervene and report bullying behavior when they witness it. There is no such role as an "innocent bystander" when witnessing bullying behavior. When adults respond quickly and consistently to bullying behavior, they send the message that it is not acceptable. Research shows this can stop bullying behavior over time. For parents and teachers who want to take action, there are many suggestions and resources available:

• Be alert to signs of distress. Notice mood symptoms and behavioral changes in your child that might indicate they are a victim of bullying. Talk with them, and ask them about the social climate in their school.

• Work with student councils and school officials to promote programs on respect, school safety and anti-bullying.

• Ask school personnel to discuss at an assembly or an after-school activity about all prejudice, particularly toward the LGBTQ community, which is at a significantly higher risk of being bullied.

• Do not expect or encourage children to "fight back" or handle it independently. Bullying needs adult intervention, and we should encourage all victims to ask for help.

• The American Society for Positive Care of Children has a downloadable resource kit.

• Stopbullying.gov contains information from the U.S. Department of Health and Human Services.

• The National Association of School Psychologists maintains a bullying prevention page for families and educators.

• The Children's Safety Network maintains a page with information on bullying, detailed statistics and resources such as guides, webinars, infographics and publications on prevention.
An additional consideration is working to build a student's resilience, as bullying and other types of damaging self-esteem activities may undoubtedly come their way. For more insight into the importance of building resilience in students, go to www. lsuhs.edu/icr.
Michelle Yetman, Ph.D., is an associate clinical professor of rehab science at LSU Health Shreveport School of Allied Health Professions.