Brewpub finds new home in East Bank District
Last December, Chuck Jones lost a piece of his life.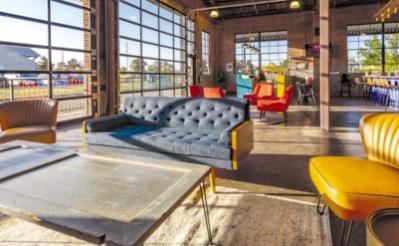 Red River Brewpub, one of Jones' favorite Shreveport places to hang out with friends and enjoy locally brewed beer, closed its Marshall Street doors for good.
"The room just had a real nice feeling," Jones remembered. "When you got a group of folks in there, it almost felt like your neighborhood bar. There were some real good folks that worked in there. Very friendly – made you feel at home. It just had a good vibe."
But Jones' life has been made whole. Red River Brewpub at the Garage recently opened in Bossier City's East Bank District.
"Everybody is real excited about meeting over there," Jones said. "It's a new building. It's something fresh in town. Seeing folks that used to meet at the brewery – everybody is looking forward to that. There's an excitement. There's a buzz around town about it coming back up. … It's exciting. I'm certainly looking forward to it."
The new location will look a lot different. For starters, it's in an old garage at 310 Mansfield St. In the 1950s, the building was used for mechanics to work on Studebakers and Packards. (For you young folks, those are names of popular cars back in the day.)
"Inside, we've got the roll-top doors," said Red River Brewpub at the Garage co-owner Jim Malsch. "We'll have a great outdoor area with AstroTurf. Really, it does look and feel like a garage. There's a lot of auto memorabilia that's going to be in there. We'll have paintings – local art work. … It's a wide open space, and it just feels like you're in a giant garage, which you are."
It's not like Malsch had his eye on the garage for years.
"It was actually happenstance," Malsch said. "We had a contract on the building in front of it, and that fell through. One of my other partners made an offer on the building and told me this was either the dumbest thing he's ever done or the best thing he's ever done."
Another big change from the old location – in addition to more space (approximately 7,000 square feet) – is the Brewpub's menu and dining tables. You will have more choices when it comes to eating and sitting.
"At 1200 Marshall, we were actually cooking out of a food truck that was inside the building," Malsch said. "This is just going to be more efficient. We will be able to sit more people and have more of a traditional restaurant-type layout than we had with just the picnic tables and kind of a wide open space … We'll be serving pubstyle food. We'll have a variety of burgers.
We'll have fish and chips. Flying Heart has pizza and wings. BeauxJax is Cajun food. We're doing something a little bit different than those guys."
One thing that won't change is what Red River Brewpub was built on: homemade beer.
"We shut it down and had to take everything apart and store it," Malsch said of the brewing operation at the previous location. "We'll be starting to brew our beer (soon). Then it will take a month or so before we are pouring our own out of the tap. … You can imagine, it was quite an ordeal to get all the plumbing and the tanks moved and set back up."
Its website says Red River Brewpub – which originated in 2012 as Red River Brewing Company – was the first local brewery since Prohibition.
"We've got a few microbreweries in Shreveport-Bossier, and we're all unique," Malsch said. "To me, the quality of beer is better than what you would get with a domestic (beer). It will be rotating. We will have different beers, depending on the season."
The Shreveport location closed in anticipation of moving across the Red River. To Malsch, the East Bank's popularity made it the perfect place to relocate.
"They've created an environment that is safe," Malsch said. "They are very probusiness over there. It almost reminds me of, in my prior days I was a musician, and I played a lot in Shreve Square. It reminds me of Shreve Square in the late '70s and '80s. That was kind of a destination where people would go. They could go from bar to bar and restaurant to restaurant, and make a night of the whole space, and not just go to one bar and hang out all night. Bossier's done a really good job of developing that area. It is extremely successful, judging by the crowds that go there every night."
And Chuck Jones is excited to be back with his friends, sipping on a local brew and shootin' the bull.
"It just looks like it's going to take off and go to the moon because of its location, and there's a lot going on over there. … I think it's going to fit in well down there, and it's obviously in a nice building."
Who would have ever thought a garage would be called a "nice building"?
To learn more about Red River Brewpub at the Garage, you may visit www.redriverbeer.com.