City's heart experiencing a rebirth
No one was interested in living downtown."
"It's just this gorgeous little area full of potential."
"I think it's really hard to beat the economics of downtown."
"The result is a stronger urban core with something for everyone."
In the 1960s, Shreveport's motto was "Shreveport: A City on the Grow."
The economy of the 1970s and 1980s wasn't particularly kind to the area. Many vibrant downtown stores, firms and entertainment Shreveporters knew and loved migrated to the suburbs, where newer developments, more amenities and shopping malls were the rage.
Many long-time residents shunned the downtown area, deeming it unsafe and inconvenient for any but the most obligatory trips.
But the Downtown Development Authority (DDA) was created to change those attitudes, and a quick drive through the roughly 64-square-block area reveals more than a few construction sites underway.
Executive Director Liz Swaine listed several projects currently underway, planned or recently completed that signal a rebirth of the heart of the city.
They include living space, retail space, food and entertainment. Ridgeway Square, a residential property, is entering phase two of its planned work in the 700 block of Marshall Street. Residential work is about to commence in the 400 block of Crockett, as well. Edward Taylor's company is resurrecting the old Uneeda Biscuit building into lofts, more familiarly to oldtimers as the Marcus Furniture store. An old mule yard is becoming a posh office space. A grocery store is planned for the 600 block of Texas Street. There's even something for folks with a sweet tooth.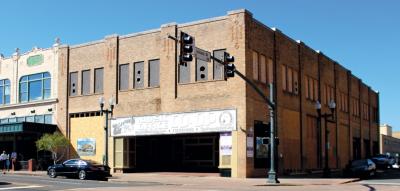 Dripp Donuts, a Farmers' Market staple vendor and frequent pop-up truck around town, is moving into the old Dee's store at Texas and Market streets. One of the first projects was the United Jewelers/ Lee Hardware makeover into living space. Swaine wrote on the DDA blog, "HRI was the first large developer to take the risk on repurposing cool old spaces into apartments downtown, and it definitely was a risk," she wrote. "People who were quick to tell them that no one was interested in living downtown have been proven wrong multiple times over ensuing years." She said the project offers a combination of affordable, workforce and market-rate housing options, making it an attractive venue for people of different budgets.
Amenities in the space include a fitness studio, lounge area, pool, and covered and gated parking.
The buildings were among the first of the so-called adaptive reuse projects focused on downtown.
The DDA has even undertaken its own project in the 400 block of Cotton Street, turning an old, abandoned storefront into a charming, refurbished space.
Wendy Benscoter, executive director of Shreveport Common Inc., said the move to bring creative endeavors into downtown has helped elevate the attractiveness of the whole area to people seeking a metropolitan lifestyle. "The result is a stronger urban core with something for everyone, for the overall livability of the city. The Creative Placemaking redevelopment of Shreveport Common has been successful because of its public and private partnerships. The support of the city of Shreveport through three administrations has remained strong in the areas of infrastructure and public spaces. That's because the return on investment is not only through increases in private investments, property and sales tax revenues, it's also about saving and repurposing endangered buildings, creating beautiful community spaces where there was once blight, and a commitment to community development along with arts and cultural development."
Caleb and Michelle King are some of those young people who are seeking city life in a downtown setting. "Downtown's where we moved when we moved to Shreveport; we're city people. We're from New York and Toronto. It was just a natural spot for us," Caleb said.
So, when their venture, Dripp Donuts, started building a following, it became logical to find a place to call headquarters.
"We're a pop-up only. Until this month, our only regular spot was Farmers' Market on Saturday morning. We do a lot of neighborhoods in Shreveport, Bossier; we do hospitals, schools, catering events. We developed this following. We've got people from Benton driving to south Shreveport just to get to the donut truck. So, it just kind of made sense to give them a central location," Caleb said.
He said that when they started looking for a place downtown, the old Dee's location jumped out at them. They'd been living in a loft across the street for a while, but the intersection of Market and Texas Street made a lot of sense. "It gave us a good central location for our Bossier customers. We have a lot of people on Haughton, and being on Youree Drive or south Shreveport might have been too far for them to go.
"It really made sense, and it was just such a cool corner we couldn't pass it by."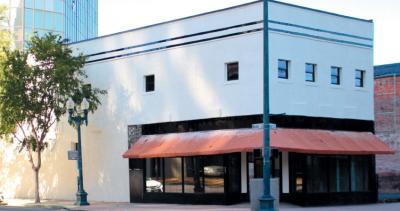 And they're convinced they are making a long-term decision. "I think there's a lot of potential in downtown. It's just this gorgeous little area full of potential. It just needs some action, some excitement. It's just a beautiful place, and there's no reason it shouldn't flourish. We're here for the long term."
Cooper's Corner doesn't resemble the horse-and-buggy history of downtown anymore, but William O'Brien and his partners wanted to pay homage to its roots. "We're calling it Cooper's Corners because when it was built in the very early 1900s, it was called Cooper's Mule Yards. That's where the mules went in and out pulling wagons in downtown. We just wanted to pay homage to the Cooper family, and we're trying to maintain the historical integrity as much as we can. Even our signage and our lighting will try to replicate the way it looked in the early 1900s."
But its history was only a part of why they decided to move their business hub from Ellerbe Road to downtown. "We're a big fan of the redevelopment of downtown. There are attractive economics to moving downtown. You can get brand new renovation space for quite attractive economics. If you tried to build a new construction south of town, and some people have tried recently, it's a fortune. The rent is a fortune, the capital cost is a fortune.
"By moving our office space downtown will effectively cut our rate by more than 50%.
"Beyond that, it was about being a part of the community downtown. I like the idea that I can go to work in the morning, park my car, and I can walk across the street to Rhino Coffee, I can walk across the street a block away to exercise at the YMCA gym, I can walk about a block, and a half to go to my church for daily mass at Holy Trinity Church, I can walk less than a block to eat lunch. If you look from exercise to eating to coffee to church to the bank … I can literally just walk a block and I like that community feel."
O'Brien said the benefit of a historic building like his is that you are visible from the street, your signage is close to pedestrian and foot traffic, and people know you're there and can literally walk right in off the street. Businesses in highrise spaces don't have those benefits, he said.
"That building will hold 60 or 70 people," O'Brien said, "so we're basically bringing 60 or 70 jobs back to downtown, which will help the downtown community."
The old Creswell Hotel recently got new owners. Carlos Bermudez and Brandon Magtalas purchased the property. Marie Creswell Gardner, wife of former Shreveport Mayor James C. Gardner, lent her name to the building her father, James P. Creswell, opened as a hotel in 1917. After a fire, the refurbished hotel was reopened in 1927. It was sold in the 1930s, bought by W. I. Bradford, who sold it in 1958. In the 1990s it became "The Well," a homeless shelter. Now, Bermudez and Magtalas are driving it forward into its latest adventure.
Throughout its long history, downtown has weathered a Yellow Fever epidemic, the collapse of the local oil economy, the struggles of the 1980s and the rise of urban flight. Now, the resurrection of so many aspects of downtown Shreveport indicates it's striving to take back its place at the city's heart.