Each year, the Greater Shreveport Chamber's Young Professional Initiative highlights 40 of our region's most dynamic and accomplished young professionals who are engaged in our community as entrepreneurs, executives and managers in the public, private and non-profit sectors. is our chance to celebrate our best young leaders by spotlighting those who are excelling in their profession and making an impact on and for our community.
The judges also select a Young Professional of the Year as the individual among the 40 who exemplifies the spirit of 40 Under Forty. The decision is always a tough one, as each class of 40 brings their unique talents, experiences and contributions to our community.
"We are incredibly impressed with the lineup of leaders and professionals that have been chosen as honorees for the Young Professional Initiative's 2022 top 40 Under Forty," Dr. Timothy Magner, president of the Greater Shreveport Chamber.
"We value the ongoing partnership with 318Forum that allows us to share the energy and impact that these individuals bring to our community today and a window into our leaders for the future."
As the profiles in the following pages will demonstrate, this year's class continues the tradition of excellence, comprising a group of highly engaged change agents. This diverse group includes entrepreneurs, physicians, lawyers and school leaders, as well as managers, owners and directors from the private and non-profit sectors. Each of them deserves recognition for what they bring to our community. Take a look at the following pages to see the range of talent and breadth of commitment we have in our community. Who would you pick as our Young Professional of the Year? Make your choice and watch live online on Dec. 2, when we'll all find out whom the judges selected!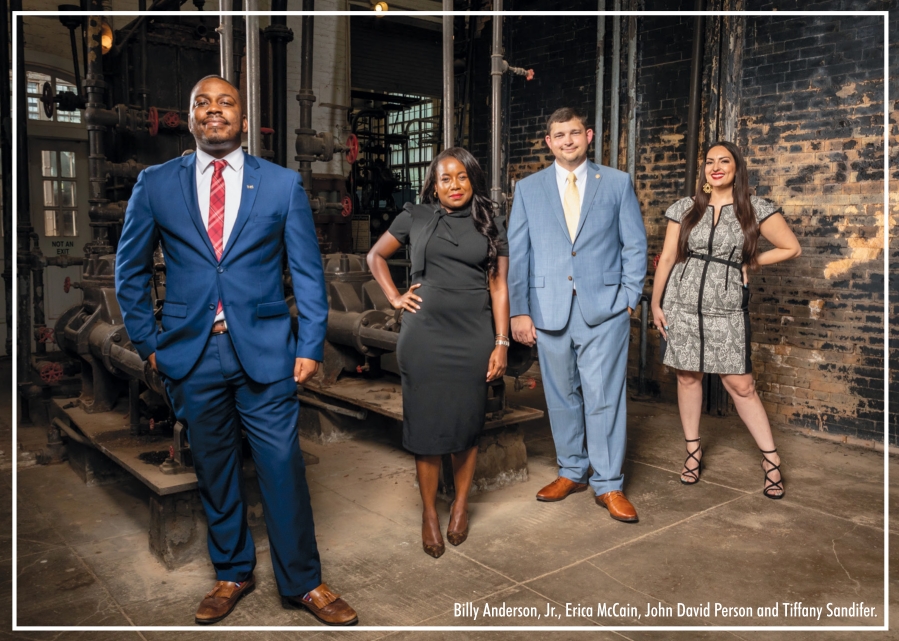 Shannon Ali
As a speech-language pathologist for nearly 10 years and an educator for seven years, Shannon Ali witnessed middle and high school students who struggled to read in school. After teaching her 3-year-old to read in 2020, Shannon stepped out on faith and started offering private literacy sessions out of the playroom in her house. The results were phenomenal. Students were starting to read early and developing a lifelong love of learning. Families were spending more quality time together completing the lessons, and they were also able to practice educational skills even when they were on the go.
Shannon desires for instruction to be high quality and easily accessible to all parents and children regardless of income level. She also enjoys teaching Christian values, Black history and language skills. Shannon loves serving at church and spending time with her husband, Jelani, and their three children, Isaiah, Ezekiel and Naomi.
Billy Anderson Jr.
Billy Anderson Jr. is a proud millennial and Shreveport native and has a passion for helping nonprofits achieve their goals and mission. He currently serves as the Northern Louisiana organizer for the Power Coalition for Equity and Justice. As the Northern Louisiana organizer, Billy is responsible for meaningful coalition building and organizing work in targeted communities to advance equity and justice in North Louisiana. He sits on the boards of the Shreveport-Bossier African American Chamber of Commerce, Red River Revel, Highland Area Partnership, The Art of Gentlemen Inc., New Leader Council of Louisiana and the North Louisiana Juneteenth Coalition. He is the organizer of Shreveport-Bossier Black Restaurant Week and works to promote local restaurants with his web series BillyEats. Billy has a life mission to break down barriers and lessen the obstacles that people of color face when it comes to basic human necessities.
Darlenna Atkins-Davenport
Darlenna Atkins-Davenport currently serves as the associate director of information technology services at LSU Shreveport (LSUS). During her 15 years at LSUS, she has held several roles, including data management coordinator and registrar. In her current role, she oversees the implementation, integration and maintenance of the Student Information System. Darlenna has a love for higher education and receives great satisfaction assisting students in achieving their educational goals and fulfilling life-long dreams. She was educated in the Caddo Parish School System, where she graduated from Captain Shreve High School. After high school, she attended LSUS, earning a Bachelor of Science in accounting with honors and a Master of Business Administration. Darlenna and her husband, Debin, are instilling the values of education, hard work and community service into their son, Daelan. She enjoys making memories by living life to its fullest, laughing with her family and loving those most in need.
Jody J. Bluitt

Jody's father's tragic death changed his life. He worked exceptionally hard to achieve a B.S. in finance from Northwestern State University. This would position Jody for a successful career in wealth management.
As a wealth advisor, Jody is fully engaged in financial literacy and activism for underserved youth in the Shreveport-Bossier community. Jody is an active volunteer, donor and judge for the Caddo Schools Amazing Shake Program, high school volunteer for Junior Achievement, Southwood High School, Bossier High School and Woodlawn High School.
Recently, Jody was named a 2022 ThinkAdvisor Luminary Finalist for Community Service. In 2021, Jody's leadership earned him the honor of being named to the advisory board of the Shreveport-Bossier African American Chamber of Commerce. He and his wife started the New Mommy Brunch Program for new mothers to bond, share personal stories and learn about post-partum depression and other challenges that women face after having a baby.
Brett Brown

Brett Brown, CFA is a senior financial analyst for the Entrepreneurial Accelerator Program (EAP), a division of BRF, and provides services to high-growth entrepreneurs willing to locate in North Louisiana to enhance the region's economic development.
Brett has over 15 years of professional experience in high net worth individual investments, angel investing, corporate finance and operations analytics. Since starting his role at EAP, he has helped create over 30 quality jobs in north Louisiana, raised over $10 million in investment capital in the region, and has been heavily involved in the Shreveport-Bossier community. Brett holds a Bachelor of Business Administration in finance from the University of Miami, Fla., where he graduated cum laude. He also recently earned the highly regarded Chartered Financial Analyst designation.
Brett has been married to his wife, Dr. April Brown, for 10 years, and they have two wonderful children: Willa and James.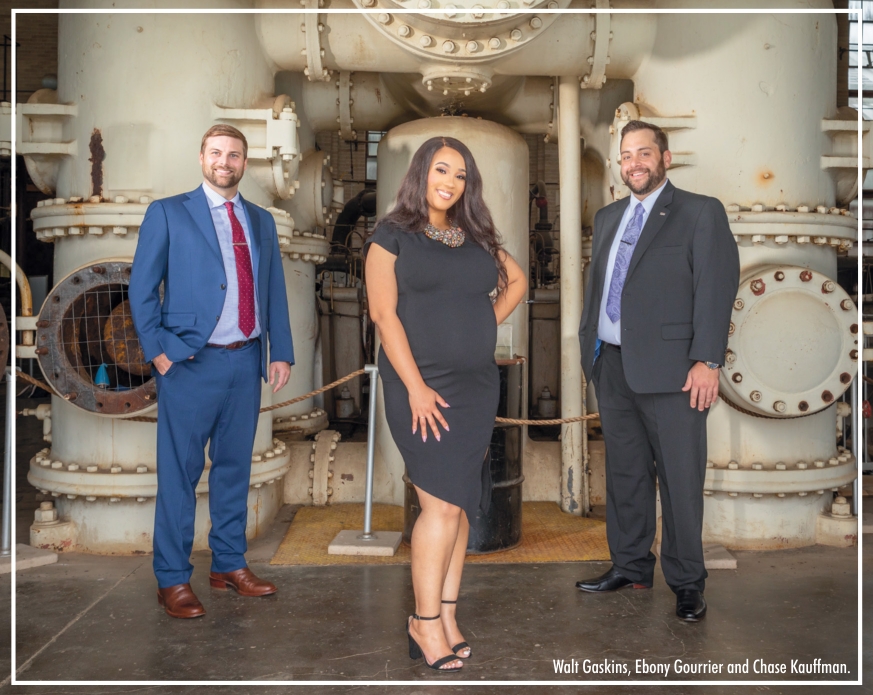 Nichole Buckle
Nichole "Nikki" Buckle is the managing partner of Carmouche, Bokenfohr, Buckle & Day. She attended Benton High School and LSU-S, where she graduated summa cum laude with a journalism degree. She earned her Juris Doctor from Baylor Law School, graduating cum laude at the age of 23. She served as a judicial law clerk for U.S. District Judges Donald Walter, Maury Hicks and Elizabeth Foote, and she has an active practice representing plaintiffs and defendants in civil rights litigation, business and corporate litigation, and personal injury. She is a member of the Shreveport Bar Association and Krewe of Justinian and enjoys attending The Simple Church. Nikki is happily married to her husband, Matt, and is a stepmom to Annabella, a junior at Byrd High School. In her free time, Nikki enjoys spending quality time with family and close friends, running with her goldendoodle Caymus, cooking, traveling and attending local festivals.
Claire Childs

Claire Childs joined Vintage Realty Company in 2016 as a brokerage and leasing agent. Her experience includes brokerage, commercial investment, tenant representation, landlord representation, leasing, market analysis and valuation. As a landlord's agent, Claire's portfolio includes multiple multi-tenant office buildings in the CBD and suburban areas, as well as retail, industrial and land. Claire continues to work with national firms providing site selection.
Claire is an advocate for the arts, accessible education and inclusivity. She currently serves on the boards of Goodwill and the Red River Revel. She has enjoyed past board roles in YPI, Sci-Port, The Opera Guild and on the Guidance Committee for the Women's Philanthropy Network.
Claire is a graduate of Tulane University. She attended the Center for Furniture Craftsmanship and worked as a furniture maker prior to joining Vintage. She is an avid runner and enjoys spending time with her husband, Chase, and sons Henry and Lear.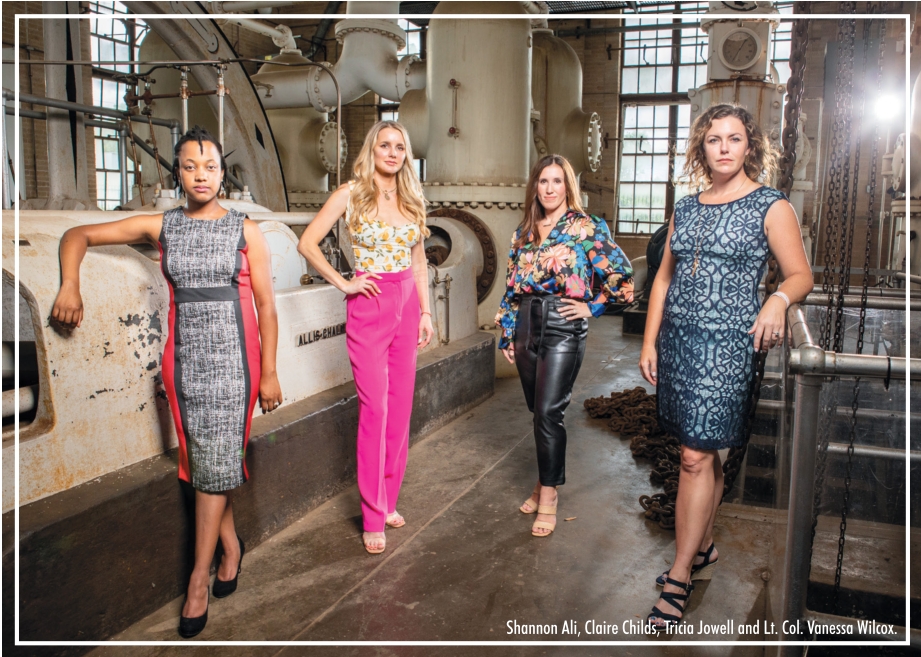 Jutorrean Davis
Jutorrean O. Davis is a Shreveport native and a proud graduate of Huntington High School. He earned a Bachelor of Science in criminal justice and a Master of Social Work from Grambling State University. As a graduate student, Jutorrean worked with fellow Grambling classmates to establish Beyond Inspirations Inc., a 501 (c)(3) non-profit organization created to ensure all students had adequate resources for greater educational achievement.
In 2017, Jutorrean was named North Louisiana Social Worker of the Year. Jutorrean continues to practice as a medical case manager at Shreveport Rehabilitation Hospital. In 2018, Jutorrean was sworn in as a United States federal probation and pretrial services officer for the Western District of Louisiana. Jutorrean remains active in the community as an executive board member for Blossom Community Foundation, a lifetime member of the Huntington High School Alumni Association, Grambling State University National Alumni Association and Kappa Alpha Psi Fraternity Inc.
Walt Gaskins
Walt Gaskins is a commercial lender at Community Bank of Louisiana. Walt currently serves on the board of Goodwill Industries of North Louisiana. Previously, he has served as the president of the Commercial Investment Division of the Northwest Louisiana Association of Realtors, professional development chair and finance co-chair of the Young Professionals Initiative, and on the Northwest Louisiana Chapter of Delta Waterfowl. Walt is a graduate of the University of Central Arkansas and is currently set to graduate the Greater Shreveport Chamber of Commerce's Greater Shreveport Leadership Program at the end of 2022. In his spare time, Walt enjoys exploring nature and spending time with his wife, Lindsey Gaskins, and daughters, Scarlett (4) and Eloise (3).
Dr. Narita Goff Dr. Goff is a native of Colfax, La., and the youngest of three siblings. Her alma maters are Louisiana State University Shreveport and Louisiana State University Health Sciences Center, where she obtained a Bachelor of Science degree in biological sciences with a cellular and molecular concentration and then continued her education to receive a Master of Public Health (MPH) and Master of Science in human service administration (MSHSA). Thereafter, Dr. Goff concluded her educational career by receiving her Doctor of Public Health Degree with a focus in epidemiology and infectious/communicable diseases. She has served in several capacities at the forefront of public health and health care from governmental agencies, educational institutions and clinical care. She serves as an epidemiologist with the Center for Disease Control Foundation and the Pennsylvania Department of Health, where she conducts a range of investigative and analytical epidemiologic activities for the detection and prevention of diseases and injuries.
Ebony Gourrier
Ebony Gourrier, LCSW is a native of Shreveport, La., and a proud honor graduate of Grambling State University, where she received her bachelor's and Master of Social Work. Ebony began her career providing intensive mental health services for at-risk youth and their families. Since then, she has served as a program manager and provided clinical, evidenced-based treatment to military service members. In her various roles, Ebony has served as a member of the Diversity and Inclusion Board, Disaster Mental Health Team, master resilience trainer, as well as provided transition assistance to servicemembers retiring/separating and facilitating suicide prevention and sexual assault awareness trainings. As a clinician, Ebony is passionate about enhancing personal and professional development within her community, instilling resilience, as well as advocating for others. Ebony credits her success to her mother's will and God's amazing grace.
Emily Hamann
Emily is first and foremost a photographer, graphic/web designer and a social media/digital advertising specialist with 10+ years of experience. She currently runs her LLC, Social Butterfly Advertising & Design and works with the American Rose Society. She calls herself the "Social Butterfly" because if you know her, you know she has her hands in quite a few SBC projects, businesses and nonprofits/ organizations. The most recent endeavor being a grassroots free community closet focused on gender affirmation called Out Of The Closet. Though she stays pretty busy, these opportunities and a little networking have helped her find new hobbies that utilize her skills and honor her passion for the community.
In the last 15 years, she says she's come to know and love Shreveport more than she thought possible. She feels lucky to get to be a part of a growing community full of people to learn from and collaborate with.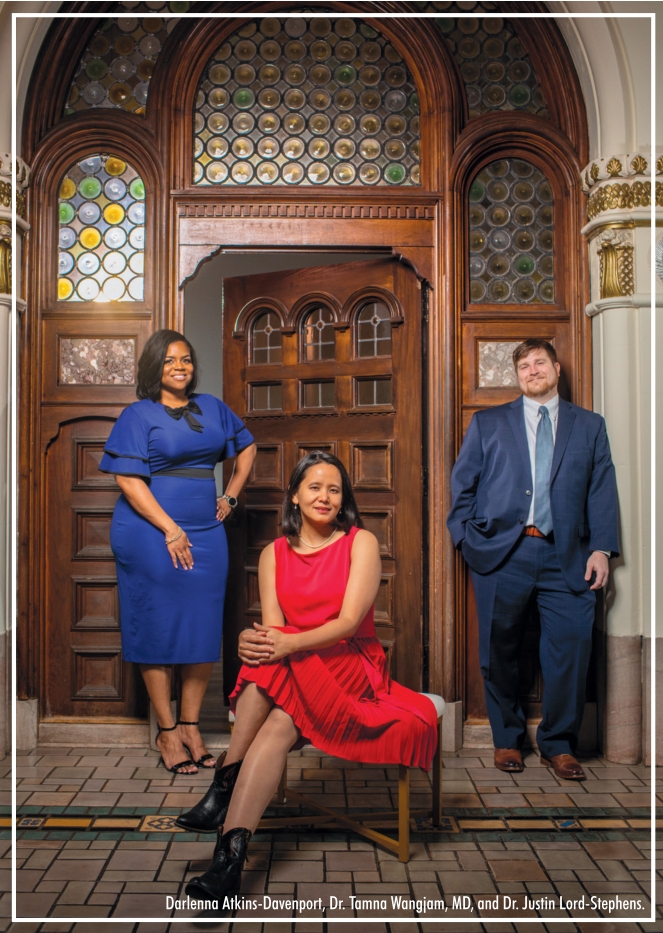 Tierra Heard
Tierra Heard is a licensed clinical social worker with more than 17 years of experience in mental health, medical social work, substance abuse and administration. She is currently employed at Overton Brooks VA Medical Center, where she serves in the role of caregiver support program manager. Tierra is also the founder and CEO of ReNew Therapeutic Services, LLC in Shreveport, La., a private mental health practice in which she provides individual psychotherapy, group and family counseling services to adolescents, teens and adults experiencing issues with depression, anxiety, trauma, grief and other mental, behavioral and emotional challenges. In addition, Tierra is a board-approved clinical supervisor and provides clinical supervision to master prepared social workers. When she is not working, Tierra enjoys spending time with her family and volunteering through her church and sorority.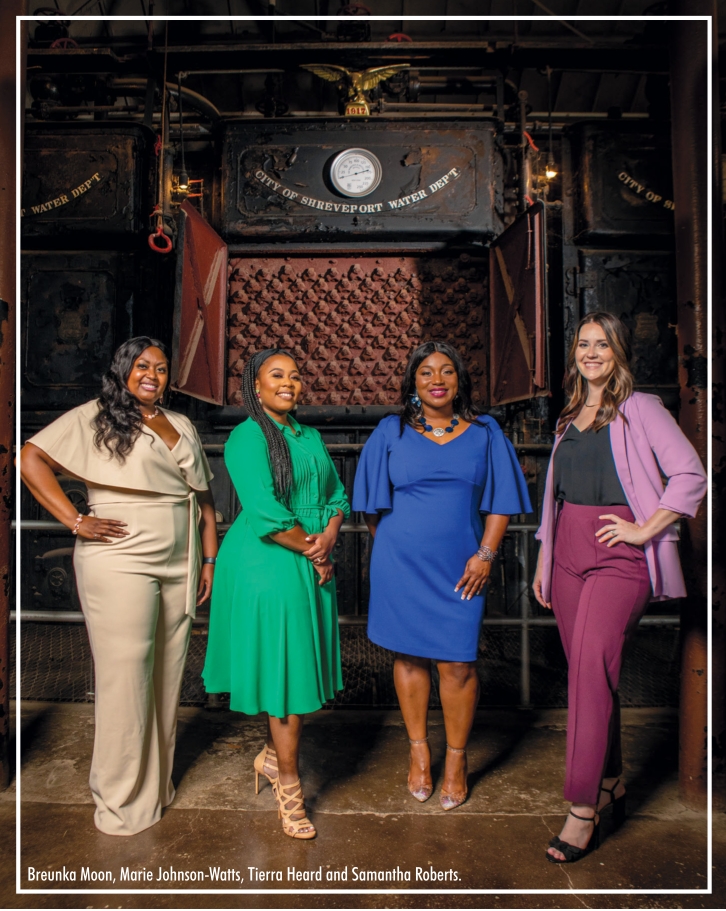 Jonathan Hodge

Jonathan Hodge is the co-founder and owner of H&H Holdings, H&H Field Services, H&H Operating and NWLA Real Estate Investments. Jonathan has over 15 years of experience as an entrepreneur in the energy industry, construction industry and real estate industry. Jonathan has co-founded two field service companies during his career, and prior to that, worked for Capital One managing a real estate insurance portfolio. He has extensive experience managing projects across all the major oil and gas plays in the United States. Jonathan graduated from the University of Louisiana at Monroe with a bachelor's degree in business management.
Brooke Huff
Brooke Huff is a Blanchard native and a local Realtor. Brooke is the proud mother of two precious children, Casen and Ava Kate, and wife to Austen Huff. Brooke has been in real estate for three years and since has created a team of working mothers and wives. She started The Brooke Huff Team with the intention to create a safe space filled with like-minded women that can work together to obtain the common goal: work/life balance. Being a mother does not mean you cannot reach your goals career-wise; it simply means you may have to take a different approach. This was her purpose in creating The Brooke Huff Team. She wants to show women you can be your own boss, run your household and be a mom, wife and friend to all. No matter your walk in life, you can succeed!
Alonzo P. Jackson Jr.
Shreveport native Alonzo P. Jackson Jr. graduated from Huntington High School in 2005 and went on to further his education at the University of Louisiana at Monroe, receiving a bachelor's degree in criminal justice and a minor in sociology. He then pursued his legal studies at Southern University Law Center and received his master's in public administration.
After completing law school, Alonzo served as an associate at Washington and Wells Law Firm and as an assistant city attorney for the city of Shreveport. In addition to his private practice, Alonzo is currently employed as a contract attorney with the Caddo Parish Public Defender's Office. He has a passion for others and is dedicated to providing compassionate, professional and effective legal representation. He credits his professional success to his parents, the late Alonzo P. Jackson Sr. and Anita Jackson, as well as to his wife, Kenitra Jackson.
Marie N. Johnson-Watts

Marie Nicole Johnson-Watts is a native of Chicago, Ill., and has epitomized the practice and principles of servant leadership throughout her professional career, offering 11 years of services such as housing/employment support, community outreach and addiction/mental counseling. Johnson-Watts has a Bachelor of Arts degree from Grambling State University, a Master of Science from Grand Canyon University, and a Post-Master of Science in marriage and family therapy. Currently, she serves as a program analyst at Overton Brooks VA Medical Center and is dedicated to enhancing both the veteran and employee experience. Johnson-Watts is also the CEO of Beyond Grace, LLC, which provides supportive services to youth and offers a scholarship called Edith's Heart for students who want to attend an HBCU. Johnson-Watts is married to Willie Watts and has two beautiful children named Kayleigh and Xavier. Her favorite quote is "Self-esteem means knowing you are the dream" by Oprah Winfrey.
Tricia Jowell

Tricia Jowell has served in nonprofit leadership for over 12 years. As the communications director for Volunteers of America North Louisiana, she has been a part of the communications and development team for nine years. She is directly responsible for the agency's external and internal communications, which includes advocacy, community development, marketing, public rela tions and digital engagement. In 2017, Ignited Fundraising, LLC recognized Tricia as a certified storytelling coach, unlocking her passion and focus for sharing stories as a way to connect, cultivate and inspire others. Tricia earned her bachelor's degree in public relations and master's degree in communication studies from the University of Louisiana Monroe. She is a believer of Jesus Christ, a devoted wife and a twin mom. Tricia and her husband, Chris, live in Shreveport and have three children: Jackson, Walker and Sadie.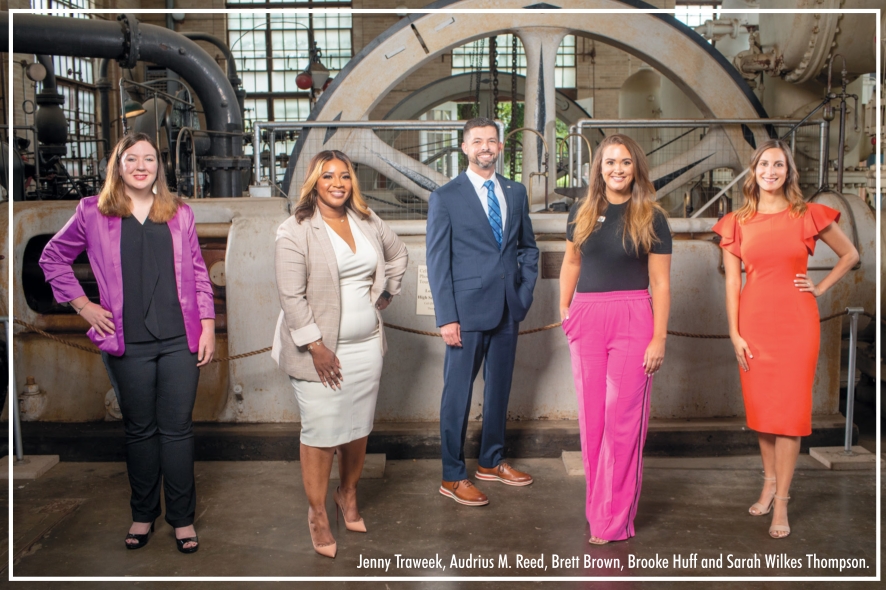 Chase Kauffman
Chase Kauffman was born and raised in Shreveport and is a proud graduate of LSU Shreveport, where he obtained his bachelor's degree in liberal arts in history and a master's degree in business administration. He is currently a vice president with BancorpSouth serving as a lender and relationship manager. Chase serves in a leadership role on multiple nonprofit boards that serve the Shreveport-Bossier area, including The Fuller Center of Northwest Louisiana, The Philadelphia Center and the Southern Hills Business Association. He also serves as the 2022 membership chair for the Greater Shreveport Chamber of Commerce Diplomats as well as an advisory board member for the chamber's leadership program. Chase is passionate about the promotion of local businesses, professional development and service to the community.
Dr. Jeffrey Kerst

Dr. Jeffrey Kerst is a practicing dentist with Kerst & Caskey Family Dentistry in Shreveport. Originally from Hot Springs, Ark., he graduated as a science scholar from the University of Arkansas at Little Rock. In 2019, Dr. Kerst graduated with an honors in leadership from the LSU School of Dentistry. He is active within organized dentistry, serving as a board member of the Louisiana Dental Association, treasurer of the Northwest LDA, and former vice president of the American Student Dental Association. Dr. Kerst is a Paul Harris Fellow and serves as membership director of the Rotary Club of Shreveport. As an Eagle Scout, he is the advancement chair of the Norwela Council of the Boy Scouts of America. In 2020, he married his dental school sweetheart and soon-to-be mother of their first child, Dr. Allison Haynie Kerst, an orthodontist practicing in Shreveport. He attends the Cathedral of St. John Berchmans.
Andrea Jackson Kimble

Andrea Jackson Kimble, a native of Mooringsport, La., obtained a B.S in accounting from LSU Shreveport, and later earned an MBA. For the past 17 years, Andrea has progressively advanced in her career as an accounting professional, working in the educational, private and non-profit sectors. Currently, she is the controller at Etheredge Industrial Services. Andrea started her own practice, Baisley Walker Accounting and Financial Solutions, LLC, as her passion is helping small business owners and non-profit organizations attain success.
Through her participation in service projects and board appointments, she has served several non-profit organizations in the NWLA community. Andrea is active in church ministry as a musician and is also a licensed missionary. She is a member of Alpha Kappa Alpha Sorority Inc., Sigma Rho Omega Chapter, National Association of Black CPAs and the Louisiana Society of CPAs. She enjoys traveling and spending time with her family and friends.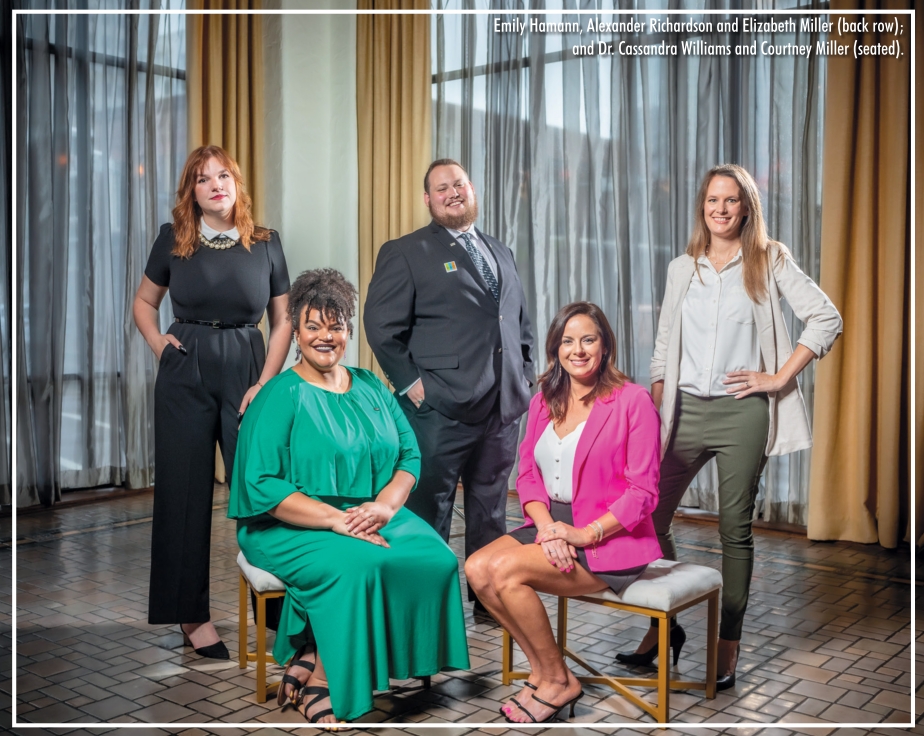 Dr. Justin Lord-Stephens
Justin Lord, Ph.D., CMA, FHFMA, is the director of the Master of Healthcare Administration Program and an assistant professor at Louisiana State University Shreveport in the James K. Elrod Health Administration Department. He holds a Ph.D. in administration-health services from the University of Alabama at Birmingham and an MBA from Jacksonville State University. He is also a Certified Managerial Accountant (CMA) and a Fellow in the Healthcare Financial Management Association. Prior to pursing a doctorate, he worked for several years as the finance director for a multi-state health-care not-for-profit and also at Honda Manufacturing as a financial analyst. His research focuses primarily on the financial management of long-term care organizations, and he has been published in multiple peer-reviewed journals and presented at international/national conferences.
Justin and his husband, Patrick, have been happily married since 2016, and they are the proud parents of a 2-year-old daughter, Emily.
Erica McCain Erica McCain is the executive director at Dress for Success. She brings 14 years of experience in the nonprofit sector. Her skill sets are organization advocacy, community liaison, fund development and economic growth. Ms. McCain was 2014 National Philanthropy Day Chair for North Louisiana, an event that recognizes leading philanthropist in the area as well as an honoree for Nonprofit Professional of the Year 2021 at the MOBA Awards. She is very passionate about women's issues, having worked at a rape crisis center in Vancouver, British Columbia, Canada, prior to moving back to Louisiana. Erica believes that every woman deserves a seat at the table.
A native of Shreveport, La., she received her B.A. and M.A. from Southern University and A&M College in Baton Rouge, La., and a certification in nonprofit management with emphasis on philanthropy from Texas A&M University College Station, Texas. She has two dogs, Caine and Ziyah.
Michael Melerine
Michael Melerine received his Bachelor of Science from Louisiana State University in 2010 and his law degree from the Paul M. Hebert Law Center at Louisiana State University in 2013. He was elected to the Louisiana Board of Elementary and Secondary Education in April 2021 and currently serves as the chairman of the Academic Goals and Instructional Improvement Committee. Mr. Melerine serves on the board of directors for Goodwill Industries of North Louisiana Inc., the executive committee of the Independence Bowl Foundation, and is a former member of the board of directors of Riverbend Rotary of Shreveport. He is also a member of the Louisiana Bar Association, the Shreveport Bar Association, Louisiana Association of Defense Council, Mississippi Bar Association and the Texas Bar Association. Michael and his wife, Stacey, were married and have a 3-year-old son and infant twin girls.
Elizabeth Miller
Elizabeth Williamson Miller is the development manager for the Shreveport Symphony Orchestra. Elizabeth was born and raised in Shreveport, received a bachelor's degree in hospitality administration from Stephen F. Austin State University, then spent time in Dallas, Texas, and St. Louis, Mo. After nearly a decade away from Northwest Louisiana, she has a newfound appreciation for the area and all it has to offer. Elizabeth is passionate about serving her church family, participating in her children's school endeavors, and the positive impact Greek life can have on collegians. She enjoys playing trivia, going to musicals, participating in book studies, cross stitching, planning events, fantasy football, traveling and, most importantly, spending time with her family. Elizabeth is a proud mother of three beautiful children and wife to husband Colt.

Courtney Miller
Courtney Miller is the owner of North Bossier Counseling, a therapy practice. In June 2019, Courtney opened a solo practice. Then, two years later, driven by her goal of making counseling convenient, affordable and accessible to all, she expanded to a group. Since opening, North Bossier Counseling has provided over 8,000 sessions to more than 650 clients. Courtney prioritizes making the therapeutic process comfortable, which is evident from the moment you walk through the doors. She takes pride in providing a welcoming environment that fosters the development of meaningful relationships.
Courtney is an entrepreneur, a therapist, a wife and a mother of three boys. She finds joy in giving back, rarely misses an opportunity to lighten another's load and has created a practice that reflects those values. She is involved in supporting schools, teachers, sports leagues and other groups, has organized numerous fundraisers and drives, and volunteers at several organizations.
Breunka Moon
Breunka Moon is a native of Shreveport, La., where she graduated from Northwood High School, completed her undergraduate studies at Louisiana Tech University and her graduate studies at University of Phoenix in Phoenix. Breunka is employed at Southern University at Shreveport, where she is an associate professor in the Department of Mathematics and Computer Science and the program coordinator of computer information systems for 11 years.
During her spare time, she is a member of several organizations, where she offers service greatly throughout the community. She is a member of Delta Sigma Theta Sorority Inc., Top Ladies of Distinction Inc., Iota Phi Lambda Sorority Inc., Order of Eastern Star, NAACP, Paint Your Heart Out Steering Committee, North Shreveport Business Association and a member of Ebenezer Baptist Church.
Breunka is the owner of a jewelry boutique, Studio 85 Boutique, and the daughter of Russell and Tracey Moon.
Sandra James Page, Esq.
Growing up in Shreveport, Sandra has always been passionate about defending the defenseless. After graduating from the Southern University Law Center in 2019, she began her legal career at The Singleton Law Firm and was a public defender for Caddo and St. Martin parishes.
"As an advocate for the people, my mission is to ensure that every client feels represented and valued. I want my work to showcase how invested I am in people and community."
In 2020, Sandra opened her practice and continues to practice throughout Louisiana. Sandra is an active member of the Louisiana, Shreveport and Baton Rouge Bar Associations, Shreveport-Bossier African American Chamber of Commerce, SB Magazine Top Attorney 2022, editor for the Baton Rouge Lawyer Magazine, Public Defenders Association of Louisiana, C.E. Byrd High School Board of Directors, Gerry Spence's Trial Lawyers College Graduate 2022 and Delta Theta Phi Law Fraternity.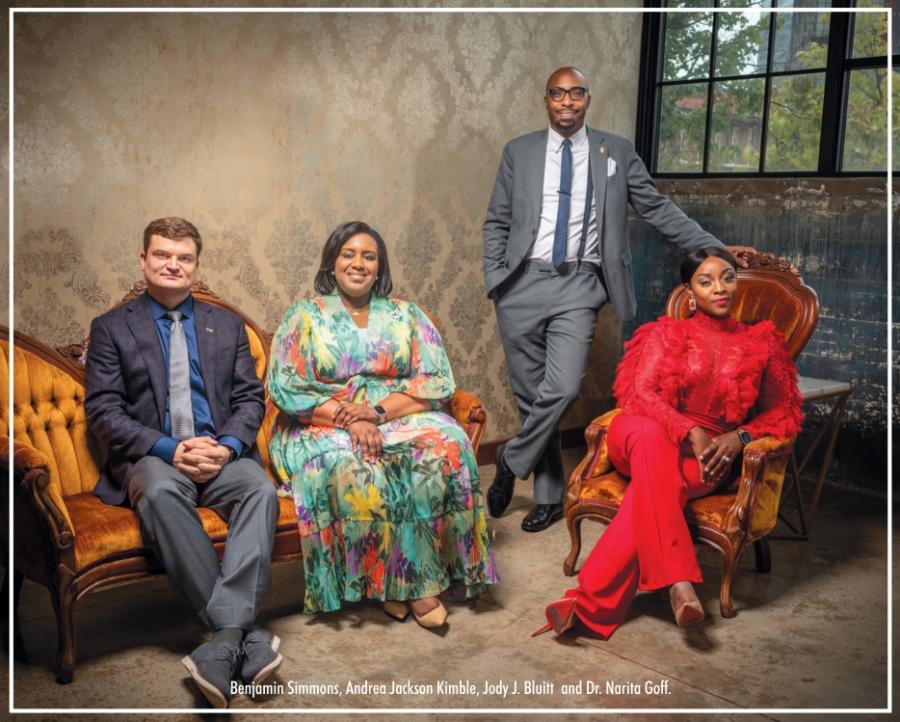 John David Person
John David Person received his associate's degree in film from Bossier Parish Community College (2008), an associate's degree in general studies from Northwestern State University (2014), and his bachelor's degree in accounting (2016) from Louisiana State University Shreveport. John David joined Nelson and Hammons in August 2008 and was named the director of operations in March 2020, where he presently serves.
To help build and strengthen his career, John David is involved in numerous civic activities and regularly attends conferences and workshops to expand his knowledge base.
He is an active member of the Shreveport Rotary Club, Northwest Louisiana SHRM Association, Bossier City Chamber of Commerce, the Greater Shreveport Chamber, Cypress Baptist Church and other civic groups. John David's heart is in practicing servant leadership and giving back to his community. In his spare time, he loves spending time with his wife, Alex, and two children, Andrew and Anna Claire.
Audrius M. Reed
Born and bred in Shreveport, Audrius M. Reed is a graduate of Caddo Magnet High School. She went on to attend Southern University A&M and Southern University Law Center and later returned to Shreveport. An avid volunteer of her time and talents, Audrius presently serves as a member of the Shreveport Redevelopment and Implementation Authority (SIRA) Board, president of the Shreveport Bar Association's Women Section and the IT and public relations chair for the Young Lawyer's Section. She is a member of the Booth-Politz Inn of Court and is the vice president of membership for the Shreveport Chapter of the Southern University Alumni Federation.
Audrius has been recognized as a Southern University 40 Under Forty – Cohort Trois, a 2021 and 2022 SB Magazine Top Attorney, and was recognized in the 2021 "Best Of" Attorney Category.
Audrius is a wife and mother of two who enjoys reading, volunteering and traveling.
Alex Richardson
Alex was born and raised in Shreveport-Bossier, La., graduating from Bossier Parish Community College in 2018 with an associate's degree in applied science in communication media and a focus in the graphic arts. Alex has engrossed himself in the arts since his school days and well into his mid-20s.
He's worked various art-centric jobs, including the Bossier Arts Council, and has also collaborated with many local groups, competed in handfuls of artbased competitions around the nation and has participated in as many local events as he can find. He hopes to continue growing in his skills as a digital artist. When not working on art or non-profit work, Alex has made a bit of a name for himself as a local "foodie" among his peers, who tend to come to him for suggestions on where to get the best bites in town!
Samantha Roberts
Samantha Roberts serves as the director of marketing and communications for the LSU Health Sciences Foundation in Shreveport, leading the external communications for fundraising endeavors benefiting LSU Health Shreveport. Samantha successfully strategizes, manages and executes the Annual Fund for the nonprofit and has contributed articles related to LSUHS philanthropy in local publications. Samantha received her B.S. in marketing from Oklahoma State University. Before working for the LSU Health Sciences Foundation, she was the director of marketing for Team Lytle of Berkshire Hathaway HomeServices, a nationally recognized, top-producing real estate team. Samantha currently serves as the sponsorship chair on the Fairfield Foundation Board, a nonprofit created to fundraise for capital projects at Fairfield Magnet. Samantha is also a military spouse whose family relocated to Shreveport when her husband was stationed at Barksdale Air Force Base. Samantha is now proud to call the Shreveport community home.
Tiffany Sandifer
Tiffany Sandifer is a native of Shreveport and is employed as the director of student life at Bossier Parish Community College. She serves as the advisor for the Student Government Association and as the Ms. BPCC Pageant coordinator. Tiffany holds an associate degree in general studies (BPCC), a bachelor's degree in electronic media journalism (LSUS), a master's degree in student affairs in higher education (NSULA) and is currently pursuing her Doctor of Education in leadership studies (LSUS). Tiffany serves on the LSUS Alumni Association Board of Directors, as the King Cake Classic assistant chairman for the Junior League of Shreveport-Bossier, as an officer for the Shreveport-Bossier Phi Mu Alumnae Chapter and as the chapter advisor for Phi Mu at LSUS. Tiffany was recently recognized with the honor of Outstanding Alumnae for Contribution to the Community (Phi Mu) and is a Certified Life Design Catalyst Coach.
Benjamin Simmons
Benjamin Simmons is a Shreveport native. He is the owner of Shreveport Security Systems and a math teacher at Youree Drive Middle School. Benjamin graduated from C.E. Byrd High School in 2005 and has a bachelor's degree in history and a Master of Arts in teaching from Louisiana Tech University.
After years of promoting a positive business relationship with his staff and the community, he now uses his business experience to relate real world situations to students in the classroom. Benjamin is passionate about helping others, whether it be through teaching, training or just filling a need. He steps in to support those around him and always tries to find a way to keep people from giving up.
Benjamin enjoys relaxing and taking trips with his wife, Claire, also an educator, and their two children, Benjamin Jr. and Lily.

Jenny Traweek
Jenny Traweek has been teaching for 15 years and currently teaches seventhgrade American history at Benton Middle School. She is married to Neal and has two children, Madison and Tyler. She has a master's degree in education from Northwestern State and a master's degree in American history and government from Ashland University. She was awarded the James Madison Fellowship in 2016 and received the Louisiana Civics Teacher of the Year in 2018. She has been the recipient of numerous conference scholarships, which have helped her to expand her history knowledge and share it with over 2,000 students to date. She enjoys all things history, traveling with her family and reading a good book with her two dachshunds in her lap.
Dr. Tamna Wangjam, MD
Dr. Tamna Wangjam was born and raised in northeast India and has called Shreveport-Bossier home the last three years. She is an assistant professor of medicine at LSU Health Shreveport and the program director of the Leukemia-Blood and Marrow Transplant Program at Feist Weiller Cancer Center and Ochsner-LSU Health.
Dr. Wangjam and her team resumed Autologous Bone Marrow Transplant (BMT) services in Northwest Louisiana, with plans to expand services to Allogeneic BMT and Immune Effector Cell Therapy. She is active in training future clinicians and expanding clinical trial access to the region's patients with blood cancers.
She engages in several community and national non-profit organizations helping people and furry beings. She enjoys spending time with family and friends, doing anything related to food (from cultivation to consumption) or the great outdoors. She believes in the power of one to effect positive change with right attitude and effort.
Lt. Col. Vanessa Wilcox

Lt. Col. Vanessa C. Wilcox is the commander, 96th Bomb Squadron at Barksdale AFB. She commands a group of approximately 90 officers, enlisted and civilian employees whose responsibilities include providing B-52 combat capabilities in support of worldwide operations at a moment's notice. Vanessa commissioned through the Reserve Officer Training Corps from Ohio University in 2005. Following commissioning she completed Combat Systems Officer training at Randolph AFB, Texas. After B-52H training, she remained at Barksdale, where she was assigned to the 20th Bomb Squadron. She has deployed numerous times in support of United States Indo-Pacific Command operations as well as operations in the Middle East. Vanessa holds a bachelor's degree in psychology, a master's degree in industrial and organizational psychology, and a master's degree in military operational art and science. She is heavily involved in her local church, Northpoint Community Church. Vanessa is married to Wes Nickels and has two daughters, Addyson and Amber.
Sarah Wilkes Thompson

Sarah Wilkes Thompson graduated from Centenary College of Louisiana in 2013 with a Bachelor of Science degree in geology. She has worked as an environmental geologist in both the private and public sectors, currently serving as a senior geologist for the Louisiana Department of Environmental Quality. Sarah works as a project manager developing corrective action plans to remediate contaminated sites throughout Northwest Louisiana. She earned her Professional Geoscientist License in 2021. Sarah has been a youth lacrosse coach in the community since 2009 and has led her high school team to the state championship twice. Sarah has been involved in youth ministry at St. Mark's Episcopal Cathedral since 2018, guiding the youth to grow spiritually and encouraging them to give back to their community. She has served on the Centenary Alumni Council, Shreveport Geological Society Board and the Red River Youth Lacrosse Board. Sarah is passionate about bringing positive growth to her community.
Dr. Cassie Williams
Dr. Cassie H. Williams, an assistant professor of special education at Louisiana State University Shreveport, earned her Ph.D. in special education from the University of Kansas. Prior to working on her doctorate, Dr. Williams was a special education teacher for students with emotional and/or behavioral disorders in various districts in Kansas and Missouri. In efforts to gain experience in a variety of settings, with diverse groups of students, and to better prepare her future pre-service teachers, Dr. Williams taught in rural, suburban, urban charter and urban public schools. Prior to teaching, Dr. Cassandra Williams earned her B.S. in communication disorders and her MAE in special education from Truman State University while playing college basketball. Before attending Truman, Dr. Williams earned an associate degree in teaching while playing college basketball at North Central Missouri College (NCMC). Dr. Williams is in the Athletic Hall of Fame at both NCMC and Richmond R-XVI High School.
Laura Woodham
Shreveport native Laura Woodham earned her Bachelor of Science from Louisiana Tech University and Master of Business Administration from LSU Shreveport. In addition to her role with Ochsner LSU Physician Group, she is co-chair of the Ochsner LSU Employee Engagement Committee, where she leads a team to ensure employees feel appreciated, are celebrated and have avenues to make their voices heard. Laura also believes in creating opportunities for children to learn and grow through sports, healthy lifestyles and access to care. She has always been involved with soccer in North Louisiana – from playing soccer as a child, to being the first four-year letter winner in Louisiana Tech women's soccer program history, to currently playing adult league soccer and coaching multiple teams. Her coaching philosophy is to instill good sportsmanship and cultivate genuine leaders through teamwork and respect. Laura is married to Trey Woodham, and they have three amazing children: Walker, Chase and Natalie.