Servicing Bossier Residents
Bossier fitness center, recycling program are notable ventures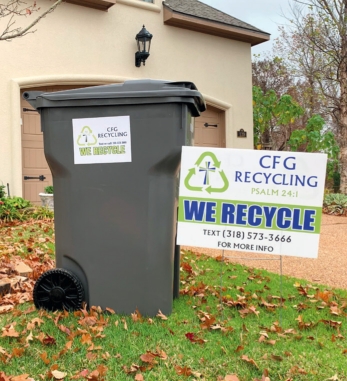 While Shreveport has yet to reboot its curbside recycling program, a local group stepped up three years ago to offer the service. Now recycling is building a Bible-based constellation of businesses creating a unique story.
It all started in a small garage with prayer and a lot of faith, according to its owner.
Christ Fit Gym has a facility in Bossier City on Chinaberry Drive where people are encouraged to congregate and work out free of charge. It's an unusual arrangement, but owner Billy Weatherall says his inspiration came at the lowest point in his life. After military service, Weatherall found his life spiraling out of control. But on one fateful night, "I put my gun to my head and cried out to the Lord. 'Lord, if you really are who you say you are, I will do anything you ask me to do. I will never touch another drop of alcohol, and I will be one hundred percent devoted to you. If you're real, save me.'"
He woke up the next day and has been trying to keep his promise ever since. He started a Bible study and workout group in his home. That quickly outgrew the neighborhood.
"God called me to do it bigger but to do it completely free," Weatherall said. "I was terrified. During that time, I had lost everything. God provided. We've grown multiple times since then. I had no clue how big it was going to get."
Now, he has more than 15,000 people who have joined the Bossier gym. It's an expensive proposition to run and maintain a free gym, but the funding stream is unique. "It's very expensive. But the reason behind these businesses like the recycling [CFG Recycling], the thrift store, the smoothie store [Fruits of the Spirit], we have a moving company [Strong Men Movers], is to fund the gym. All these for-profit companies give a lot of money to the gym so we can continue to operate."
The recycling operation has a fee. "[Residents] will call us, we'll set them up, we'll put them on a pick-up date. It's $30 a month for twice-a-month pickup. We just ask that you bag up everything because we pick up in trailers, so you can put it in one giant bag."
He's not worried about the city reinstating its curbside program. "I want the city to do it. But there's a reason the city didn't do it, and they can't do it, because it almost bankrupted the city. And here's why. You have to have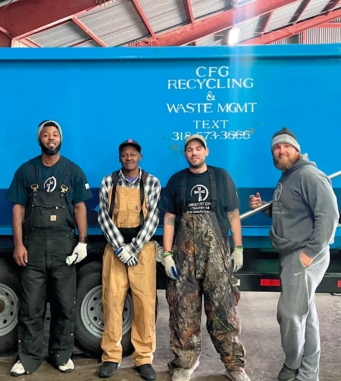 CDL drivers. We don't require CDL drivers because we drive in trailers. When you pick up 66,000 residences, you produce so much trash. The manpower to go through tons of it is very expensive. So then, you have to take it to somewhere that recycles it. They would have to go to Kilgore, Texas, or they would have to come here. And Kilgore's an hour away. And with your CDL drivers, you can't keep them on because they all went to work for oil and gas. You were paying CDL drivers $17 an hour, but now they can go to work for $33 or $34 an hour and make benefits."
But CFG continues to grow. They now have a facility in Oklahoma, and Weatherall says they want to do more.
"We have about a 10,000-squarefoot facility in Bossier. We've really outgrown that. We have some expansion to do in 2023. It gives kids a place to go after school. Special needs kids come up there. I just want people to come up there and just hang out. A lot of people don't work out. I want to put some games in our smoothie store, I want to put some games in there, I want to put in a stage where kids can play music on the weekends and come and have a safe place."
To Weatherall and his brother Burny, who is a director of the venture, this gym is more than a place to build your physical strength. "It's not generally what people think. I'm not going to come in there and beat you over the head with a Bible. We do a short Bible devotion before every class, and we pray. People get very involved. A lot of people come to Christ Fit that would never go to church."
You might say that in the case of CFG Recycling, one man's trash is another man's salvation.