Kiss A Frog
An Enchanted Evening of Fairy Tales, Tall Tales & Cocktales!
2022 Preview

An artist starts with a blank canvas.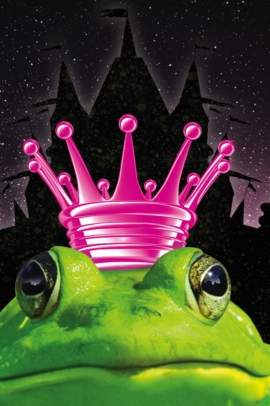 Designer Richea Corbin began with an empty room.
At a horserace track.

"It's a really big room," said Corbin, who designed the "Cinderella" section of this year's upcoming event at Louisiana Downs. "I've had this room numerous times, so I'm very familiar with how big pieces have to be. You can't have little bitty things in a giant room. I just went from there with Cinderella and all the things you know about Cinderella. A pumpkin turns into a carriage. Cinderella loses her glass slipper. (What happens) when the clock strikes midnight. Being at Prince Charming's castle. Everything you can imagine about Cinderella."
Cinderella is one of 16 fairy tales that – through colorful design – will come to life throughout two floors of the Downs. "Kiss a Frog – An Enchanted Evening of Fairy Tales, Tall Tales and CockTales!" is the theme for the Shreveport Regional Arts Council's (SRAC) biennial, major fundraiser. This year's event – the first in four years because of 2020's Covid cancellation – will take place Saturday, Dec. 10, from 7 p.m.- 2 a.m. Tickets were still available as of this writing and are $300 each.
"The whole idea is that this year, you're coming into the realm of all fairy tales," said SRAC Executive Director Pam Atchison. "In this Sky realm, when you walk through the castle, of course, the first thing you have to do is meet your frog, so you can kiss that frog and have a happily ever after evening of enchantment at Christmas in the Sky. Once you've had a chance to kiss your frog, you enter the land of fairy tales."
And the land of food, drinks, entertainment and auction items. There will be 11 themed hot and cold buffets with ice sculptures. You can quench your thirst with a "spirited libation" at one of 13 bars – including an ice martini bar.
"It's a massive undertaking," said Sky chairperson Heidi Kallenberg. "We're talking about over a thousand auction items. Hundreds of volunteers. The decorating is beautiful and artistic, with the incredible volunteer effort of our designers who design the party to our theme."
This year's theme was supposed to be for 2020's event. Atchison remembers when Kallenberg first came up with the idea.
"She just really thought it was time for romance and escapism," Atchinson said. "What's the most romantic thing anyone can think of? It's kissing a frog and finding your true prince."
So, she uttered the words "Kiss a Frog." We all laughed for three days and thought that would never take flight. All of the sudden, it sort of began to sink in. As you can imagine, when Covid hit and no one was hugging or kissing, we thought it would just be gone. But as we came out of the pandemic and everyone once again started appreciating one another and giving hugs – even in masks and moving past elbow bumps – it just seemed like we're at a time in this world where we all need to find our frog, and when we kiss it, it brings good luck and happiness, and a good person with whom to enjoy the rest of your life. We all want to live happily after ever."
So, an old theme is new again. "We thought it was more appropriate in 2022 than it ever would have been in 2020," Atchison said.
The four years between Christmas in the Sky appear to have raised the level of excitement for this year's event.
"There's been a great response from the corporate and family sponsorship realm," Atchison said. "The anticipation of everyone getting to come together, to have a big party that is for a great cause, and a lot of people know that the arts council comes to ask once every two years with this big benefit for all of the community support, and it's really been there for us."
In addition to Cinderella, you will find yourself in fairy tales such as:
Rapunzel: "Rapunzel was trapped in a tower," Atchison said. "Finally, after years and years of the wicked stepmother leaving Rapunzel trapped in the castle because she was so beautiful, Rapunzel let down her hair. Her prince came as a knight in shining armor and saved her from living in the tower and took her out of the tower."
Aladdin: "You will see the (Cave of Wonders) in Aladdin and meet all the characters, including a Genie who will make your wishes come true," Atchison explained. "There will be great entertainment and food in that section."
Little Piggies. "Another great fairy tale is the story of the Three Little Pigs," Atchison said. "We call them the Little Piggies. This is where you can have a great time at the Piggy Pastry Shop. There is also a piggy playhouse with live entertainment. There's the Piggy Pit Stop with great food and snacks."
Through the years, Christmas in the Sky has been known for its exquisite live and silent auction items. Atchison says this year will not be any different.
"The items are just fantastic. The community has been generous beyond belief – beyond discussion. More than 100 artists have donated works in the Hansel and Gretel Gallery. There are beautiful restaurants on which to bid. There are incredible trips, like to Iceland, to stay in the home where they filmed "The Bachelor," and to see the northern lights. There's a trip to Costa Rica to be right on the beach – the ocean in front of you and the rainforest in back of you – for 10 people for a week. There are dynamic things like a guitar signed by the Rolling Stones. There is a boxing glove signed by Muhammad Ali and other boxers. Whatever your mind fancies – from food, to travel, to celebrity memorabilia, to jewelry – oh, my goodness, the jewelry!"
Corbin – a veteran Sky designer – has been working on Cinderella since March.
"I have an entrance, and my entrance starts as a pumpkin that you will walk through," Corbin said. "As you walk through that pumpkin, it's changing into a carriage. By the time you have entered the Cinderella section, you will have transformed from the pumpkin, into Cinderella at the ball.
When you walk in, there will be a center section that has Cinderella in it, wearing a giant, flowing Cinderella dress with bluebirds hanging over her. The bluebirds and the mice are the ones that made the dress in the animated Cinderella. There are little mice on the columns. That gives you the visual that you've entered and Cinderella has been dressed by magical little creatures. Along one wall, there will be an enormous staircase that looks like you are in the castle. There is her glass slipper on the staircase."
Christmas in the Sky, held every two years since 1982 (when there isn't a pandemic), provides SRAC "$600,000 to $750,000, depending on the economy," Atchison said.
"This is the financial lifeblood of the arts council. It truly is the fuel that allows us to provide everything else we do in the community to be free and accessible. The taxpayers are not paying for the Bakowski Bridge of Lights that has a different light show each month and starts with a festival (GLO Fest) with entertainment, local musicians and an arts market. … While the (recently-opened) pavilion at Caddo Common Park was paid through public and private funding, the programming is very much coming from Christmas in the Sky – to be able to produce 30 weeks a year of live entertainment in the pavilion. … When we think about the ArtBreak festival, and how many second- and thirdgraders and all the high school students who show their films and who have a chance to show their fashions – that whole celebration of the creative programs in Caddo Parish public schools and all schools across northwest Louisiana – that's totally free, right down to the parking for coming down to a week-long festival."
And Atchison's hopes for people who attend Christmas in the Sky?
"I want them to say, 'This was the best night of my life since 2018. I have not had more fun, and I cannot wait to come back to see what this group of creatives will do in 2024.'"
To learn more about Christmas in the Sky – and to buy tickets – you may visit www.2022sky.com.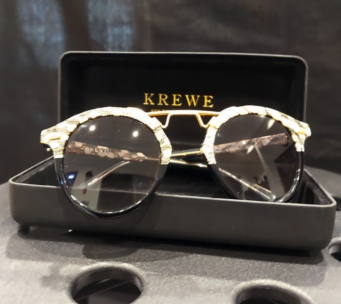 KREWE Sunglasses

This is from the all-new Vintage Collection donated by the many Sky chairmen … the Queens of Sky!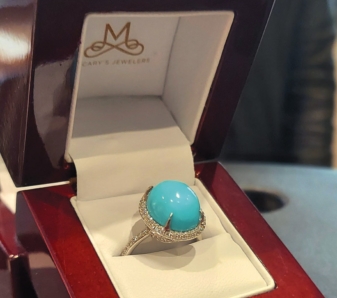 Turquoise Ring

Ladies' 18 kt. white gold and turquoise fashion ring with 124 tw. round diamonds.
Donor: McCary's Jewelers Value: $1,400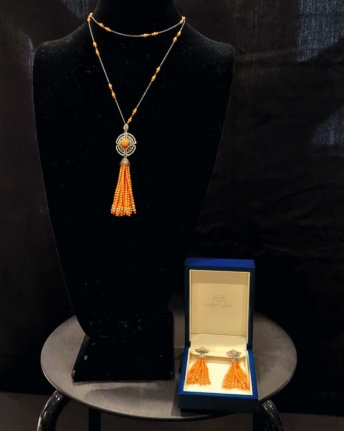 Sid Potts Coral and Diamond Necklace

LIVE AUCTION Coral and diamond pendent necklace and earrings with a coral bead and diamond tassel hanging from an 18 kt. white coral and black centerpiece with rose cut diamonds, weighing 2.85 ctw.
Donor: Sid Potts Inc.
Value: $20,700 for necklace and earrings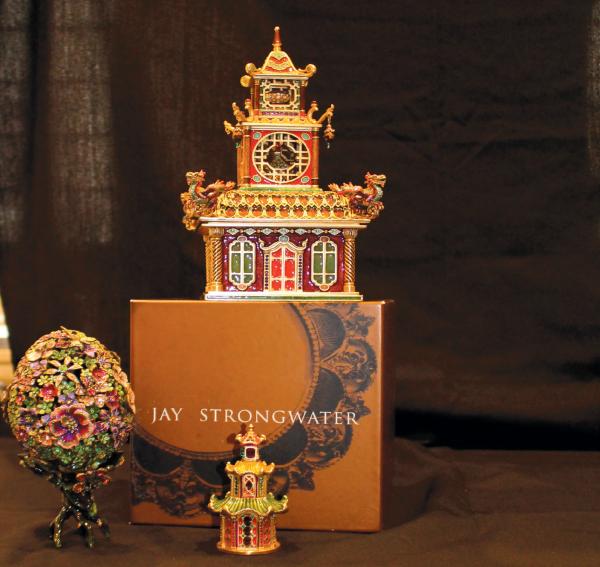 Jay Strongwater Collection

Triple Pagoda Box adorned with fierce dragons and 1,000 handset Swarovski Crystals - $9,500; hand-painted Faberge Egg on blue porcelain revealing a silver pagoda; and a book about the history of Faberge Eggs - $5,690.
Louisiana Coin & Jewelry
Diamond earrings. $2,400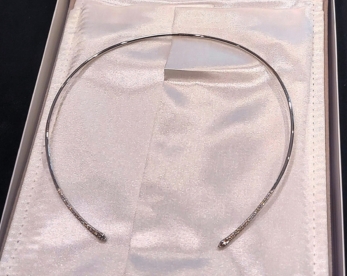 McCary's Jewelers

14 kt. collar necklace with round diamonds. $2,550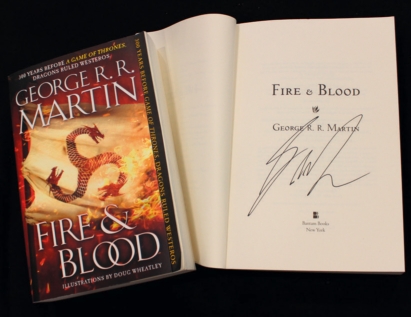 Autographed Book

"Fire & Blood" by George R.R. Martin of the famed "Game of Thrones" series.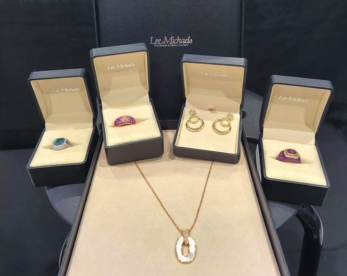 Lee Michaels Fine Jewelry

Live Auction Item: 18 kt. white gold and blue tourmaline with white sapphire diamond ring. Value: $11,500 Rose gold jeweled ring. Value: $2,300 Diamond and gold earrings. Value: $3,650 LSU Amethyst and diamond ring. Value: $1,700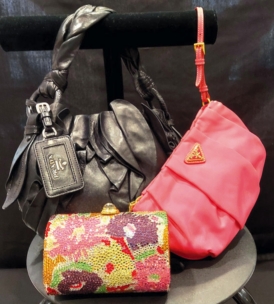 Two Prada handbags Judith Lieber bag from the Vintage Collection

found in "Mirror Mirror" auction section.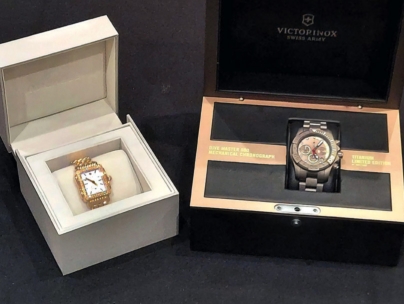 Sid Potts "Strikes Midnight" Raffle Prizes

a his and hers watch collection. Raffle tickets are $25, and anyone may purchase tickets; you do not need to be present to win!
"Her" watch is a Michele Diamond Deco Watch in yellow gold stainless steel case and bracelet with diamond bezel and mother of pearl dial.
"His" watch is a Victorinox Swiss Army Dive Master 500 Watch in a titanium case and bracelet with gray chronograph dial and self-winding movement.