Music and history along the rails
Juke joints and barrel houses welcomed itinerant blues musicians who traveled by rail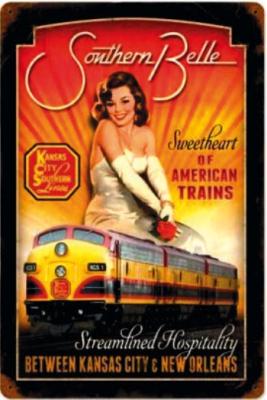 In the early morning hours of Nov. 3, 1969, a sleek, red-and-yellow southbound passenger train called the Southern Belle slowly pulled away from Shreveport's downtown Union Station. The train had a dubious honor: It would be the last passenger train ever to leave the station. Within days, the storied building on Louisiana Avenue – soon to be closed – was heavily damaged in a mysterious fire that started in the basement. The fire was strangely symbolic: an unplanned funeral pyre for a fading era in American history, a death mirrored across Shreveport and America as, one by one, passenger rail lines ceased running.
Union Station, which at its peak welcomed up to 35 passenger trains a day, was eventually razed and forgotten. All that remains of the station today can be seen looking down from the Common Street overpass: a slab, some stairs, and a few green and white tiles that once decorated the floor of a restroom. Nearby sits the old KCS Restaurant, fittingly located between two railroad tracks. The building at 830 Louisiana Ave. now houses an eatery called Northern Comfort Food and Catering. Also, on Louisiana Avenue lies the Jefferson Hotel built in 1922. When first built, the hotel housed train travelers. Today, it is an apartment building.
In its heyday, Shreveport's Union Station was like every great train station in America. It isn't hard to picture the shiny floors, suitcases and shoeshine stands. The people were probably adorned in suits, fedoras and coiffed hair. Young boys hawked newspapers and belted out breaking news headlines. Undoubtedly, there were painful wartime goodbyes and joyous hellos. There were more than likely a few movie-esque moments, too, like when lovers said goodbye as they were separated by the quickening chug, chug, chug of a train pulling out of the station.
When passenger rail service to Shreveport ended, these scenes in Shreveport ended, too. In time, trains became utilitarian shuttlers of coal and cargo – but not people. Trains became objects that infuriated automobile drivers as they blocked the road. If not for that and the occasional distant lonesome whistle blowing in the night, trains in the psyche of Shreveport-Bossier residents would be almost completely forgotten.
The relationship between America and its passenger trains is complex. The completion of the Transcontinental Railroad in May of 1869 helped usher in the end of the American frontier. Trains expedited the growth of the American West and made the United States smaller and more accessible. No longer did pioneers cross the vast reaches on horseback or wagons.
Instead, the country was open to anyone who had a hankering for an adventure and a train ticket.
For the next century, trains were the great muse of American culture, inspiring films, books, and, most prolifically, music. When trains opened the American landscape, musicians didn't miss the opportunity, and the result was a crosspollination of melodies and lyrics that traversed America like an unimaginably big spider web. And because blues musicians rode trains, they sang about trains.
A lot. The music of the rails was born in small establishments in railroad towns across America. They were all the same, but all different – described with terms like juke joints and barrel houses. Shreveport was like other American cities in this regard. A bustling music scene developed in downtown Shreveport around Union Station, and the ghosts of the bluesmen that frequented the juke joints and barrel houses still linger.
Blue Goose sat in a long-forgotten area of downtown Shreveport called Crosstown, on the corner of Snow and Pickett streets. It was a small market and grocery with a bar in the back, so named because of a blue goose painted on the wall. The reason for the painted goose is unknown. Blue Goose is an oddity because, according to Shreveport blues aficionado Dan Garner, Blue Goose is not mentioned in any map, government document or official publication.
But it turns up in song. Shreveport bluesman Jesse "Babyface" Thomas wrote a song called "Blue Goose Blues." He often sang at Blue Goose. In the song's lyrics, Jesse mentions having two bits to lose, a gambling reference. He then justifies the gambling saying he can always go back to chauffeuring. Jesse recorded "Blue Goose Blues" in Dallas in 1929. Did he take a train from Shreveport to get there?
Like passenger rail travel, Crosstown was a victim of "progress." Most of the neighborhood was bulldozed to make way for Interstate 20. The original Blue Goose building was eventually replaced with a brick structure in 1940. It survived the interstate's construction and is still there today.
Musicians of the era were, by nature, itinerant. Both known and unknown blues musicians passed through Shreveport by train. We can only assume that if they stopped at Union Station in Shreveport, they quite possibly visited Blue Goose. After all, bluesmen were drawn to the music. Among the many notable blues musicians that passed through Shreveport by train was "Blind Lemon" Jefferson, a known contemporary of "Lead Belly" Ledbetter.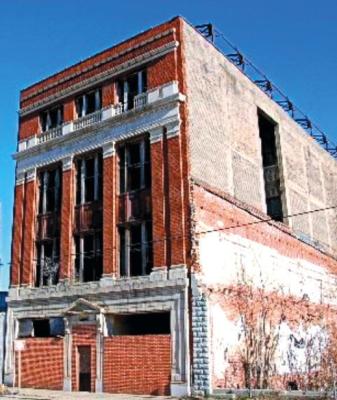 If you stand in front of Blue Goose today, its connection to the railway is self-evident. Shreveport's bustling Union Station sat directly adjacent to the Crosstown neighborhood, making it an attractive spot for travelers to drop in. Much like early blues history, though, most itinerant blues musicians' adventures were not well documented. We can only surmise from cryptic clues how they were connected.
A perfect case in point is the song by Shreveport bluesman Oscar "Buddy" Woods, who played a bottleneck slide on a steel guitar. He recorded a song with Ed Shaffer called "Flying Crow Blues" about a train that came through Shreveport called The Flying Crow. The train was so named because the line it traveled from Port Arthur was straight – as the crow flies.
Woods' lyrics in the 1932 recording lamented the meaning of the red-and-blue lights on the back of the Flying Crow as it passed. A mere five years later, blues giant Robert Johnson recorded "Love in Vain," where he sings lyrics that were almost identical to those of Woods: "When the train left the station there were two lights on behind/well, the blue light was my blues and the red light was my mind."
According to Dan Garner, Johnson most likely passed through Shreveport on his way to Dallas to record his famous albums. Did Robert Johnson stop by the Blue Goose and hear Oscar Woods sing
"Flying Crow Blues"? We can only guess, but the fact that the same lyrics turned up in two different songs by two different bluesmen suggests that they, or their music, had crossed paths somewhere.
A walkable distance from Union Station was Texas Avenue, a hopping, predominantly African American business and entertainment district. Before Interstate 20 came through, Texas Avenue was the main highway route through town (Highway 80). The clubs of Texas Avenue were closely clustered in the 1000 block. These included the Golden Lily Ballroom, the Plamoor Ballroom and the Star Theatre. You can hear a firsthand account of that era in the song "Saturday Nights on Texas Avenue" by David "Three Fifteen" Brunson and His Squares.
Perhaps the most well-known club on Texas Avenue was the rooftop garden of the Calanthean Temple, known for attracting jazz musicians of the era. Considering Union Station was in its heyday in the 1920s, jazz musicians likely passed through there on their way to play on the rooftop of the Calanthean Temple.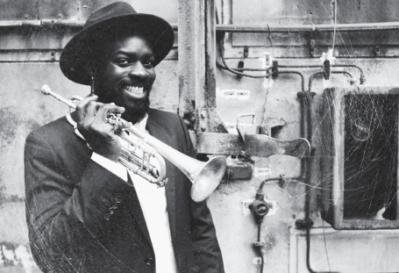 Famed Big Band leader Charlie Barnet was one of America's first white band leaders to hire black musicians. He had big band hits "Cherokee" and "Skyliner." In his autobiography, he recounts how he met his friend and future bandmate, famed jazz trumpeter Peanuts Holland, on the roof of the Calanthean Temple in Shreveport one night after a gig at the Washington-Youree Hotel. When Barnet first heard him, Holland was in "a black band playing a one-nighter for a black audience on the roof of a warehouse."
Jazz great Jelly Roll Morton had a song called the "Shreveport Stomp" – also connecting him to Shreveport for posterity. Whether he traveled there by train is unknown, although there was routine passenger service to Shreveport from New Orleans. As a side note, the international reach of Shreveport's music history is emphasized by the fact that the most popular swing band in Hamburg, Germany, is called Shreveport Rhythm. Their name, they said, was directly a result of their appreciation for the music of Jelly Roll Morton.
The proximity of all these clubs, juke joints and barrel houses to Union Station are hard to ignore. They were, in a sense, a magnet whose proximity to a busy train station made them an intoxicating destination for any musician on the move. As jazz and blues and train travel reached their apex of popularity in American culture in the 20th century, they were indelibly and forever intertwined; the music of an American era and the transient musicians who played it.
Editors note; Look for part two of this story where we explore the possibility of rail travel from Shreveport-Bossier City.