Creating memorials from stone to leave memories, create impressions
Tony Reynolds has been building monuments for over 15 years, first for a local company, and beginning in 2022, he joined forces with his partner, Jeremy Waters, to launch Monuments of the South.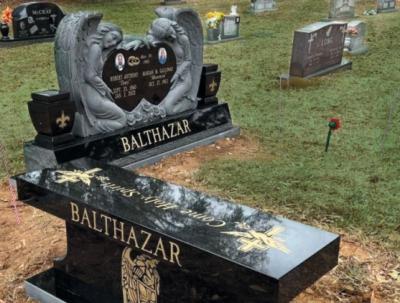 "We do anything in the granite industry. We specialize in headstones, monuments, cemetery markers and bronze markers. My partner, Jeremy, he had a countertop [business], Counter Tops Direct, running out of this location for 15 years. We still do countertops."
The showroom boasts about 100 samples of stone for customers to peruse and select. Reynolds said the displays show potential buyers the different shapes, styles and sizes of stone the company can work with to create a memorial.
"You pick the stone you like. If you like this stone, but you like [another] color, we build it from scratch so that we can do that. Then we have an in-house design room where we sit down with a big, 60-inch, TV monitor and sit at a table with the family and design it. So, you're seeing exactly what you're buying."
Reynolds said there is no limit to what a customer can customize to get the look desired. "I did one a couple of months ago where a guy was a big drum player. We cut a life-size [version] of his drum set, cut that out and lasered his drum set onto the stone."
All of the work is done in-house. His motto is "Custom monuments at a wholesale price." He said he keeps to that goal by reducing his overhead.
"I'm doing that so I can offer wholesale pricing. That's in our motto: Custom monuments at a wholesale price. I'm selling really close to wholesale. I'm going to make my money off volume instead of marking each stone way up. My strategy is to make a little bit on a lot of them."
He said that a traditional gray granite headstone with a single name engraved runs about $800, but that can cost as much as $2,000 at other companies. The most elaborate monument he's ever constructed came to right at $100,000. He said, "You can spend whatever you want to spend on these things."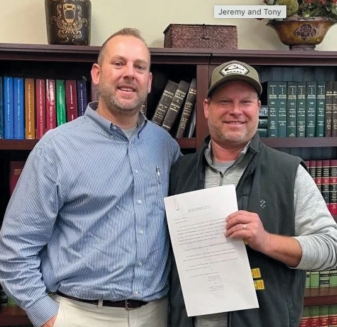 Covid affected the monument business, making getting supplies and raw stone delivered more difficult. "The industry took a big slow-down [after Covid] in getting your product," Reynolds said. "It's taking an average of six months to get a monument built. But we have bought a lot of extra stock because we saw this day coming. We ordered a lot of stock. If you do pick something that we have in stock, then we've got a 30-to-60- day turnaround. If it's not in stock and we're having to do it from scratch, we're telling people six months."
Besides cemetery markers and civic signage, Monuments of the South does other specialized themes. "We do a lot of signs, like your neighborhood, your HOAs [Homeowners Associations], your subdivisions. Your entry gate, you know? We do a lot of those. Business signs, civic projects, churches. We do a lot of bronze walls at churches where they lose a church member, they put a scroll."
Reynolds said they order blank stone and do all the engraving in-house. "We have an in-house design. We can build as simple as you want or as elaborate of a monument you want. We've got the best artists in town and the absolute best engraver who's been doing it for 25 years."
Reynolds said they just finished some work for Calvary Baptist Academy. "They just won the state championship in softball. We've done all their state championship monuments. Five foot tall, five foot wide with all the team lasered on it. It's really cool."
Reynolds' personal favorite is a monument they designed for fallen Shreveport Police Officer Chateri Payne. "I took a lady's photograph, and I made the stone to her size. I cut the stone to fit the shape of her body with her arms on her hips. The stone is cut to that, and then I'm laser imaging her picture into the cut-out of that stone. So, it's going to be like her standing there life-size looking out."
He said the monument could be seen at Forest Park West, where Payne is interred. "Out beside her there's a bench. And then the monument with her name and dates is on a cut-out of her police badge."
Monuments of the South is located across from Shreveport Regional Airport at 5122 Hollywood Ave. (318) 674-7500.