Could Amtrak station be on the horizon for Shreveport?
(Editors note: This is part two of "Music and History Along the Rails," 318 Forum, Dec. 14, 2022. Read at: bit.ly/3IwOb1n.)
Somewhere along the way, passenger trains lost their romance. When they did, their demise was inevitable. There was a myriad of reasons. It was a changing culture, a changing world and an automobile industry that lobbied for a new and exciting idea: In a car, you could go wherever you wanted whenever you wanted and didn't have to rely on a darn train schedule. That, coupled with the 1950s advent of the sleek, new American interstate highway system, signaled the death knell for passenger train travel. In the end, the automobile lobby won, and passenger train travel, as it was known, faded into oblivion. All that was left was a new governmentsubsidized train company which, in 1971, took over the dwindled leftovers of private rail service and combined them all into one entity: Amtrak. When the final plans were made, Shreveport was left out. The nearest line, the Texas Eagle, came from Dallas as far east as Marshall, Texas, and then took a sharp turn to the north headed to Little Rock, St. Louis and ultimately Chicago.
However, a passenger train rebirth for Shreveport could be in order, thanks to a pending $31 billion merger between Canadian Pacific and Kansas City Southern. The merger and Louisiana Senate Bill 467, signed into law by Governor Edwards last June, lays the groundwork for passenger rail travel returning to North Louisiana. The bill proposes "Passenger rail services along the Interstate 20 corridor between Marshall, Texas, and Meridian, Miss., through north Louisiana with key stops in Monroe, Ruston, Delhi and Shreveport-Bossier City."
This is a tantalizing possibility for those who view the passenger rail era through rosecolored glasses. Will we once again be able to embark from Shreveport on a passenger train adventure?
Life on Board Amtrak
Currently, hopping on a train from Shreveport poses a small problem. The nearest Amtrak station is Marshall, Texas, 45 minutes away. From there, travelers can head west to Dallas on a morning train or north through St. Louis to Chicago on an overnight train.
To step on a train is to take a step back in time. There is surprisingly no security, a refreshing change from the militancy of a post-9/11 world. The seats are wide and comfortable, a far cry from the cramped and miserable seats we've learned to expect in air travel. And when it is time to depart, there are no announcements demanding cell phones be turned off or trays placed in upright and locked positions. The only hint that it is time to go is a simple "All aboard!" from the conductor – just like in the movies.
Two blasts of the train's horn indicate an imminent departure, and then the train rolls on. Our train to St. Louis was sparsely seated, evidence that most of Amtrak's revenue comes from the northeastern United States, where train travel is more of a necessity. The grand total for the round-trip Amtrak ticket from Marshall to St. Louis for one person was $174. Three cheers for governmentsubsidized travel.
While the amenities are considerably better than air travel, Amtrak does have its drawbacks. Punctuality is not its strong suit. This stems from passenger rails' second-class nature as a corporate entity. Amtrak rents rails from freight train companies, so freight trains have the right of way along the route. This often results in short delays on sidetracks as cargo trains roll by unfettered.
On our trip to St. Louis, the train rolled out on time. But Amtrak travelers must travel with a different mindset – delays are the rule, not the exception. Because of this and its sparsely located stations, Amtrak is rarely convenient or timely. For example, to get from Marshall, Texas, to Denver, Colo., on an Amtrak train, you must first go to Illinois. The trip takes a mind-boggling 37 hours if the train is on time.
For those who didn't grow up with routine train travel, there is a certain rhythm to the motion you must learn. You walk, balancing yourself with hands on seatbacks as you move up and down the aisle. And because there's no unexpected turbulence, wandering around the train is encouraged.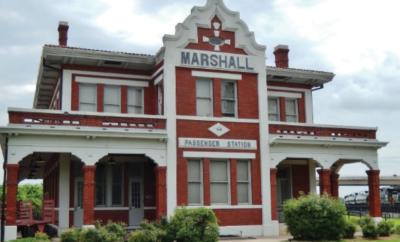 Most Amtrak trains also typically have sightseeing cars with large windows and seats facing outward toward the scenery. During the Covid-19 pandemic, those cars were removed. They will be used again soon, one porter said.
One significant advantage of traveling on Amtrak is the lifted burden of not driving a car. There is no worrying about stopping for gas or food or taking restroom breaks. Gone, too, is the constant focus on road hazards and other drivers. There's a relaxing nature to train travel that makes it incredibly enticing.
It wasn't hard as we rolled along to imagine the blues musicians chugging along toward St. Louis, possibly their guitars in hand as they picked and played their ideas into the air. The train itself rolls along with a certain rhythm, too, a cadence tapped out by the rocking and clanking of the tracks. It's evident as you sit on a train that the very wheels of the train are perhaps a suitable rhythm section for the blues.
To see the countryside from the train in the light of the setting sun can be strangely new. Travelers peek into back alleys and back streets along the way, hobo voyeurs peeking at an America we had never seen before.
Another bonus of train travel is the amenities.
On board is a small store for buying drinks and snacks, multiple restrooms and a dining car. If you're so inclined and willing to fork over more money, sleeper cars are also available overnight.
The northbound Texas Eagle makes stops through the night: Texarkana, Little Rock and Poplar Bluff.
They are short stops, just long enough for those waiting to hop aboard.
As the sun rises the next morning, the train rumbles alongside the Mississippi River before rolling into downtown St. Louis. From there, travelers can travel to Chicago and almost anywhere in the United States.
A few days later, we again traveled in the dark on our return trip to Shreveport. A major drawback of this leg of the Texas Eagle from Marshall north is that coming and going, you travel overnight.
But the nighttime lends itself to other thoughts. As the train pushed south through the darkness, the blues musicians of the past came to mind again. When they rolled south, was Shreveport on their minds? Were they thinking about popping over to Blue Goose for a drink or gamble (if they had two bits to lose)? Were they going to go stomping at the juke joints on Texas Avenue? Maybe they would get back just in time to catch Peanuts Holland ripping his trumpet on the roof of the Calanthean Temple. Maybe they would just sit on the corner of Snow Street and rustle up some nickels by playing the blues.
The train rolled into Marshall at the break of day, and we made the drive back to Shreveport. That afternoon, our train journey unofficially ended where it had started – looking down on the slab of what was once Union Station. Next time you take Common Street into downtown Shreveport, look to your right. There you'll spy pullouts built into the bridge. These oddly placed pullouts were planned for taxis dropping off or picking up train passengers who came up a set of stairs from the station below. The pullouts made accessing the train station from Interstate 20 easy. When Union Station was razed, the pullouts became quirky, nonsensical remnants of a bygone era. Perhaps one day, they'll be used again.
The allure and romance of train travel will never return to what it once was. Too much time has passed, and too much has changed. But there's hope for the future. What can be revisited, especially in the case of Amtrak, is the mindset of Americans. To make a case for Amtrak, we must convince a whole new generation of Americans that train travel is a viable option, even if it's not perfect.
In Shreveport's case, the future of passenger rail travel is tantalizingly near. Not a single foot of new track must be laid. The planned Amtrak route through Shreveport would utilize already existing rail lines. The line would continue east through Mississippi and then to Atlanta. From there travelers could reach Amtrak's northeast corridor. If you wanted, you could step on a train in Shreveport-Bossier and step off a train in New York City.
As a bonus, a new Amtrak stop will bring a new Amtrak station. It will undoubtedly not be as grand as past stations. But could it pay homage to the old Union Station? Could we put a picture of Jesse "Babyface" Thomas or Oscar Woods on the wall? Or Jelly Roll Morton? Could we designate a spot within its walls to honor Union Station – all the musicians and trains that passed through and the songs it inspired? This would be a final and fitting epitaph for a forgotten train station that played such a significant role in the story of Shreveport and its music.