Burial services for your beloved pet
Few events have the emotional impact of the loss of a beloved family member. That is equally true when the member is a pet.
There are about 100 places in the United States which are in the business of providing "final arrangements" for the pets in our lives.
The oldest in the country is located a mere 30 minutes north of midtown Manhattan, N.Y. The Hartsdale Pet Cemetery was opened in 1896 by veterinarian Samuel Johnson. The only pet cemetery listed on the National Register of Historic Places is a certified National Wildlife Habitat. Researching the business revealed a dispute about whether it or a French pet cemetery could boast the title of oldest in the world.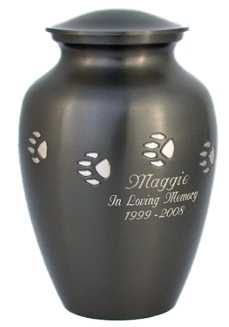 Regardless, there's a place locally for anyone who needs to make arrangements for a pet who has crossed the rainbow bridge, as they say.
Located in Elm Grove, about 20 miles from Shreveport, is Heavenly Acres for Pets. Jaci Brackeen has been in business there since 2003. She's been a licensed funeral director and embalmer since 1995 and has worked in funeral homes for humans in Longview and Bossier City. She is also a licensed crematory operator and completed the Certified Pet Loss Professional Training program.
She started Heavenly Acres when she learned that cremation services would no longer be available locally. She said she thought the community needed this service, which was a way to continue her passion for helping families working through the grief of losing a pet.
"I am the only pet cemetery and crematory in a tri-state area," she said. "I can help a lot of people that are going through this at a very traumatic time."
She said when she found out the local vet who had previously had the only crematory would no longer provide the service, she decided to fill the need. "Year after year, it's been better than the year before. A lot of families grieve more over [their pets] than they do for family members. It's crazy the bond we can get with them."
Her services are primarily for dogs and cats, but she can handle almost anything if your faithful companion is of the exotic variety. "You name any other pet under 250 pounds, and I've done that, too. It was a beloved family pet to someone – snake, hamster, rat, you name it, a chimpanzee for Chimp Haven."
Like the arrangements for the human departed, Heavenly Acres offers a wide range of products and services at various prices for the pet's family. "The least expensive cremation is $175," Brackeen said. "It's based on weight. There are five different weight categories. I can go up to 250 pounds.
"I offer lots of different products. I've got a selection room in my office here where people can see lots of different urns. The website can also show people differences. I do paw prints and jewelry, glass pieces and diamonds.
"Burial starts at $650 and goes up. That's the plot, the digging, the casket, the marker. There's no future fees at all."
Brackeen said there are many more options for the pet owner looking to honor their companion with a burial.
"Every pet is in a field casket. Every one has a granite or marble marker, vase for flowers. Some families like to view and have an actual service. Some families like for me to take care of the burial and then they come out afterwards."
She bought three acres to use for the cemetery. Only about a half-acre has been used because, she said, most owners want to take their companion home. It currently serves as the final resting place for about 115 pets.
Full services can be as elaborate as those for humans, Brackeen said. "That would include viewing, a full service, where there's friends and family that are there. I've had a soloist come out before. I've had it live-streamed so other family members could see it. There are songs that are sung. There are stories that are told.
"There are two types of jewelry, the pet's actual paw print or nose print made into any kind of jewelry or charm. I wear my lab's nose print, because it meant a lot to me, every day. Some people like to have the actual cremated remains or hair in their jewelry. The other is probably 150 different shapes that are hollowed out for me to be able to place cremated remains or hair in there.
Memory glass is made with a little bit of the cremated remains, or it could be other material. You name the shape and the colors; it's just a pretty piece that sits in your home."
Whether you wish to honor your pet with a big service, a memorial item or just have them properly prepared to return to your home, Heavenly Acres for Pets will work with you in your time of loss. For more information: 318-470-8327, https://www.heavenlyacresforpets.com, https://www.facebook.com/heavenlyacresforpets, or heavenlyacresforpets@yahoo.com.