Jimmy Wooten Sings it Like it Is
"Money Ain't Everything"
Shreveport singer and multiinstrumentalist Jimmy Wooten was living the good life.
Seven years touring with entertainer Neal McCoy meant playing festivals in front of 80,000 people. That meant "at least 10 times" playing at the country music shrine – the Grand Ole Opry.
But that wasn't enough. "I could feel it," Wooten remembered.
"There was definitely a burning – and a hunger – to do my own thing. What I would do would be so well-received at a Neal McCoy show. I was only his bass player, but I sang background vocals. I was up front with him. I was able to free-roam and do what I want. I didn't have to stay in a spot. I would really add to the energy of the show. Whenever he would give me a chance to sing a song every night, it would be so well-received from the crowd, I was like, 'I need to be doing this.' Then I was selling merchandise at his merchandise table and making fans all across the country. But I still wasn't able to completely be myself."
Until May of 2021, when Wooten left McCoy and went out on his own.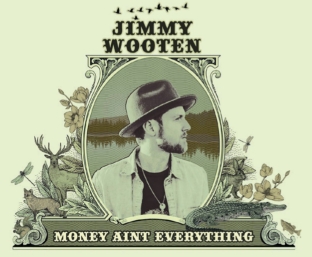 "It's the best decision I've ever made. Now, I'm doing nothing but getting my name out there and wanting to release more music."
And Wooten is doing just that. His first full-length (10-13 songs) album is expected to be available early this summer.
"The goal of this first album is for the world to see who I am, what I'm capable of, and what I do and what I'm about."
Two singles from that album have already been released. The latest, "Money Ain't Everything," speaks to Wooten's philosophy.
"If you chase money, you will find unhappiness. But if you're willing to work hard in whatever field you're in, you will have money."
So surely, Wooten spent a lot of time writing "Money Ain't Everything," going to great lengths to express his message in a way every listener could understand.
Not exactly. "It just came to me on the way to a gig up in Fayetteville, Ark. I wrote it on a voice recorder with no guitar, nothing. Just kind of drum beatin' on the steering wheel and singing to myself."
You don't have to wait for Wooten's album (which has not been titled) to know what he's "about." One of two children – Wooten's sister
(Laura) plays in his band – is big on family. His parents were founding members of The Gator-Dilla Band. And when on the road with McCoy, Wooten – who recently turned 39 – didn't get to spend much time with his wife, Sara, and young children, Wilder and Woods.
"I was on somebody else's schedule, which meant I was missing my wife and kids for weeks at a time – more than I would like."
Lately, Wooten has been home a lot. In addition to recording and producing other artists, he's been working on his album. Therefore, Wooten intentionally scheduled dates – and a lot of them – at area restaurants.
"My goal is to play songs they know, but also play my music. I want to make everybody feel like a part of my family by the end of the night. I treat every show as if I'm playing at the Grand Ole Opry, or in front of 10,000 people. Even if it's 50 or 100 people spread out in a restaurant."
Soon, Wooten will expand his reach, playing for audiences in New Orleans, Baton Rouge, Lake Charles, Jackson, Miss., and Mobile, Ala.
"I would like what I have now to grow. But I would like it to stay at a manageable point. Fame has never been something that I'm shooting for. I just want things to happen organically, be able to support my family, and watch my kids frow up and give them every opportunity I possibly can."
In other words, Wooten – unlike many artists – isn't willing to sacrifice everything to "make it big."
"To me, the definition of success, in any field you're in – whether it's music, or if you're an electrician or a plumber – is being able to make money doing what you do and support your family. Or, if you don't have a family, support yourself. I'm able to do that now – very well. I've made it in my mind. I'm very happy with what's going on. But the end goal would be to be playing ticketed shows – concerts – to people coming to hear my original music solely. Then I would want to continue producing other artists and help develop other artists who are just getting their start."
For Wooten, that would be better than the good life.
To learn more about Jimmy Wooten and play or purchase his music, you may visit www.jimmywooten.net.