One-stop shop for building, remodeling projects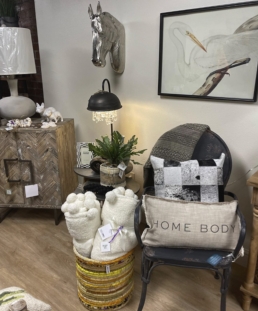 Since 2015, David Bliss has been helping homeowners find the things they need to make their abode a home. His store, Louisiana Home Center, recently moved from its location in Bossier's East Bank District to new digs just three blocks down Barksdale Boulevard.
The January move from their Bossier location in the East Bank District to their new site is a story in itself. More on that is below.
Bliss said there's an important difference about their store. "We're the only one in town where you can get your cabinetry, your countertops, all your flooring, and get it all installed from one location without having to go shop anywhere else." Home Center will also do the installation when they've picked out all the items for their remodel or new construction.
Dawn Bliss explained the layout of the store. "One side of our store is the design center for remodeling jobs and new builds. On the other side of our store, we carry gifts, furniture and accessories.
"We have lighting, lamps, occasional tables, dining tables, chairs. We carry a line of crystal wine glasses. We have bath products; we have jewelry. We kind of have a little bit of everything, really," she said. They also carry the Consuela handbag line.
They said you could check out the store at their unusual URL: https:// louisianahome.center/. That's not a mistake; it's not <.com> They also boast quite a number of followers on Facebook.
Their new location is in one of Bossier City's historical landmarks. It originally was the Davis Theatre, which the Bossier Parish Libraries History Center website describes in detail. Center staff member Laurie Dyche dug into old newspaper accounts to ferret out the details for the site. They even found a picture of a woman and child standing in front of the theater marquee. The movie house was playing a 1925 Charlie Chaplin film called "The Gold Rush."
The building was started during World War II. The architects were Peyton and Annan, and the contractor was A.J. LeVasseur. The theater could ,seat over 700 moviegoers, was airconditioned and boasted fire prevention "devices."
The team says they can help make the expensive prospect of transforming new or existing surroundings more affordable. They say they can help you transform your surroundings into the space of your dreams and call themselves the ultimate one-stop shop for all building materials for the SBC. When you stop in, you'll get assistance in realizing your décor dreams while shopping in a building where Hollywood's dream machine spun tales of romance and adventure for post-war audiences.
The new location is 915 Barksdale Blvd. in Bossier City. As noted, you can find more information online or by calling (318) 686-6381.