The Greater Shreveport Chamber's Capital Campaign
Historic structure in need of extensive repair
The Greater Shreveport Chamber's grand old building in downtown Shreveport has served our community well for many years, and now, it needs its community to save it.
In 1918 the women's organization of Shreveport rallied the entire community behind a campaign to establish, fund and build our own free public library. Their efforts came to fruition when the Shreve Memorial Library building was constructed on the corner of Edwards and Travis streets as a "gift to the present and future generations."
Completed in 1922, this magnificent, one-of-a-kind structure was designed by renowned architect J.P. Annan and is a striking example of Romanesque and Italian revival styles. It features a red clay tile roof, large arched windows, expansive interior rooms and an exterior plaza. It is one of the few remaining examples of Shreveport's celebrated architectural heritage still in use today.
It took a community-wide effort to create the building, which was not just a home for books but an important expression of civic pride and what one local newspaper called a "Monument to the Future." The building was opened to the public on Dec. 6, 1923, in a ceremony presided over by Mayor Lee Emmett Thomas and attended by 1,000 people.
By the 1980s, 60 years after opening, the building was in disrepair, and the library had moved into the former post office and federal building on Texas Street. There was concern about what to do about the building when the Chamber came forward and agreed to partner with the city to raise $1.5 million to renovate and rehabilitate the building as the home for the Chamber. The Chamber became the tenant, and the city was charged with maintaining the building's exterior and grounds.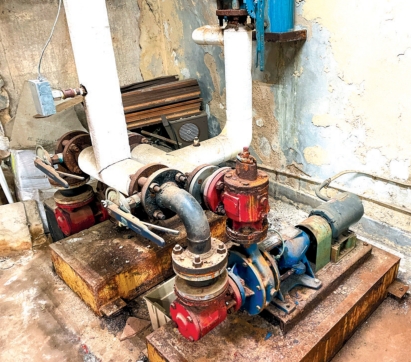 Significant work was needed at that time. The lobby was restored, and air conditioning and heating were installed along with carpet, wall coverings and an elevator. Offices were added where the book stacks had been. It opened as the Greater Shreveport Chamber on July 13, 1983, at a ceremony presided over by then- Chamber Chairman Bubba Rasberry and Mayor John Hussey and attended by the U.S. Chamber of Commerce leadership.
Today, 40 years later, this extraordinary building is 100 years old, and its age and condition require extensive exterior repairs and interior renovation.
To save this important historic structure, we have worked with the city to transfer ownership to the Chamber, enabling us to raise funds to repair, restore and renovate it.
We have selected award-winning architect Christopher Coe, who specializes in preserving historic structures, in spearheading the renovation project. An initial evaluation of the building's extensive needs has been completed.
Cracks in the original tile roof have led to interior water leaks. We've patched the hole to stop the immediate leak, but the ceiling underneath has collapsed. There is some unrepaired damage from earlier leaks in other parts of the building, requiring that the entire roof and gutter system be replaced to keep future leaks from occurring. The brick and cast stone exterior needs repair and sealing. The steel frame on the original 1920s windows has corroded over time, meaning that all of the windows in the building need to be replaced with historical replicas.
The plaza steps and flagstones require repair and replacement. All the air conditioning and heating systems installed in the 1980s must be replaced along with the elevator, bathrooms, ceilings and carpeting.
We will be restoring the lobby to its former glory and updating the landscaping to make one of the few green downtown spaces beautiful and welcoming again.
We have launched a $5 million capital campaign to address these needs through our Greater Shreveport Chamber Foundation. We have also established an endowment that will allow us to fund upkeep and updates to maintain the building in good condition for decades to come.
We believe that investing in restoring and renovating this building is not only about saving a significant piece of our history and an important downtown structure but also about reinvesting in our city and adding our efforts to those who are revitalizing our downtown. We are creating not just a meeting place for business but a community showplace that speaks to our collective vision and our optimism about the future.
We are committed to saving this monument for the future for generations to come, and we need your help to do so. One hundred years ago, Shreveport came together to build this historic landmark, and we are asking each of you and all of Shreveport to come together with us once again to save it.
To make a tax-deductible contribution to help our efforts, you can use the QR code or visit www.shreveportchamber.org/renovation/. If you want to become a major donor, please contact Chamber President Dr.
Tim Magner at 318-677-2500 or by email at tim.magner@shreveportchamber.org.