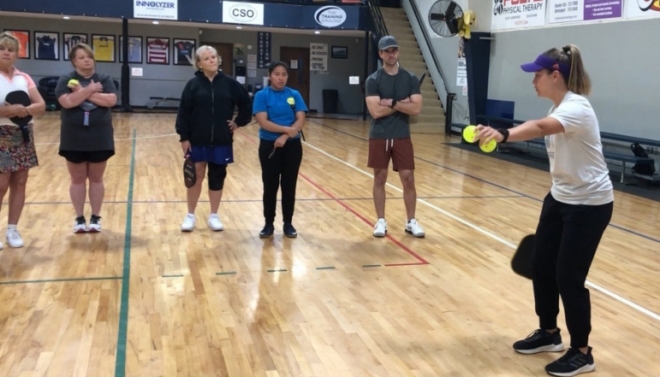 New tennis-like sport is catching fire locally
Marsha Spell – a longtime tennis player – first played pickleball some five years ago.
There almost wasn't a second time. "I went the first time at the Y, and I said, 'I will not be back,'" Spell remembered. "It wasn't tennis. It wasn't like tennis. It's called a paddle in pickleball, and it's called a racket in tennis. I kept saying, 'My racket's too short.'"
And then there was the issue of breaking an old tennis habit.
"(In pickleball), there's a line on either side of the net," Spell explained. "It's called the kitchen line. You cannot touch the line with your feet. …On an overhead (shot) in tennis, you step forward and hit it. I was doing that every time and making a good shot. But I had stepped into the kitchen, so I would lose the point. Once I finally learned to straddle my legs a little bit …" Yes, Spell – with her friends' encouragement – decided to give pickleball another try. Now, the former school teacher is a regular, playing on courts throughout Shreveport-Bossier.
"I'm glad I went back that second time because I really enjoyed it."
And Sell is not alone. "New data points to over 36 and a half million players have played pickleball at least once in the past year," said Brandon Mackie, co-founder of pickleheads.com, a website that lets you know where to find a pickleball court. "That would place pickleball just behind running and cycling as the most popular sports or activities in the entire country. That's more than tennis, golf or basketball."
Pickleball combines many elements of tennis, badminton and ping-pong. It can be played as singles or doubles on a court smaller than a tennis court. Pickleball was invented in the 1960s, but since 2020, it has seen a considerable increase in popularity.
"The growth is very heavily correlated to the pandemic," Mackie said. "That was a time when everybody was stuck inside and longing for social interaction, outdoor activities and exercise. Pickleball was really an outlet for a lot of people – myself included – as a way to get outside, socialize responsibility and make it through a really hard time."
Did someone say "socialize"?
"I have always thought tennis was social, but pickleball is even more social," Spell said. "In tennis, I would have to get three other players, and we show up, and we rotate, and we have a fun time. How we do it here, there is a certain time at the Y… I will show up at 6:30, and there could be 14 of us, or there could be 22 of us. You never know how many will be there. But there's going to be somebody there for me to play with. You play a game, you sit out your turn, and you let somebody else play. What I like about it is there is so much socializing between games."
There is a stigma that pickleball is for the "older" age group. However, Mackie says the game can be enjoyable for anyone.
"It's really a sport for all ages. The nature of the game means it's a lot easier on the body. If you're playing on a smaller court, a lot of the game-play is up at the net. You're not running around, putting a lot of strain on your body like you might be if you were playing tennis or basketball. For that reason, folks – especially seniors – can play a lot later in life. That really helps the sport appeal to anyone from age 5 to 95."
To meet the demand, pickleball courts have popped up all over town. Easy, because construction isn't required.
"The nice thing with pickleball is you can set up a court almost anywhere," Mackie said. "It's a lot smaller footprint than a tennis court or, for sure, a golf course. You can place temporary lines and have portable nets, so with the same facility – like at a YMCA – you can have certain hours for basketball and other hours for pickleball."
To find a pickleball court in your area, you may visit www.pickleheads.com.