Building An Artistic Career
Art and architecture come together in painter's works
For centuries, perhaps millennia, artists have been putting paint to canvas to capture people, places and things that speak to the human spirit. A short drive around any southern city will quickly reveal the closeness of spirit that communities have with their houses of worship. The number of such structures that have been rendered to some medium is countless, the styles varying from abstract to realistic. The artists range from old masters to those whose talents, interests and abilities have drawn them to paint and to paint churches as subjects.
One of that latter group is Dennis Colman Breckenridge of Monroe, La., in whom a love of art was instilled at an early age in a manner that used to be more ubiquitous than it has become in this modern age of education.
"I've been interested in art and architecture since the first grade," Breckenridge said. "I think the thing that really got me interested in art was the schools, Monroe city schools. In the spring of each year, you would [study] six paintings." Breckenridge explained that if you learned about the artwork and answered questions correctly, you were rewarded. "They would give you a
little portfolio with the paintings in there. That's when I really got impressed in painting."
Churches in particular and buildings in general were familiar to Breckenridge, whose father was a building contractor. "I drew a lot. I drew constantly," he admitted. "I wanted to be an architect, but my dad was a contractor. That time in history, architects and contractors weren't the best of acquaintances. He had a pretty successful firm, so I went to school in business at ULM and went to work for him as a trainee."
Shortly after beginning to work for his father, life changed for Breckenridge. His father had a heart attack and died. For the next four years, Breckenridge and his father's right-hand man ran the company.
Eventually, another firm offered to buy the business, and Breckenridge and his family sold it.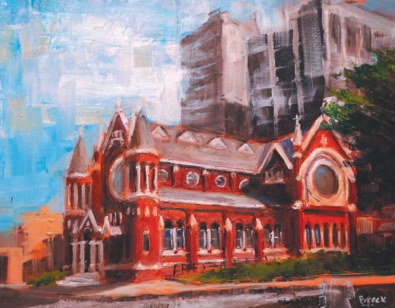 That's when he returned to school and studied architecture at Louisiana Tech. Eventually, Breckenridge went to work for a national architectural firm designing big shopping centers and mixed-use development. As his experience broadened, he worked his way up to lead design architect.

"In the days before computer rendering, I had to do all the perspectives by hand. So, I [developed] a pretty good expertise in drawing freehand perspectives and people. My kids got out of high school and started in college, so I started painting. My knowledge of perspective and people and buildings helped a lot." His painting career took off at the turn of the millennium.

Although the allure of the paint had enticed him from his youth, Breckenridge said the time to pursue his dream came along only later. "I retired from architecture last January. As I began to
slow down my workload, I began to paint more. I really didn't start painting on a full-time basis until about 10 or 12 years ago."

He eased into the field by way of the Blend of the Bayou, presented by the Northeast Louisiana Arts Council. "That is a festival that occurs on the river here every year. I started photographing people that I knew at Blend of the Bayou, and I would do little paintings of them. The next year I would sell those paintings, and they went over really well," he said.

But painting people at a festival had only a limited demand, so the motivated brush man sought new areas to develop.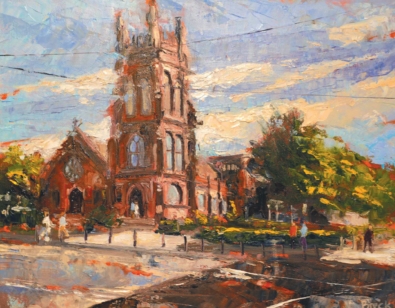 "Having been an architect, buildings had an appeal to me. Being an architect, when you draw, you get a lot more definitive. I had to break that pattern when I started painting. I didn't want to do renderings, I wanted to do paintings. So, I had to get a lot looser. It led to doing a lot of palette knife paintings. Now I do a combination of palette and brush painting."
Breckenridge added to his skill set by becoming a qualified Historic Restoration Specialist. "I began to do churches because I did a lot of historic restorations. In fact, in the last 10 years, that's pretty much all I've done is historic restorations, architecturally. I did the restoration of Neville High School about five years ago. I restored the masonry on the school, which was in terribly bad shape. Big blocks of limestone were literally falling off the parapet. So, we did an entire restoration of the masonry work.
"I did the old [Coca-Cola] plant in Monroe and got it listed on the National Register. I've prepared a lot of projects for historic tax credits."
Breckenridge explained that after the demand for major shopping center architecture began to fade, he saw the writing on the wall – or blueprints, perhaps. "So that's why I retreated to
my bedroom and began to do restoration work, which I thoroughly enjoy. I do a lot of other paintings, too. I don't do portraits, but I do people in objective situations. Kind of a candid [approach]. There are a lot better portrait artists than I am, I can tell you. I began to thinking about what else people could really identify with, and I thought about their churches. So, I
naturally evolved into painting churches. I've done 30 or 35; I've done a lot of churches."

You can see more of Breckenridge's churches and other subjects on his group page at https://www.facebook.com/groups/360947091223988/user/1319380729/. His other page, which
has more information about his architectural and restoration life, is https://www.facebook.com/douglas.c.breckenridge/

On the site, he describes his church paintings like this: "On a mission to paint the historic churches of Shreveport. Have worn myself out painting those of Northeast Louisiana. All are oil on canvas, 11"x14" and are available."

From an early introduction to art in elementary school to a career in architecture and historic restoration, then combining those interests to reinvent himself as a painter of churches and more, Breckenridge has come away with a feeling that should touch the heart of every art teacher in America.

"Art in the school systems does have an impact."