For Clay Walker, Decisions Revolve Around Family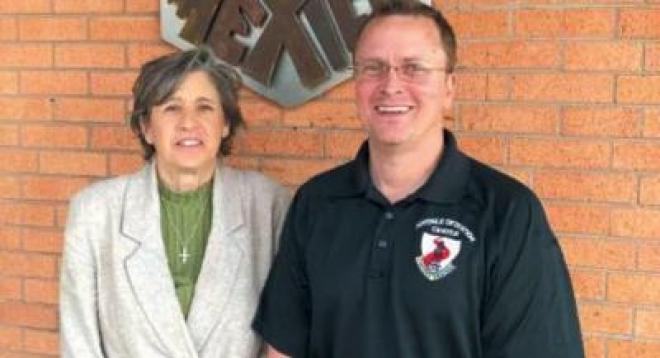 Local attorney finds niche working with juveniles
Being the son of a prominent Shreveport attorney, it's no surprise that Henry Clay Walker V decided to follow in his father's footsteps and become a lawyer. And being the son of a well-known civil rights attorney, it's not that big of a stretch to think that Henry Clay Walker V would become a civil rights attorney.
It's a "family thing" with the Walkers. For Clay Walker, all of his major decisions in life have been based on family.
He went into the practice of law for all the right reasons: to make a difference, to help people.
He also wanted to work with his father. "I felt that if I wanted to be a good dad, I needed a better relationship with my dad," Walker says during our recent lunch on the patio at Ki' Mexico.
Born in Shreveport, Clay Walker had moved with his mother to New Orleans after his parents divorced and grew up in south Louisiana. By the time he was 13, Walker was starting to "cause some trouble," and his parents decided it would be best if he moved back to Shreveport with his father to give him some needed "discipline."
Walker moved back for his sophomore year at Caddo Magnet High School, and the father and son worked on their relationship. He graduated from Magnet in 1989 and then went to Lewis & Clark College in Portland, Ore., where he earned his degree in 1993.
Before going to Northeastern University School of Law in Boston, however, Walker made another stop in Shreveport. This time, he wanted to spend time with his brother, Alston, who was 5 years old when Clay went off to college.
"I realized then that if I don't get any more time with him, we're gonna be like cousins," explains Walker. "It was right at a good time. I was either going to get a Ph.D. in psychology and go into counseling or go into law. My dad talked me into going into law."
You would have more of a lasting impact, his father told him.
So, after spending three years in Shreveport with his young brother, Walker went to Boston to attend Northeastern University School of Law. After graduating in 1998, he once again returned to Shreveport. This time, it was to practice law with his father.
However, Walker discovered a stark reality early in his career as an attorney.
"I went into law thinking more about the good work we'd do," he says. "Frankly – and this is going to sound a little depressing – it's about money.
"You rarely are getting any kind of justice. People do terrible things to people, and they're rarely held accountable for it. It comes down to a settlement offer, and nobody admits they did anything wrong.
"I came away not feeling like it was changing a heck of a lot. I didn't care for it."
That all changed when Judge Andy Gallagher appointed Walker to a case in juvenile court in 1999 – just a year after he had graduated from law school.
"It was kind of your duty as a member of the bar," explains Walker. "You're going to get two to three cases a year that you do pro bono. It was kind of your job."
It didn't take him long to realize he had found his calling. His first taste of pro bono work in juvenile court – an abuse and neglect case – was all it took.
"Back then, they're appointing anyone who will take a case," explains Walker. "I was green enough to write a letter to Judge Gallagher to say 'thank you for the confidence in the appointment. I'll take more if you need me to.'"
Judge Gallagher's response? With a chuckle, "That's fantastic. Here's a dozen cases."
By the time his parents retired from practice in 2008, Walker was doing 90 percent of his cases pro bono.
"The Southern Poverty Law Center started to realize that a lot of kids in juvenile court were getting railroaded," he explains. "It was just a school-to-prison pipeline."
So, the SPLC gave him a contract and told him to "keep doing it."
"I've got the luckiest setup I can think of for a young attorney," recalls Walker. "I'm getting to help families and not pound them for money. Yeah, I could have tripled my salary (not doing pro bono work), but I had 'caught the bug.'" Like father, like son. "My dad is a hopeless optimist," Walker says of his father, who served as local council for the SPLC. "He's a 1,000 percent believer."
To say the young attorney was making a name for himself would be an understatement.
In 2006, Walker was selected as one of the defense attorneys in the "Jena Six" case (the racially-charged incident where six Black teenagers were convicted of attempted murder in the beating of a white student at Jena High School). Just seven years out of law school, and he was working with some of the legends of criminal defense.
"I represented the youngest of the Jena Six," says Walker. "It was his hearing that got the judge recused. Once we recused the judge and a new judge came in, the whole case settled and went away."
By 2008, Walker says, "all kinds of things were falling into place."
Louisiana had just created a state-wide public defender system, and he was hired as the state's first director of juvenile defender services.
Under Walker's leadership, the Louisiana Public Defender Board (LPDB) developed and promulgated performance standards for Child in Need of Care (CINC) representation. LPDB also developed regional juvenile trainings as well as an annual Juvenile Defender Training – a program specifically tailored to develop Louisiana's juvenile defenders.
Walker created a juvenile site visit protocol and met with juvenile defenders and defender-leaders in more than two-thirds of Louisiana's districts. And by developing a single juvenile defender community in the state, Walker raised the quality of representation for clients, optimized the use of limited resources and raised defender satisfaction.
After serving in that capacity for three years, Walker had o make a decision.
"It came to the point where I either had to move to Baton Rouge or change jobs," he explains.
For Walker, that was another decision that would revolve around family.
By this time, he was married – he and his wife, Sherry, met in biology class on the first day of their sophomore year at Magnet High – and had two children (son Alexander, who goes by "Xan," and daughter Zoe).
"I liked Shreveport," says Walker. "I liked the size, the pace, the accessibility of it."
He wanted to stay. And just as Walker was making this decision, Edwin Scott was retiring as the Caddo Parish Director of Juvenile Services.
The timing was perfect. In April 2011, Clay Walker was named Caddo Parish Director of Juvenile Services.
Now the work would really begin. "We're losing a kindergarten class of children every two years to gun violence," says Walker.
In Part II of this "Lunch with Harriet" feature, Clay Walker talks about the battle to curb violence in our community.