The Famous Mirror Steakhouse!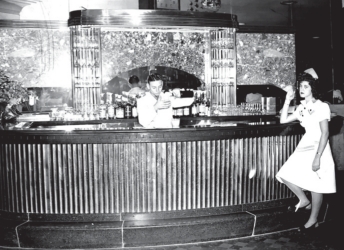 We've been posting old photos of the area of Crosstown that was redeveloped when the Expressway (Interstate 20) came through town.
Nancy Edwards loved Thurman C. Smith's photo of the Famous Mirror Steakhouse that, unfortunately, was lost to that progress. She asked us if we had any photos of the interior, and as a matter of fact, we do! Lots of photos! We even have a photo (colorized by us) of the beautiful mirror that hung on the wall! The Mirror sat at 981 Louisiana Ave. right down from Union Station. Johnny Wessler (a guy that knows a lot about this area's history) commented, "The Mirror Steakhouse on Louisiana Avenue moved to the Mirror Steakhouse on Highland. It was sold, along with the building, to Don's Seafood and Steakhouse." As far as the original Mirror Steakhouse building, it was bulldozed to make room for Interstate 20. Another good question popped up by Diane George: "Whatever happened to the mirror itself?" Well, according to local architectural genius Richard J. Cawthon, architectural historian, "I was told that it was purchased after Don's closed, but it shattered while being moved." Well, we really hope that isn't true!
If someone knows, please contact us and also send pictures!
Follow the link below to read the Shreveport Times article by Art Carmody Jr. on the Mirror Steakhouse's history. Photos Courtesy Northwest Louisiana Archives at LSUSand Thurman C.Smith Collection.
Shreveport Times story here https://www.shreveporttimes.com/.../letter.../3087799001/