New location invites families to cool off at the Downs
Despite the god-awful mid-summer heat, Scott and Tracey Barrow used to look forward to taking their two children, Bryce and Kennedy, to the (RRBR) when it was on the fields at LSUS.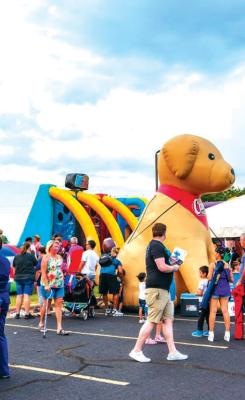 "The kids really enjoyed it," Scott said. "There was food, and there were so many balloons. We could walk around and visit with the pilots. It was really neat when they all turned on the balloons and they were lit up. We sat down on the grass and had a little picnic. We brought a blanket and spread out. It was enjoyable."
But the RRBR eventually moved to the parking lot of Brookshire Grocery Arena, where it's been the past two years. For Scott, the already oppressive July temperature, combined with the asphalt, made for a deal breaker.
"One hundred percent," Barrow said. "It wasn't because the balloon festivities weren't neat, because they are. But it was directly related to the heat and the conditions. We just didn't want to be out there in that. That was the sole reason we did not go to that location."
This year, Barrow won't have heat and asphalt as an excuse.
The 2023 CenterPoint Energy Red River Balloon Rally is moving to Louisiana Downs July 14 (Friday) and 15 (Saturday) from 5-10 p.m. You can get an up-close look at the 25 balloons which will be flying in the Louisiana State Championship Saturday and Sunday morning. The balloons will be on the infield grass Friday and Saturday evening, and the Downs' (air-conditioned) grandstand will be open.
Around 8:30 (sunset), pilots will fire up their burners, illuminating the colorful balloons against the darkness.
"People will be able to sit inside and see the whole view of the balloon glow, without having that direct sunlight hit," said Sara Nelms, director of sports at the Shreveport-Bossier Sports Commission, which is hosting the event. "When we're planning this event, it has to be at the time of year when the wind is at its lowest. We know it's going to be hot. We want to make sure everyone is safe. I think having the indoor component is huge. You can come inside and cool off or go outside. Whatever you want to do."
That should make for a much more pleasant experience.
"Last year on the asphalt, the temperature got up to over 130 (degrees)," Nelms remembered. "We really wanted to make it safe for the kids because it is a family-friendly event. We really want kids to be able to stay the whole time for the balloon glow. That's the fun part of it. That's the pretty part."
Before and after the glow, you can take a tethered balloon ride 20-30 feet high ($20 per person, cash only). There will also be music, food trucks, retail vendors, face painting and the AEP SWEPCO Kids Zone, featuring bounce houses and children's games. Sci-Port Discovery Center will have an interactive STEM (Science, Technology, Engineering, Math) booth.
Friday will feature the sounds of Flight Delay and Barksdale Bubble. Saturday is being billed as Louisiana Saturday Night, including Pat Mason and Bayou Boogie, and Jimmy Wooten. Each band will play outside, in front of the grandstand.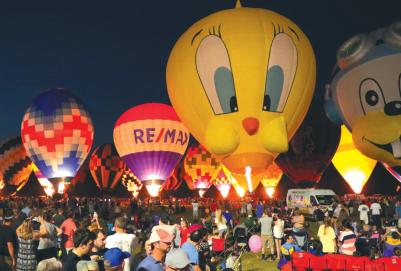 Inside, all of Louisiana Downs' restaurants – and some concession areas – will be open.
"You can either sit down and have dinner, or you can grab-and-go," Nelms said.
While the Rally is fun for the public, the pilots are in town for the competition. Saturday and Sunday at sunrise and for the next two hours, pilots from five southern states will be flying for a share of $5,000 in prize money. Targets will be placed in Caddo and Bossier Parish. Pilots must navigate their balloon over the target and throw a beanbag – trying to hit it.
"It's more about navigation," said local pilot Pat Harwell, who will oversee the competition. "They (pilots) will go out a couple of miles from the target, once we decide where it is. They will pick a launch site, and they will launch their balloons. They will fly in or navigate. They don't have a steering wheel or an engine, so this is all free flight. They will navigate with the wind to a target, and they will see it in the field. They will fly into that target and throw a beanbag on it. The closest beanbag wins."
It's up to the pilot to control how high – or how low – his balloon flies.
"We have a burner which heats up air, just like the burner in a house that heats up your home, except I put out 30 million BTU's (British Thermal Units). I will crank that burner up and put heat into the balloon, which expands the air, which makes our aircraft lighter than the air outside the (balloon) itself. We control our altitude by the temperature inside the aircraft, as opposed to the ambient temperature outside."
And while a smooth landing is each pilot's objective, it's not guaranteed.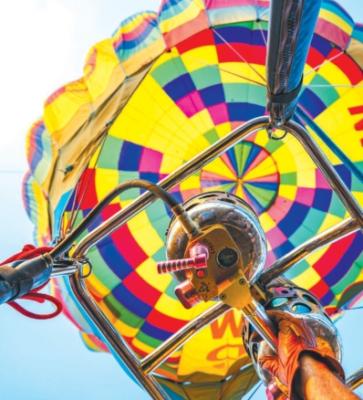 "If you want to go up, you put heat in it," Harwell said. "If you want to go down, you either release some of the heat that's in the balloon, or you let it cool naturally. That's the way we control altitude. It gets exciting on landings be cause you don't necessarily go where you want to go sometimes. But that's what makes it fun."
The week of the event, be sure and look up on your early-morning commute. Balloons will be in the air as pilots get in some practice flights.
"It's more about getting used to the terrain, and what's out in front of them," Harwell explained. "All you have are your eyes, so you can use those to get used to landmarks and things like that."
Harwell has been a pilot for 33 years and owns a balloon company. But he still has difficulty explaining what taking people up in the heavens is like.
"It is so hard to describe – the serenity and peacefulness which I get to experience. … We don't try to scare people. We're out in the country (Keithville), so we'll fly low and try to spook up deer or alligators – wildlife. Then we'll go up to 1,000-1,500 feet, and we will fly into the city. The view is just unprecedented. I don't know how to explain it. It's beautiful. It's different every time I fly. I'm just so blessed to get to do this."
But "doing this" is not inexpensive. "You can throw $50,000 at (a balloon) real easy," Harwell said. "I have three balloons. My small one is around $30-$35,000. The middle size is around $60,000. My bigger one is $75,000."
Meanwhile, the Barrow family plans to return to the RRBR this year now that there's an opportunity to cool off.
"To hear that it's going to be at a new location, with the balloons being out on the grass, and being able to go inside and cool off and get something to eat, I'm much more willing to entertain the idea of going to see the balloons again."
To learn more about the Red River Balloon Rally and buy tickets, visit www.RedRiverBalloonRally.com.