Wednesday, Sept. 20, 2023
Mama Mia! That's Italian!

Pat Cordaro and son, Andrew.
Pat Cordaro celebrates 50 years feeding locals and beyond
You know why God invented death?
So Italians would know when to stop working."
That pretty much sums up Pat Cordaro and his wife, Angela's, approach. It's the philosophy behind the success of Mama Mia's brands, celebrating 50 years in business.
Pat grew up in an Italian Catholic family that valued hard work. The lessons he learned he developed as he grew into the smiling face behind the Mama Mia's brand, inspired by his mom, Lucille Cordaro.
"I started this myself," he says with pride.
"Work is not something we do, it's who we are. Work is an opportunity. A lot of people don't look at work as we do. When I was a kid, there were 11 of us, you worked every day. That's what's lacking, I think, now is the work ethic."
He says that lifestyle is one filled with many life lessons.
"Make mistakes? Oh, sure, but you've got to get out there and hustle. It's the journey. Where you end up is not where you start. I started helping my dad at Shreveport Macaroni. Loading the truck, unloading the truck, delivering to the grocery stores. I would get out of school … and I would go to the grocery stores, and I would put the merchandise up. That taught me some things."
One of those things was that restaurants and bars made money, so he developed Mama Mia's as a neighborhood food and drink establishment in the Stoner Hill area. "You make more money because it's a higher profit in restaurant and bar business. Lower volume, but higher profit. In the wholesale food business, you have to do a higher volume, lower profit."
But he soon found that the newly arrived riverboat casinos were siphoning off the food and drink customers. He went back to the drawing board and created Kiddie Mia's, a place for the younger set and paired it with Mama Mia's Cafe to keep the food service angle going. It did well and made money for many years, he said. But time marches on, and Cordaro does, too.
"My plan was to do an event center and segue out of the day-to-day Kiddie Mia's/Mama Mia's Café into an event center so we could make the same amount of money working only one or two days or nights a week. A lot of it is weddings, parties and special events."
His son, Andrew Cordaro, grew up in the family business with his siblings and mom. When Andrew graduated from Louisiana Tech, he went into commercial real estate using some of the experience he had absorbed and observed.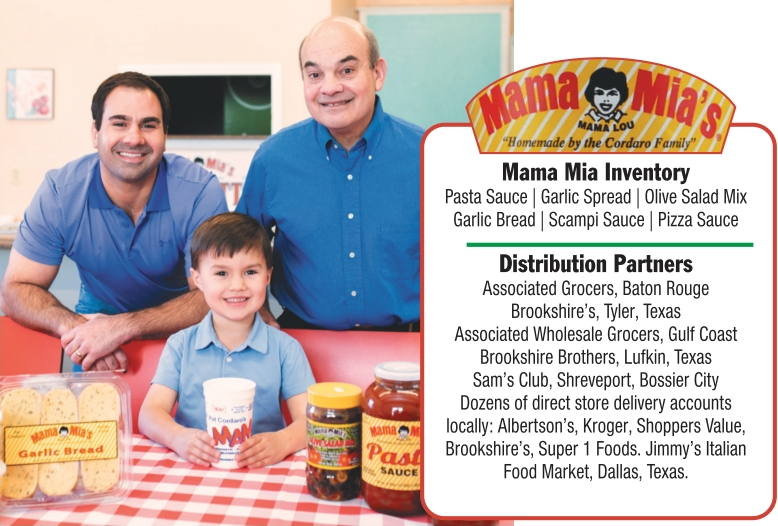 Mama Mia's is truly a family business and their products are in more than 2,000 stores.
"I got into commercial real estate when I was 22," Andrew said, "and took a couple of years to get some experience under my belt. I would still help out the first two or three years. I remember trying to sell real estate during the day and coming over afternoon and evening."
Pat explained, "My M.O. has been to run a business and then move and lease or sell the property. That's how Andrew got involved. He's the commercial real estate part of the Cordaro equation.
"Over the years, [Andrew] and his sister and brother all helped in the family business. We had Kiddie Mia's. We had Mama Mia's. It was fun. They were young. So, they learned the work ethic.
"A lot of kids would be playing and wasting their time. Our kids were working. They still wasted their time and had a good time when they weren't working. But when they were working, they learned. "I love what Coach Belichick said for the Patriots: 'You either win, or you learn.'"
What they learned was that adapting to the changes in the world and working smart made a business grow, especially if you watch for the right opportunities. "That's how I got into the wholesale grocery business. It became apparent that there was a big demand.
"I learned this from Andrew: making the highest and best use of our capital and human resources. Having 15 or 20 employees, I'd be working for them trying to keep so much business that I could pay their salaries. I didn't want that tail to be wagging the dog. I've got three part-time workers and one full-time. Of course, my wife and my cousin help sometime. We've got the right balance right now."
Covid and high inflation, combined with supply chain issues, were a problem that spawned an opportunity for Cordaro, who seems to attract them.
"When the inflation hit, it was a nightmare.
You couldn't even get some items – at any price – because of the supply chain. And on top of that, you are making pasta sauce. You've got to keep the prices down, because you could have the best pasta sauce in the world, but it's going to taste a hell of a lot better if it's $5.49. Price is a factor; it's a balancing act.
"Our goals now are into brand building.
In the long run, whatever time and effort we spend in building the brand will come back and pay for itself. It won't do any good to have a hundred good, loyal customers. You need thousands."
It appears to be working. Right now, Mama Mia's sells 125,000 garlic spread packages a year. They sell 100,000 pasta sauces and 10,000 each of garlic breads, pasta salads and olive mixes.
"We're the only factory in Shreveport that makes pasta sauce. I'm real proud of the fact that we're still manufacturing. People like local. They like sustainable. By being a small company, we're efficient.
I still enjoy cutting my own grass."
Even after 50 years.