Wednesday, Sept. 20, 2023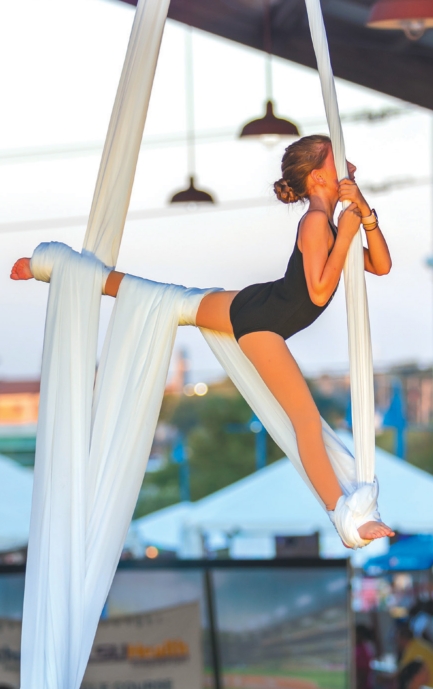 Improving the festival experience
It wasn't long after last year's Red River Revel when Executive Director Logan Lewis had a fact-finding conversation with his then 11-year-old boy, Asher.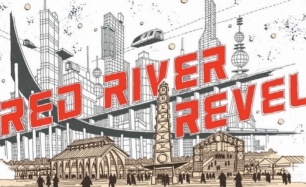 That father-son discussion kickstarted a major change to this year's Revel, which runs Sept. 30-Oct. 8 at Shreveport's Festival Plaza. "My son likes the Revel a lot," Lewis said. "He loves the activities. But he's of an age that the traditional activities we've had for many years, he can kind of blow through them pretty quickly, where younger kids take more time with them. It just seemed like we had a disparity between the offerings we have had for adults with all the art and music and the food options, and what we offer for kids with art experiences and different activities."
Lewis took the results of his in-house focus group to heart – and his staff. "We've spent a good deal of time reorganizing the (Revel's) site, expanding the site, rebranding the children's area from the past to the Discovery Maker Zone, and we've added probably three to four times the activities. In addition to a partnership with both the Army Corps Museum and Sci-Port to add in their facilities, we basically added another third of the size of the festival site for the last several years to the Revel's overall footprint."
The goal was to improve the Revel experience for children ages 8 to 13.
"More action and extreme types of experiences: laser tag, a rock wall, an obstacle course, as well as (two) Nerf Battle Mazes and a stage that has different interactive entertainment every single day of the festival. So, you have things that are performances, but you also have performances that kids and families can actually participate in, and those are different every single day."
Lewis hopes that philosophy will pay off in the form of repeat business.
"In my experience, with my kid, he liked all the stuff we had. But, if I was not involved in the Revel, or if we were just a family going and we went once and there was a musical artist I would like to see, or if there was a visual artist I would like to buy some art from and I didn't do it the first time and wanted to go back, he wouldn't have been excited to go back and do those same things. So, the focus has been on activities with a little bit of an evergreen quality to them, where you can play multiple times for a good value, and they offer some variable content instead of just being the same thing over and over again."
Even the name of the new area designed for the pre-teen crowd – Discovery Maker Zone – got Asher's seal of approval.
"When I brought up to my son that we're thinking about calling it the Discovery Maker Zone, but we will just probably call it DMZ for short, he was like, 'Wait, wait, wait. You're going to call it the DMZ, but it stands for Discovery Maker's Zone?' He knows what the demilitarized zone means. He said, 'Daddy, that's so cool! That's cool! That's really cool!' I was like, OK, we're onto something here."
Adults – especially sports fans – have not been left out when it comes to changes and additions to the Revel. There will be a sports bar – a tent in the back of the Depot Pavilion, where you can enjoy an alcoholic beverage while watching games on eight TVs. There will also be a video wall on the Depot Pavilion, which will show LSU, Saints and Cowboys games.
In other words, you won't be able to use "I don't want to miss the game" as an excuse not to attend the Revel.
"(The video wall) is something I always thought I would like to do, but wasn't necessarily intending on doing this year, until the SEC released this year's schedule, and we saw LSU was playing away on both weekends. We were like, 'We have to do it now. This is the perfect time to introduce this concept.'"
Lewis expects the sports bar and video wall will add to Revel's reputation as a gathering place.
"We're trying to build a watch-party atmosphere."
The Revel is also trying to be a one-stop shop for the entire family.
"When I think about as a dad, how can we serve everybody and make it a place where people want to stay longer, the idea of being able to go see a performance of your child's dance group that technically you can see from the sports bar is an interesting concept to me. And the fact that when they're done, the Cowboys game comes on. And, we have art for mom, and we have a huge area for the kids, and we have music on the main stage and tons of food vendors – you start to see a picture of something that is a lot more than what we've been doing, which is kind of repeating a lot of the same types of site set ups. Site set up is one of the main ways you can keep a festival like ours fresh after 47 years – adjust it a little and bring new elements into it that will allow people to have experiences that are meaningful."
Speaking of music, Revel organizers did not have a specific demographic in mind when building this year's roster of performers.
"We have everything from country, to rock, to soul, to gospel," Lewis said. "We have hip-hop, we have reggae, we have blues. We even have newer pop music. There's a whole lot of current and new. Most of the lineup consists of artists and groups which are putting out new music in 2023. Some of then are experiencing incredibly growing success."
One artist Lewis is really excited about is Hulvey, "probably the hottest Christian hip-hop artist going. He's sold out shows in Houston, Dallas, Miami, New York, Atlanta – all over the country."
The Revel's first night will feature Eric Gales, "who is probably the baddest guitar player on the planet. He's been releasing music for 30 years. His 18th album just came out and has been nominated for a Grammy."
A Revel crowd favorite, Trout Fishing in America, will return after a six-year absence.
What would the Revel be without food? You won't find out; however, you may not be able to enjoy some of your favorites from years past.
"It's become more difficult for food vendors," Lewis explained. "That's not a concept that is exclusive to the Revel. A lot of that has to do with staffing. We don't have a lot of the schools that have been with us in the past. We have some. A lot of people ask us about the Muffaletta Pizza, and that particular nonprofit was not able to staff their booth anymore.
They will give their recipe to another non-profit, but it's been really difficult to find groups who are willing to block out nine days, 10-11 hours a day, to work a festival, even though it's a really good fundraiser. We've worked pretty hard to get more vendors in the space than we've had in the past, and we do have one more than last year, which was the most we've had in several years."
But don't worry. Lewis said classic items like funnel cakes will be for sale, along with some new things.
"I'm really excited to be able to offer Stuffed Pistolettes this year. That's going to be a fun one to have. There will be innovations from some of our people who were new last year. There will be egg rolls and interesting salad combinations."
The cost to get into the Revel – free weekdays before 5 p.m., $5 afterward, and $5 all day on weekends – remains the same as last year. Lewis cautions that some vendors will charge more this year for specific items because of food costs. There has also been a $1 increase (from $3 to $4) for 20-ounce bottled drinks.
The Revel will open at 11 a.m. each day. It will close at 9 p.m. Sunday through Wednesday, and Thursday through Saturday, the Revel will close at 10 p.m. The Children's Area will close at 8 p.m. daily, and Art Alley will close one hour before the festival closes each day.
"We can't be all things to all people, but we definitely try."
To learn more about this year's Red River Revel, you may visit: www.redriverrevel.com.