Bossier Riverfront Shanty Town: 1952

Crudely built shacks stand sentinel along the Bossier riverfront.
Photos of city's rural-looking area found in archives
Twin Blends History Hunters
Webster's dictionary defines a shanty as "a small, crudely built shack." As you can see in the following photos, that's exactly what sat along the riverfront around where the Louisiana Boardwalk is to day. Shanties dotted the Red River banks on both the Shreveport and Bossier City sides back in the day.
We previously made a post showing when the Traffic Street Bridge crossed the river between the two cities, and in those photos, you can clearly see shanties all along the Shreveport side of the Red River. As we've been looking back at the Louisiana Boardwalk area from the past, we thought we should also include these photos of the shanty town up and down the Bossier side. When we came across these negatives at the Northwest Louisiana Archives at LSUS, we were stunned by just how rural that area looked in the 1950s. Heck, you can even see pigs playing in the mud in one of the pictures. It looks like something straight out of the old TV series "Green Acres"! The negatives were in the Jack Barham collection at the Northwest Louisiana Archives at LSUS, and after we found them and documented them, we filed them away, not realizing how important they were. After further documenting these negatives and turning them into black and white, we decided to colorize them to bring them to life. We believe colorization gives us more of an idea of what it actually looked like back in the day. We are so thankful for the photographers of the past who captured images, probably not realizing just how important they would all be to us in the future. Barham took these photos documenting this area but never made it into the Shreveport Journal. We are so happy to have recovered these lost photos to give us a glimpse of life along the riverfront back then.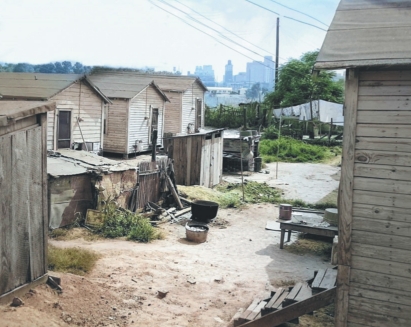 Shanties dot the Bossier City banks of the Red River.
Contact Twin Blends at mikermangham@gmail.com. These guys work super hard to bring the community these images and stories. Please consider contributions through their Patreon account, or message them to get their Venmo or PayPal info. Special credit to Northwest Louisiana Archives at LSUS, Noel Memorial Library, Jack Barham Collection.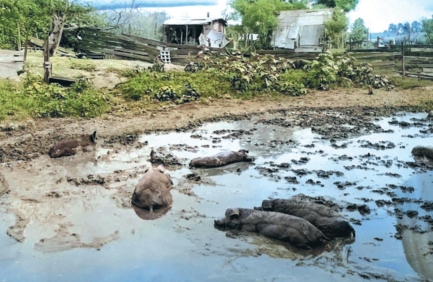 Pigs play in the mud along the Red River.