Philanthropic Endeavor Continues

Ophthalmologigts work at treating Retinopathy of Prematurity in infants in Ukraine.
Preventing Infant Blindness in War-Torn Ukraine
In 2012, when pediatric ophthalmologist Dr. Alan Richards made his first trip to Kyiv, the New York Times described the Ukrainian capital as "one of Europe's most vibrant 21st-century cities, with a contemporary art scene, a new generation of chefs taking innovative approaches to Ukrainian cuisine and a delirious dance-til-dawn nightlife." The city was the 2012 European Soccer Championship co-host and a weekend magnet for European and Russian fashionistas: A stark contrast to the ravaged, war-torn city we see in nightly newscasts since Russia invaded on Feb. 24, 2022.
But it wasn't the soccer games or the dancing-til-dawn that took Dr. Richards to Kyiv in 2012. Instead, it was an urgent plea from Eastern European ophthalmologist Dr. Irina Astasheva and her colleague, an LSUHSC ophthalmology resident, Dr. Natalia Potapova, five years earlier asking if anyone in Louisiana could help treat infants with Retinopathy of Prematurity (ROP). It was Dr. Richards' strong desire to change the staggering statistics of blindness in children suffering from ROP that started his now almost 20-year-long philanthropic endeavor. Today's war in Ukraine is not going to stop him.
ROP is a leading cause of blindness in 1.5 million premature infants worldwide. ROP occurs when the retinas are not completely developed at delivery. When premature infants are placed in incubators with increased oxygen levels to help with immature lung development, the increased oxygen levels can cause retinal blood vessels to grow abnormally, leading to bleeding, retina scarring, retinal detachment and vision loss. Half of the children without sight in Eastern Europe and the Ukraine are blind because of ROP. In the United States and other highly developed countries, the oxygen level in incubators is carefully monitored, and most premature infants are seen by a pediatric ophthalmologist who treats signs of ROP with laser and/or preventive measures.
"We only learned how to treat ROP in the last 20 or 30 years in the U.S.," Richards says. "We can now treat ROP with about a 90 percent success rate. In the Ukraine, there were a lot of children going blind because they didn't know how to treat it or had broken or obsolete equipment hindering their ability to treat. When these people reached out to me, I had to do something."
As a result of his trip to Kyiv in 2012, Richards established Eye Samaritans International (ESI) with a commitment to educating ophthalmologists, neonatologists and nurses on how to diagnose, prevent and treat potentially blinding Retinopathy of Prematurity in premature infants and to change national policies in Eastern European and the Black Sea countries. Since its founding, ESI has raised almost $750,000 to support its mission through grants from organizations including the Lavelle Fund for the Blind, Willis-Knighton Health System and Seva Foundation. ESI has also had tremendous assistance from local philanthropists, including Dewey and Gigi Corley and Shreveport ophthalmologists. These grants and donations have made it possible to equip hospitals and clinics in nine countries with NICU equipment and lasers and to host seminars to educate hundreds of ophthalmologists, neonatologists and NICU nurses in Romania, Poland, Turkey, Bulgaria, Moldova, the Republic of Georgia and cities throughout Ukraine: Kyiv, Odesa, Lviv, Ternopil, Mykolaiv and others.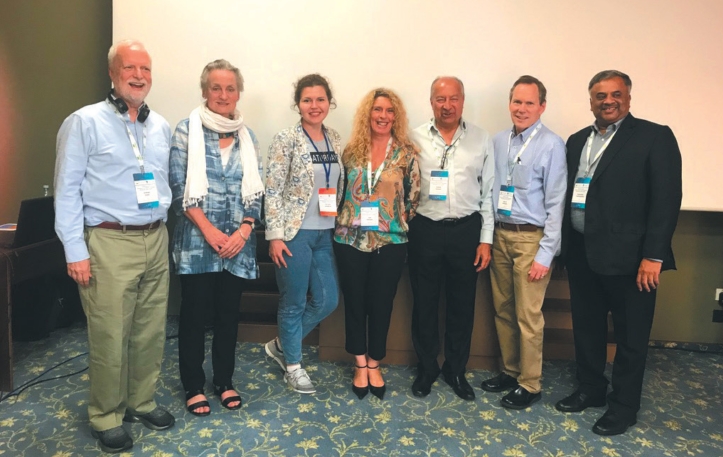 American ophthalmologist Dr. Alan Richards answered a plea to help young patients in Ukraine.
ESI has also formed strong partnerships with noted physicians worldwide to further its work. Graham Quinn, MD, MSCE, emeritus director of research in the Division of Pediatric Ophthalmology at Children's Hospital of Philadelphia and emeritus professor of ophthalmology at the University of Pennsylvania, is a staunch supporter of ESI. Dr. Claire Gilbert, professor of International Eye Health at the London School of Hygiene and Tropical Medicine (LSHTM), University of London, and neonatologists Dr. Shahid Husain, Homerton University Hospital NHS Foundation Trust, London, and Brian Darlow, a top-ranked academic neonatologist from New Zealand, are also important to the ESI team.
The war in the Ukraine has impacted ESI's efforts, but it has not stopped them. When you enter Dr. Richards' clinic office, three walls are covered in different maps of Ukraine, with cities and regions with universities and hospitals boldly circled in red. Dr. Richards has been unable to travel to Kyiv since the Russian invasion. Still, he has delivered a badly needed laser to Kyiv to treat ROP (the fourth sent to Ukraine), and his relationships are strengthening daily.
The plea in October 2007 from Eastern European ophthalmologist Dr. Irina Astasheva and her colleague, Dr. Natalia Potapova, still rings clearly in Dr. Richards' memory. His will to change the staggering statistics of blindness in children in Eastern Europe is possibly more passionate than ever.
"I still have to do something – maybe more than ever now that Ukraine is under attack," says Richards. "Children are still being born prematurely, and neonatologists and ophthalmologists are still in need of training and equipment to save the sight of these infants. The war may have made it more difficult to deliver retinal cameras and lasers, but we are finding ways, and the struggles our friends in the Ukraine are so courageously enduring has only strengthened our resolve to save these children's sight."
Visit www.eyesamaritans.org for more information.