BUILDERS' & BUYERS' GUIDE FALL 2023
Fabulously Fresh!
French - Louisiana inspired home features unique details and comfortable living.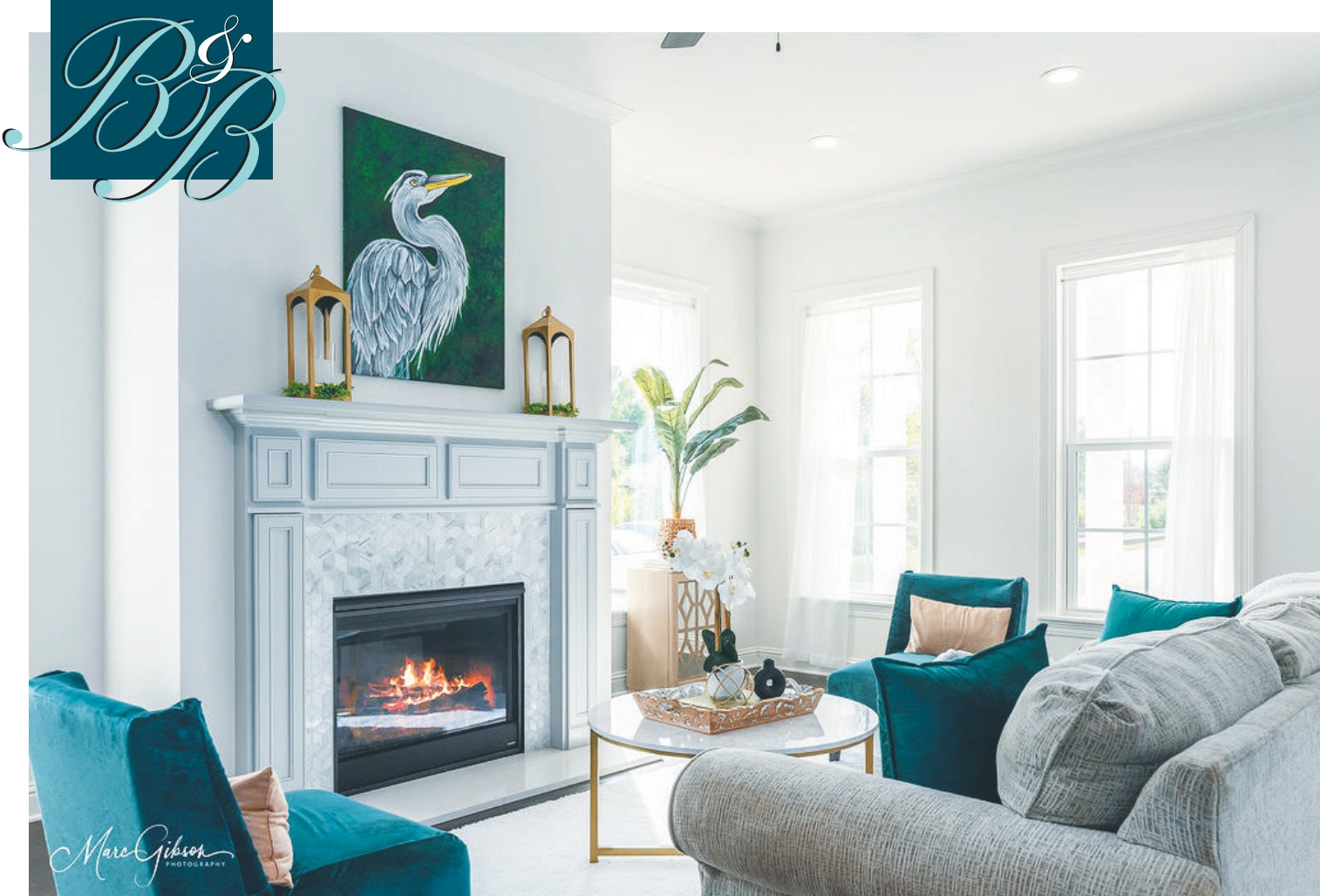 The home of your dreams could be waiting for you in a most unexpected location.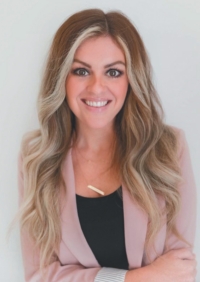 Kendra Tatum of Pinnacle Realty Advisors has a prospect hidden in plain sight inside an established neighborhood in the ever-growing north Bossier City area.
"This home is actually a new construction home," Tatum explained. "A lot of people don't realize it because it's located in the Green Acres Place subdivision in Bossier, and that is an established community. This is unique because there is a little section in there that has a few new construction homes, and this is one of them."
Situated in the Chez Moi Gardens, the three-bedroom, two-and-a-half bath, 2,267-square-foot home has recently price reduced and is looking for its first deed-holders.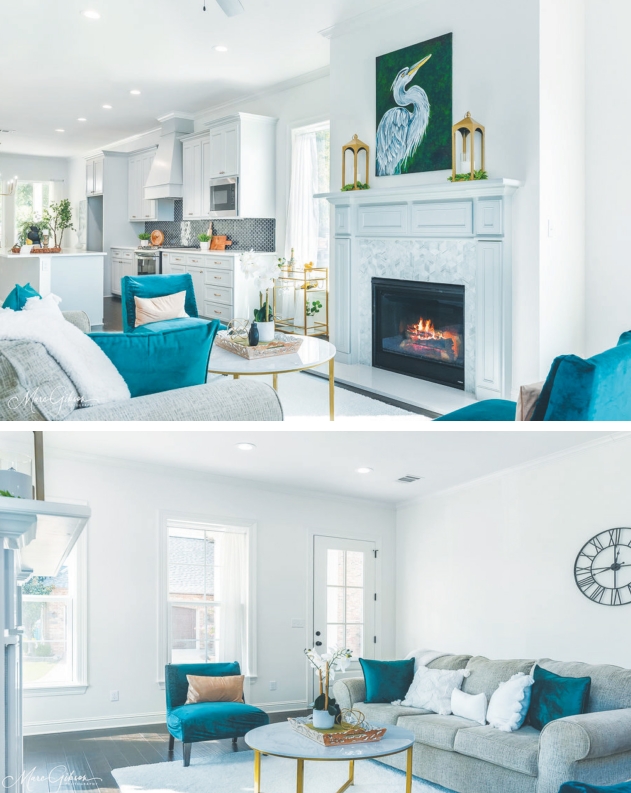 "We had this house in the Parade of Homes this past year and had a lot of attention and a lot of positive [comments] about it," Tatum added. She said the appeal of this home is enhanced by three of the favorite words in the real estate business: location, location, location.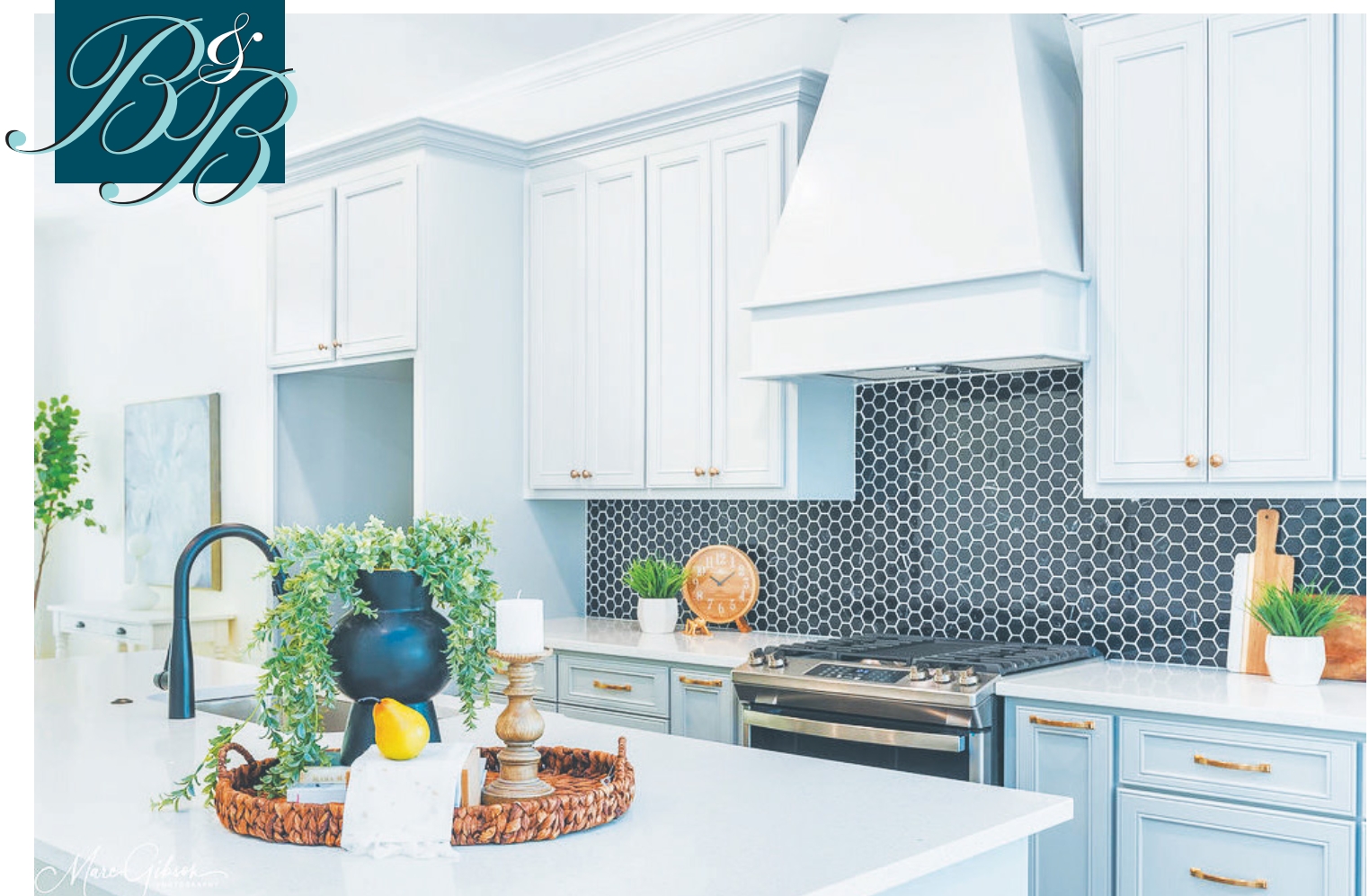 The kitchen is located in the center and is open to the living and dining spaces as well as the stair. Great flow!

"What I love about it is that it's right there, in town, close to everything so it's very convenient for shopping, dining, hospitals, anything like that." She said it could be described as a garden-style home and pointed out that it would require a minimum of maintenance. "It's very ideal for somebody that's doesn't want to have the added stress of a lot of extra maintenance. Of course, there's still a little yard if someone had an animal. It's a minimal yard, but it's just a great size."
"This is unique because there is a little section in Green Acres Place that has a few new construction homes, and this is one of them."
– Kendra Tatum
She said the design is unique for several reasons. It capitalizes on the French Louisiana flair and boasts some distinctly Crescent City features, like a front porch designed for sitting and enjoying pleasant evenings watching the passing parade of life. "It has the feel of French New Orleans-style architecture on the front. It's got a front porch that is very appealing to sit out front and have that southern-style, classic French experience that I think most people would appreciate."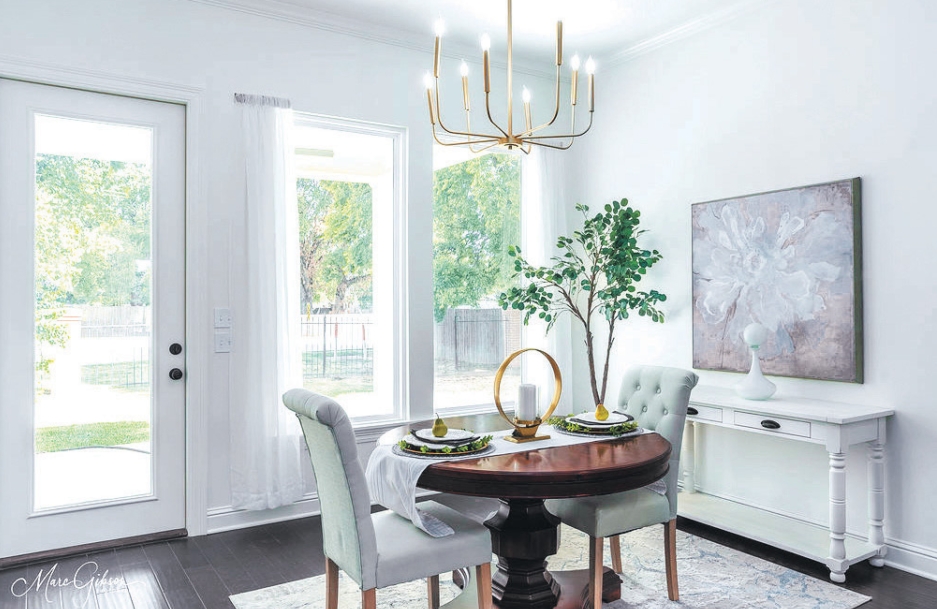 Featuring beautiful natural light, the dining space is a perfect area to enjoy dining or fun and games.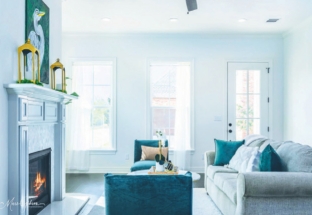 It's all about the flow!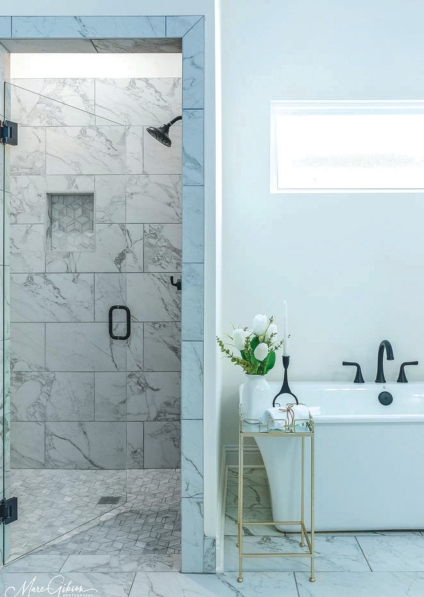 The spa-like bathroom features both a shower and soaker tub with a double sink.
"The seller, who built the house, didn't spare details," according to Tatum. "So, she wanted it to feel really custom [built]. Even though it's what we call a spec because it was built not for a specific customer. It doesn't feel like a spec home. She put higher end finishes in there, hardwood flooring, fixtures, there's marble. It can fit a lot of people's needs."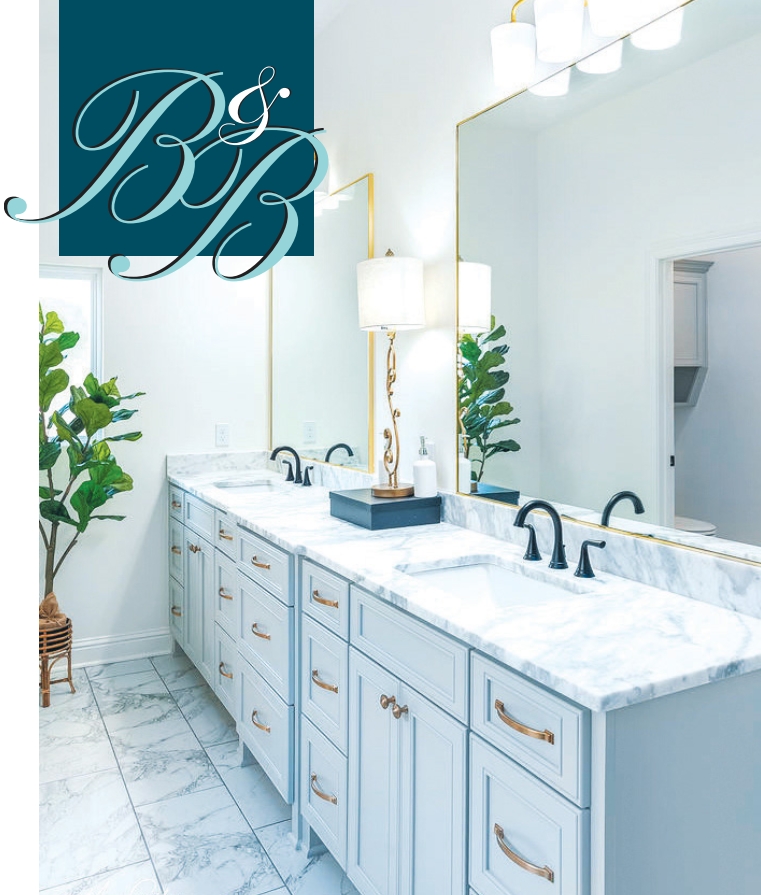 Varying shades of gray and white tile and marble and burnished gold hardware bring a feeling of luxuriousness to the master bath.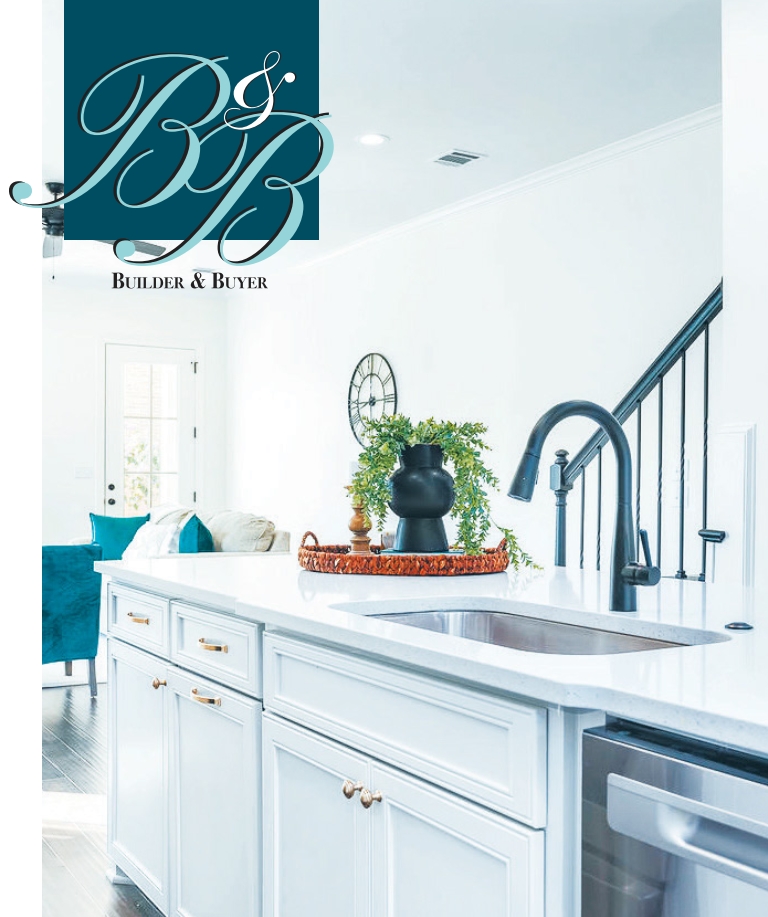 Stuck in the middle with you: The freestanding island is scommand central for any host or hostess.
She added that the primary bedroom and en suite are downstairs and said it is of generous size. "You've got an open concept kitchen-living-dining area. It's that traditional … you know when you're in New Orleans how those houses have that straight pass-through when you walk in? It's just nice; you walk in and can see front to back. I think that's unique, it's ideal for any age or phase of life. Somebody that's young, starting out, or even if they have children or they're retired, it fits all the needs."
The upstairs has two bedrooms with a Jack and Jill bathroom, a layout that allows access to the common bathroom area from each separate bedroom.
"It has a little area in the middle when you come up off the landing that would be a great flex space. It could be an office. It could be just an additional play space, an additional living room. So, it's just multifunctional, which I think is great."
If you've been looking all over for your special someplace, Tatum said it's time you looked someplace special.
"A lot of people just don't realize that it's there. It's in the middle of what is an established community and people don't think of Green Acres Place as being new construction."
If this sounds like the place you've been looking for, you can get more information at https://kendratatum.mypinnaclehome.com/ under listings. A 360-degree tour video is available to give you a quick virtual preview. You can also email kendratatumrealton@yahoo.com, or you can call (318) 560-2271.
Tatum promises, "It's just waiting on that unique, special buyer."