Mud and Merlot nights are a big hit for making original pottery.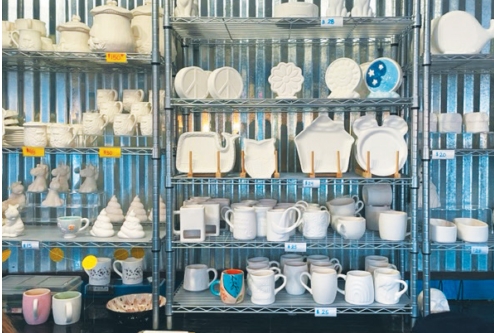 Samples of pottery created at the studio.

The ClayGround is located at 3820 North Market.
Pottery studio offers artistic outlet for creativity
Tess Hall found her dream job in the wake of trauma. When her oldest daughter was going to college to become a veterinarian, she was injured by a large animal. Mom naturally went to her to assist in her recovery and to pass the time during her daughter's recuperation discovered pottery as a diversion. Out of that grew a love of pottery and creating lasting pieces of art.
When her youngest, almost 6 now, began looking for something to do, mom was hardpressed, like all parents, to find something to provide the required entertainment. "She's very creative. And there was just nowhere that I knew of or that I could easily find online. Where are the places where I can take her on a random Saturday, and it's raining outside, and there's nothing to do and I can just go somewhere and do something creative?"
She remembered a studio on Youree that had shuttered its doors. It inspired her desire to create a place where her child and others could express themselves in a safe, creative environment and learn a skill that could provide entertainment and perhaps income, too.
Thus, The ClayGround expanded from a hobby in Hall's closet to her garage to the two-acre location on North Market along the growing Highway 1 commercial corridor at 3820 North Market.
They also offer a variety of themed nights for adults that run the gamut from basic lessons to date night opportunities while still creating many ways to teach and entertain the youngsters.
"We have a lot of themed events, like Hocus-Pocus Night; we've had Taylor Swift Night. We call it Swifty Saturday, so every time [Swift] releases a new album, because you know she's releasing all of her albums again, Swifty Saturdays sell out all 40 seats in this building. We do karaoke, and they paint. They make custom Taylor Swift-themed pottery; it's a wild night."
Another popular event is Harry Pottery, which creates a magic of its own. "We play music. The whole property is two acres, so we light up stuff outside. Sometimes, we'll put the movie screen out there. We played 'Hocus Pocus' out there on the screen while we painted."
The scope of the appeal of throwing, painting and firing pottery has been a pleasant surprise for Hall.
"It's been good, and the people have been great to us. We were a little worried about being off the beaten path, like not Youree Drive, not Airline Drive, not major commercial space. We're just a mile and a half off I-220, and it's been incredible."
Part of the popularity of The ClayGround is what Hall calls the low-pressure atmosphere. "The main thing we offer is paint your own pottery. We joke that there're no Michelangelos or Picassos here. It's a low-pressure creative studio."
It's low-pressure, but folks are surprised at the ease of learning the skill. "They learn enough in one class that they can come back in and work independently and make whatever they want, believe it or not, even without having taken pottery before."
The pottery wheels occupy their own special room, where the theme nights take shape.
"This is where we have Mud and Merlot nights. It's more like girls' night. For the most part, it's usually Friday nights, you come in, you bring a bottle of wine, and you sit with your friends for a couple of hours, and you learn how to make pottery – all the basics."
It is basic, but the instruction is from a talented teacher. "Lauren Phillips, our pottery instructor, is amazing. She has some pieces on display right now at Louisiana Tech. It's called 'Letters in the Clay.' It's clay, but it looks like actual sheets of paper torn out of a spiral notebook. It's just beautiful."
The ClayGround is open Wednesday through Saturday, 11 a.m. to 8 p.m. and Sunday from noon to 6 p.m. They're closed on Monday and Tuesday to allow for firing the clay creations.
As the website suggests, "Reward your right-brain – the left side is worn out." For more information, check out the website at https://www.theclaygroundla.com.