Shreveport Opera Plays Santa

Mama Noel Designs, Jennifer Maxwell-LeBleu.
Les Boutiques de Noel returns
At the end of the month, shoppers who put off their holiday gift buying until the last possible minute will get a break thanks to the Shreveport Bossier Opera Guild.
It's more formally known as Les Boutiques de Noel, and this will be the 48th annual shopping event, which draws visitors from all over the region and beyond to shop and help support opera in the area.
Shreveport is one of a few U.S. cities to host a Resident Artist Program, the Shreveport Opera Express (SOX Artists), selecting four singers at a competitive New York City audition each year.
The SOX Educational Program is the touring component of Shreveport Opera and the only one of its kind in the state, taking live musical programming to thousands of students in the region who may otherwise never have the opportunity to experience them.
Les Boutiques' Publicity Committee Member Adrienne Frierson highlighted this year's event. "It is at the Shreveport Convention Center again this year. It's Thursday, Nov 30; Friday, Dec 1; and Saturday, Dec 2. We have more vendors this year, and we have vendors from all over the region – really unique, one-of-a-kind gifts.
"We've got kids gifts, discovery toys. We have ArkLaTex memorabilia, signed memorabilia, sports memorabilia and really cool, unique gifts.
"What is new this year is that we have Santa Land. Throughout the hours, there will be crafts [in the area]. On Friday, the Grinch will come and do story time from 3 to 4 p.m. It will be ticketed during that time, and it's $20 a child, including a one-day adult shopping pass.
"Saturday, Santa is coming from 12 to 2:30 p.m. with his Best Elf with her Naughty or Nice Meter. Tickets for this event will be $30 a child, and that will include a one-day adult shopping pass.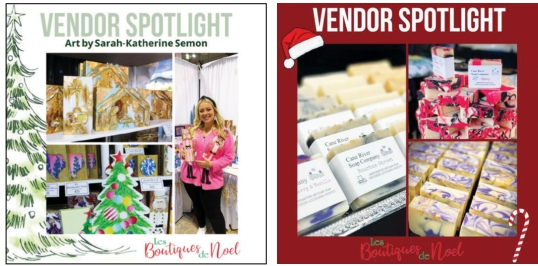 Gifts of all sorts can be found at Les Boutiques de Noel, presented by the Shreveport Opera Guild.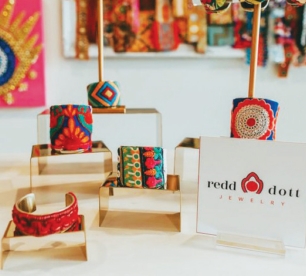 We will have face painting, and you can come, see Santa and take your own photo with Santa."
Frierson said the Guild has contributed over $5 million to the Opera for its programming over the years.
She said there would be performances during shopping hours, including children's choir performances, style shows and a variety of classes in a number of disciplines, like a doormat painting class, a hat-making class and a hat-painting class. Tickets for some of these events are extra.
"Another thing that's new this year is you can purchase a nice lunch from outside vendors," according to Frierson. "The concession stand will be open throughout the event, but in addition, we will have Monjuni's on Thursday, Biscotti's on Friday and Bodacious Bar & Q on Saturday."
Parking is free in the Convention Center parking garage, and free valet parking will be available at the center's main entrance.
Ticket prices vary. Thursday morning VIP pass is $40, a day pass is $10, a three-day pass is $20. Tickets for military and seniors are $5, and children 12 and under are free.
VIP shopping hours will be 9 to 11 a.m.
Thursday with a VIP ticket. Regular shopping hours will be Thursday, Nov. 30, 11 a.m. to 6 p.m.; Friday, Dec. 1, 10 a.m. to 6 p.m.; and Saturday, Dec. 2, 10 a.m. to 4 p.m.
Tickets can be purchased at lesboutiquesdenoel.com or by visiting the "Opera Guild" page at ShreveportOpera.org., or at the door.
Frierson said the Guild is excited about the new and returning features for this year's shopping spree, primarily because it provides the economic engine for all of the Shreveport Opera's events and programs, like the Residents Program. "We're one of the few Opera Residents year-round programs in the country. It's an amazing thing that we have. These are professionally trained opera singers who go to New York and compete with hundreds of other opera singers for a chance to move to Shreveport for a year to be a part of the Residents Programs."
So, whether you've waited to start on the gift-buying this year or not, the ladies of the Guild encourage you to head for the Convention to get the job done. "The idea is that you can come to the Shreveport Convention Center with your holiday shopping list and check everybody off," Frierson said. "And then, probably, get a few things for yourself that you weren't expecting."
For more information, updates, prices and specific times, check out lesboutiquesdenoel.com or @boutiquesdenoel on Facebook and Instagram.