Business community to honor leadership model
Thursday, Nov. 16, one of 16 women will be chosen to represent the business community as the recipient of the 2017 ATHENA Leadership Award. The Greater Shreveport Chamber of Commerce Business Development Connection honors this select group of local individuals each year.
The ATHENA Leadership Award was inspired by the goddess of Greek mythology known for her strength, courage, wisdom and enlightenment – qualities embodied in the ATHENA Leadership Model. The award is unique in both scope – local, national and international – and the ATHENA mission upon which it is based.
This year's nominees share a love for their community, as well as giving hearts for helping those who are perhaps less fortunate – some help those with two legs and some help those with more. Among the nominees are teachers, counselors and veterinarians.
While some share traits, there are just as many differences in the 2017 ATHENA nominees.
Some work in animal health care, some in human health care. Some came from humble, farming backgrounds while others from higher beginnings; however, they are all deserving of the nomination.
ATHENA awards have been presented since 1982 and began when the Shreveport chamber developed a women's council to search for an award that would complement women. Men can be nominated as well, and two were in the past locally.
Since its inception, more than 7,000 leaders in more than 500 communities have received the prestigious ATHENA Award in the United States and eight other countries.
The ATHENA winner will be announced at a luncheon, sponsored by Willis-Knighton Health System and Griggs Enterprise Inc./McDonald's at 11:30 a.m. at Sam's Town Hotel & Casino. Tickets are on sale for $45 per person but will increase to $55 after Oct. 27. No tickets will be available at the door. Sponsorships are still available. Call 318-677-2500 for more information.
Dr. Andrea Master Everson Robinson's Rescue Low Cost Spay/Neuter
Andrea Master Everson grew up in Shreveport and attended Southfield School and Loyola College Prep. She was an avid equestrian with a passion for all animals. She obtained her bachelor's degree in biology from Rhodes College in Memphis, Tenn. She then moved to Brisbane, Australia, to fulfill her dream of going to veterinary school. She completed two internships in equine reproduction in Kentucky and Florida before returning home to become one of the founding leaders of Robinson's Rescue Low Cost Spay/Neuter. She now serves as executive director and veterinarian of Robinson's Rescue. Her team has completed more than 48,000 spay and neuter surgeries to help decrease the overpopulation problem of animals in this community. She is also a proud wife to Shreveport City Councilman Jeff Everson and has two adorable children: 5-year-old Andrew and 2-year-old Frances. She is thankful to raise her family in such an amazing community.
Melissa Flores Blanchard, Walker, O'Quin & Roberts, APLC
Melissa Flores' law practice at Blanchard Walker includes commercial and residential real estate, title examination and title insurance and other general corporate matters. She earned her undergraduate degree in elementary education from Louisiana State University in Baton Rouge and her law degree (magna cum laude) from Loyola University New Orleans School of Law, where she was a William S. Crowe Scholar and a member of the Loyola Law Review.
Melissa is a licensed title insurance producer and an agent for First American Title Insurance Company of Louisiana. She is a member of the American, Louisiana State and Shreveport Bar Associations, the Ark-La-Tex Association of Professional Landmen, Louisiana Land Title Association, the Louisiana Association of Independent Land Title Agents and the Northwest Louisiana Association of Realtors-Commercial Investment Division.
She is a sustaining member and past president of the Junior League of Shreveport-Bossier Inc. She serves on the vestry of St. Mark's Cathedral and on the board of directors of Volunteers of America of North Louisiana. She was an honoree for the Greater Shreveport Chamber of Commerce 40 under 40 in 2014 and received the Louisiana State Bar Association's Citizen Lawyer Award in 2015.
Audrey Reed Flournoy AmeriHealth Caritas Louisiana
Audrey Reed Flournoy is a product of her inherent gifts, talents and ability to effectively communicate and relate to people of all ethnicities, genders, ages and socio-economic backgrounds.
Her ability to positively impact and motivate others is a direct extension of her spiritual life. Providing volunteer leadership, she has a can-do spirit and oftentimes serves as catalyst for direction and motivation to women who think their career goals and life dreams are unattainable.
Audrey is also dedicated to family and has several hobbies for her personal enjoyment, among which are arts, crafts and playing the piano. Paramount on her list is vegetable gardening, which allows her to further ensure helping others with the fruits of her labor.
She has dedicated more than 30 years of her life serving professionally in the fields of education, health care, community and economic development.
Audrey is presently employed by Ameri- Health Caritas Louisiana as their statewide community relations coordinator and manager of the AmeriHealth Community Wellness Center located in Shreveport, impacting thousands by improving the quality of life through health and wellness.

Catherine Paine Foret, DVM University Veterinary Hospital
A native of Shreveport, Dr. Catherine Foret found her love for veterinary medicine when she delivered her first cow.
"As a young child, I spent many weekends at our family cattle farm in East Texas, Paine Farms, where most of my childhood memories were made, including the ones that formed my excitement about animals and the circle of life," she said. "Becoming a veterinarian is my calling, not just a career. It's who I am and what I was meant to become."
Catherine is passionate about dentistry and promoting education about this oftenoverlooked aspect of pet health. She has completed advanced dentistry education and brings her knowledge of progressive diagnostics and surgical techniques to UVH.
When not practicing medicine or overseeing operations as co-owner of UVH, Catherine may be found painting, on the tennis court or spending time with her family, husband Dr. Adam Foret and their twosons, John and Charlie. They love their two dogs, Gator, a yellow Labrador, and their new puppy, Grits, a Cavapoo.
Tracy L. Futch BancorpSouth Bank
Tracy L. Futch is a vice president at BancorpSouth Bank in Shreveport. She is the branch manager and lender of the Pines Road Branch. Tracy began her career in banking as a teller in 1988 in West Monroe, while attending college. A dedicated employee, Tracy has continually been promoted in the companies in which she has worked.
Tracy grew up in West Monroe and is a graduate of West Monroe High School. She attended the University of Louisiana at Monroe, where she earned a degree in business administration majoring in management and marketing.
Tracy is passionate about her career and enjoys serving her community. She has a zest for life and is grateful for her amazing family and circle of friends. Enthusiastic and creative, Tracy always gives 100 percent to the project at hand.
She currently resides in Bossier City.
Marianne McConathy Nelson Hilton Shreveport/HRI Lodging
A native to Shreveport-Bossier, Marianne is a dedicated and compassionate leader with more than 33 years of hospitality leadership and service experience. Her diverse roles in corporate and community service have provided her with challenging opportunities to grow personally and professionally, as well as develop a passion for mentorship and team development. In her highly competitive field, she has developed a passionate appreciation for the value and contributions of teamwork and team empowerment.
A powerful and productive leader, Marianne is committed to facilitating and fostering her associates' personal growth and development. She understands how teamwork and active participation in business and community initiatives ensure success and motivate members of her team. Marianne is particularly dedicated to that her performance, demeanor and goal-oriented work ethic serve as a model and inspiration to women and men who interact and work with her.
Sandra Partain Bossier Parish Community College
Sandra Partain is an influential businesswoman who blossomed from humble beginnings. When she was younger, she worked three jobs to put herself through college with a heavy course-load. She was a hostess at the Sheraton hotel in Shreveport, a cashier at a department store and a statistician at The Shreveport Times. After years of adversity, she graduated with a bachelor's degree in cardiopulmonary science and a master's degree in health sciences with a specialty in management.
Her management skills would later come in handy when she became the program coordinator for science, nursing and allied health at Bossier Parish Community College. After seven years of consistently high-quality work, Sandra's efforts were recognized with a promotion to the dean of technology, engineering and personal and professional excellence to ensure math. Three years later, after becoming a toptier innovative dean on BPCC's campus, she obtained a title that fit her: the interim associate vice chancellor of innovative learning. Now, Sandra oversees dual enrollment and AIM, two programs which encourage ambitious youths to get a head start on their college career.
Rebecca S. Payton CertainTeed, Shreveport
Rebecca is the proud mother of four beautiful daughters. She attained both her undergraduate and graduate degrees from LSU- Shreveport. She was the Athena Scholarship recipient in 2003/2004. Rebecca has always had the will and determination to succeed and excel in all endeavors attempted, as she understood her responsibility in molding four young girls into four strong ladies who would one day be major change agents in society.
Rebecca works in supply chain management, as logistics and raw material manager for CertainTeed Roofing, where she oversees the raw materials flow and finished goods distribution of shingles for the south-central territories of the United States. Rebecca sees working in a male-dominated field as an opportunity to help expose women to the supply chain sector.
When not spending time with her daughters, Rebecca may be found in a gym or a women's study group. She is currently a bodybuilding competitor who has transformed herself from a 190-pound overweight lady to a national competitor who will be competing for her Pro Card in the summer of 2018.
F. Carole Pruett Affiliated Clinical Services
A Shreveport native, Carole Pruett was influenced by an academically motivating mother, a strong-willed fire captain father and a spiritual grandmother. An only child, Carole learned to love God and to be generous and sensitive to others while meeting her own needs – intellectually, physically, emotionally and spiritually.
A valedictorian, SPAR girls' recreational instructor, college intramural athlete and Louisiana Tech University honor graduate, Carole balanced these ingrained family values.
An educator, teaching enriched English and journalism, she sponsored numerous after-hours extracurricular activities. As a counselor, Carole addressed child abuse while promoting student academic success. Helping to rear stepdaughters, she pursued an LSU-BR MSW degree.
Carole started Charter Forest's first counseling center and as clinical director developed five Ark-La-Tex clinics. An LCSW, she initiated Affiliated Clinical Services, specializing in services to women and teens. Community seminars promoted strengthening women's "voices." As caregiver of her terminally-ill mother, she led Sunday school classes while enjoying slalom skiing and ballroom dancing.
Expanding ACS by including young professional women in her business, Carole provides adult/geriatric psychotherapy while participating in the community.
Holly D. Sanders Willis-Knighton Health System
Holly Sanders, fitness instructor and native of Shreveport, has been motivating and inspiring women for more than 20 years. Her passion for helping people is the foundation for her career choice.
"I look for the type of person that others would see as difficult and make it my goal to get to know them," Holly said. "Every time I've done that, I've made a friend and felt like I've impacted a life."
Holly graduated from Caddo Magnet High School then graduated with a bachelor's degree in exercise science from Louisiana State University in Shreveport. In addition to her formal education, she has acquired numerous fitness certifications throughout her career.
Holly's active lifestyle is highlighted with her completion of the Ironman Texas triathlon, but now she is utilizing the same energy chasing her daughter, Adaline, alongside her husband, Jason. She is an extremely driven woman and motivated by her loyalty to her church, family, employer and community; however, her faith in Christ is her biggest motivation.
Noma Fowler-Sandlin Shreveport Farmers' Market
Noma Fowler-Sandlin is a recovering Texan, having lived in Louisiana since 1990 and Shreveport since 1998. In her teenage years, her father bought a small farm in West Texas, and it was in that small community's high school that Noma joined the Future Farmers of America. Part of their creed is "I believe in the future of farming."
In college, she studied psychology and art. She pursued the arts upon graduation, working at Baton Rouge Gallery, Tower Gallery and artspace.
She operated Musebite Management Company, aiding fellow artists in their pursuits.
She's a published, award-winning author and spoken-word recording artist, as well as a grant and Fellowship recipient. She began selling her Pan's Pantry Gourmet Jams in Shreveport Farmers' Market in 2004. When the opportunity to become its manager was available, she jumped at it, and she's remained in that position for 11 years, encouraging farmers toward their futures.

She is married to Chris, who assists her with the market, and they have one grown son, Graeme. She enjoys travel, good food and her pets.
Kesha M. Simmons Caddo Parish Magnet High School
Kesha M. Simmons is a professional school counselor at Caddo Parish Magnet High School with responsibility for helping 9th- and 10th-grade students develop academically, socially and professionally. She earned a Master's Degree + 30 from Louisiana State University Shreveport. Kesha has served four years as a school counselor for Caddo Parish Public Schools and Caddo Parish Magnet High School. A novice of the field she may be, but Kesha does not fall short of making an impact in school counseling.
She is either found walking the campus consoling an upset child, in her office offering guidance to someone in need or at the kitchen table helping those with difficult-totreat emotional disorders or developmental disabilities. Most notable for her ability to advocate for students, it is worth mentioning that Kesha is rarely content. She consistently looks for ways to improve the counseling program for the entire school.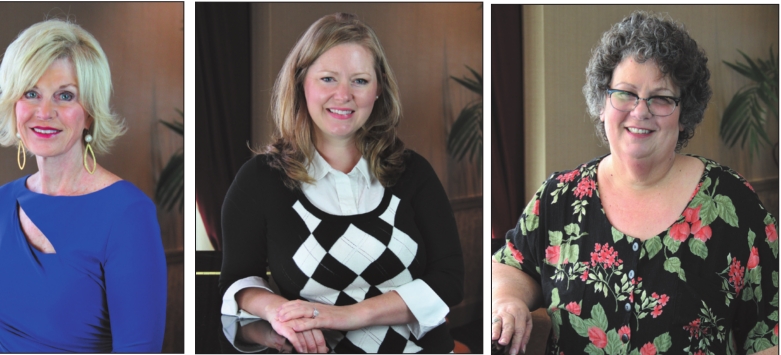 Kesha enjoys reading, meditating and exploring new places. Her daily affirmation is for her talents to be used for a purpose greater than herself.
Brandy Canatella Thompson Canatella Interiors
Brandy Canatella Thompson is a Shreveport native and local entrepreneur. After graduating from Loyola College Prep, she earned a Bachelor of Arts degree in interior design from Louisiana Tech University.
In 2000, she and her mother, Debbie Canatella, opened Canatella Interiors, a high-end interior design store. Since then she has been recognized as a top "Woman in Business" by CityLife Magazine, and the store has been named "Best Design Store" 12 times by SB Magazine. In addition, the store was named "Best Home Interior Store," "Best Furniture Store," "Best Home Décor," and "Best Designer" by Locals Love Us. Her talents have not been limited to people's homes; she designs for casinos, apartment complexes and many successful businesses in the Ark-La-Tex.
Brandy is married to Ryan Thompson and is the mother of three beautiful children, Olivia; 13, Mallory, 10; and JonRyan, 6. Brandy has been a parishioner of St. Elizabeth Ann Seton Catholic Church for the last 25 years and is a role model, mentor, supporter and contributor to many local charities in the community.
Carolyn Ann Tillman CHRISTUS Health
Carolyn Tillman is a native of Shreveport.
She is employed with CHRISTUS Health as an education consultant. Carolyn's professional commitment and interests are vast, both of which are demonstrated by her voluntary participation in charitable events such as the Relay for Life and the American Heart Walk, where she has served as a team captain for both walks.
She currently serves on the board of directors of Goodwill Industries, Dress for Success and The Glen Retirement System. She is also on the Festival Planning Committee, where she serves as the volunteer chairman to the Red River Revel. She was recently appointed an Ambassador for Altered Lifestyles, a non-profit organization that focuses on mentoring young girls age 16 up to women age 24.
As a devoted member of the New Covenant Church of God, she serves as the church secretary and elementary Sunday school teacher. Carolyn has a great appreciation for family, friends and humanity.
Carolyn demonstrates her humanitarian interests by her great love for women, children, volunteering and her earnest desire to help others.
Lisa Marie Willard Ashley's Building and Construction
Lisa is co-owner and the chief designer for her family's small business, Ashley's Building and Construction, LLC., a residential/commercial building and remodeling company founded by her husband, Adam Willard, in 1996.
Her company is a member of the Greater Shreveport Chamber of Commerce, The National Association of Remodeling Industry, a member of the Home Builders Association and an Accredited Member of the Better Business Bureau.
Lisa and her husband, Adam, founded the non-profit The Red River Cleanup in 2010. This annual event has been responsible for removing approximately 88,000 pounds of trash from the Red River, tributaries and bayous in Shreveport and Bossier City. A major part of Lisa's job has been marketing the cleanup, obtaining sponsorships and donations along with organizing the planning and execution of cleanup day.
Lisa is the mother and stepmother to her beautiful blended family. With kids ages 14, 15, 16, 17 and 23, they, along with her husband, are her reason for running a successful business and wanting to save the world.
Dr. Melva Williams Southern University at Shreveport
For 15 years Dr. Melva Williams has worked in higher education. Currently, she is vice chancellor for student affairs and enrollment management at SUSLA, formerly associate dean of the college at Centenary and has a television show, "The Hot Seat, with Melva Williams."
Melva is very active in state and national service and has received numerous commendations for her dedication. She's an alumna of Leadership Louisiana, 40 Under 40 and was named Top Professional of the Year by the Greater Shreveport Chamber of Commerce. Notably, she was selected in 2016 to participate in the Presidential Leadership Scholars program that develops national service projects with three former American presidents George H. W. Bush, William J. Clinton and George W. Bush.
She is a board member for the Robinson Film Center, Caddo Council on Aging, YWCA, board president for Extensions of Excellence, founding board member for the Higher Education Leadership Foundation and vice president of the Shreveport Charter Foundation (SCF) that built the first new school, Magnolia School of Excellence, in Caddo Parish in more than 30 years.