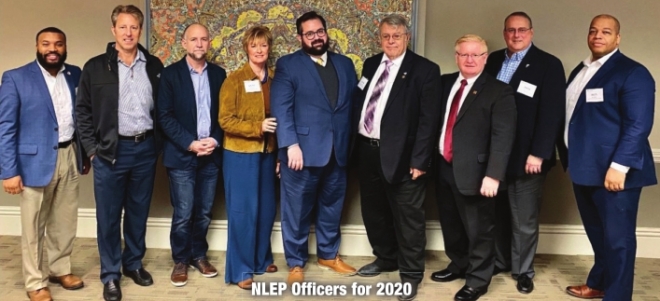 • NLEP 2020 Board of Directors and Officers

North Louisiana Economic Partnership (NLEP) has introduced the newest members of its board of directors and offi cers. More than 200 investors elected the new board members for multi-year terms, and the board, in turn, elects four board offi cers.
The 2020 NLEP board chair is Adam Johnston, First Guaranty's senior vice president & North Louisiana regional manager. Chap Breard, president & CEO of MoeBiz, will serve as chairelect. James Moore of Moore Family Interests, LLC., will serve as secretary, and Greg Lott, Progressive Bank executive vice president, was chosen as NLEP's treasurer. The newest members to join NLEP's 58-person board of directors include:
Jerry Allen, Delta Land and Farm; Ron Bailey, Sam's Town Hotel and Casino; Dr. Rick Bateman Jr., chancellor, Bossier Parish Community College; Jack Clampit, police juror, Ouachita Parish Police Jury; Anne Dixon, Anne Dixon Real Estate; Stephen Fortson, Bradley, Murchison, Kelly & Shea; Jeff Harper, North Webster Parish Industrial District; Mayor O'Landis Millican, Town of Arcadia; Dr. Dave Norris, Louisiana Tech University; Barry Regula, Boomtown Casino & Hotel; Tom Simms, Carr, Riggs, Ingram, LLC; and Dr. Steen Trawick, CHRISTUS Shreveport-Bossier Health System.
• Greater Shreveport Chamber 2020 Board of Directors

The Greater Shreveport Chamber of Commerce has announced a team of local business professionals who will be leading the organization in 2020.
The offi cers are: Chairman of the Board Lyle Jeansonne, Citizens National Bank; Immediate Past Chairman Patrick Harrison, Sound Fighter Systems, LLC; Chairman-Elect Brian McNew, McNew Architecture, APAC; Treasurer Jennifer Elliott, Capital One Bank; Vice-Chair of Economic Development Richard D. Lamb III, Wiener, Weiss & Madison; Vice-Chair of Education Terry E. Moore, Merrill Lynch; Vice-Chair of Marketing Francesca Moreland, Williams Creative Group Inc.; Vice-Chair of Investor Relations Patton Fritze, Red River Motor Co.; Vice-Chair of Public Policy Michael Corbin, SWEPCO.
Other board members include Ronald Bailey, Sam's Town Hotel & Casino; Melissa Couch, Barksdale Federal Credit Union; Brian Crawford, Willis-Knighton Health System; Robert Crawford, Atco Investment Co.; Tiffany Evans, Red Ball Oxygen; Jana Freeman Forrest, BOM; Cole Guthrie, U.L. Coleman Co., Ltd.; Bridges Hall, Red River Bank; Rickey Hall, Hall Builders Inc.; Mike McSwain, Mike McSwain Architect; Kenneth Morrow, Metro Aviation; Eric Nelson, Manufacturing Managers Council; Grant Nuckolls, Twisted Root Burger; Robert Pou, Romph & Pou Agency; Roy Prestwood, Heard, McElroy & Vestal; Mark Sealy, Sealy & Company; and Mark Snow, Aillet, Fenner, Jolly and McClelland.
• HMV Recognized by Forbes Magazine
Heard, McElroy & Vestal, LLC, has been listed in Forbes as one of America's Top Recommended Tax and Accounting Firms. The fi rm is in its third generation of leadership and continues to build toward the future. HMV is one of the largest public accounting and consulting fi rms in Northwest Louisiana, servicing clients throughout the states of Louisiana, Arkansas, Texas, Mississippi, Oklahoma and Tennessee from offi ces in Shreveport and Monroe. The fi rm is comprised of over 100 employees: 16 partners, eight "of counsel" partners, 18 managers, three senior managers, 48 additional professional staff and 27 administrative staff. The professional staff includes 56 certifi ed public accountants who obtain additional certifi cations which are Accredited in Business Valuation (ABV), Certifi ed Fraud Examiners (CFE), Not-for-Profi t Certifi cate holders, Certifi ed Valuation Analysts (CVA), Personal Financial Specialists (PFS) and Certifi ed Mineral Managers (CMM). The team brings together many years and diversifi cation of experience, providing a network of knowledge and resources and allowing for industry and niche specialization. HMV's strategic associations include Aliign Mineral Management, LLC, Business Valuation Consultants, LLC, and HMV Wealth Advisors, LLC.
• Pathologist Certified as Neonatal Therapist
Jessica Whitton, MA, CC-SLP, speech-language pathologist at Willis-Knighton South & the Center for Women's Health, has earned the designation of certifi ed neonatal therapist from the Neonatal Therapy National Certifi cation Board (NTNCB). She joins her colleague, Karen Vandersypen, PT, DPT, PCS, who received certification earlier this year. Whitton and Vandersypen are two of only three health-care professionals in north Louisiana with this certification.
As a certifi ed neonatal therapist (CNT), Whitton provides highly specialized rehabilitation therapy services to premature, medically complex and fragile infants in Willis-Knighton South's neonatal intensive care unit (NICU). Neonatal therapists, an essential part of the NICU team, can be occupational therapists, physical therapists or speech-language pathologists who provide direct therapeutic care to babies as well as education and consultative services to families and staff. Their interventions support optimal long-term sensory and motor development, prevent adverse consequences and nurture the infant-family relationship.
To obtain board certification, candidates must achieve a minimum of 3,500 hours of direct practice in the NICU, a minimum of 40 hours of education related to NICU, and 40 hours of mentored experiences. They must also complete and pass a rigorous exam demonstrating specialized knowledge and proficiency.