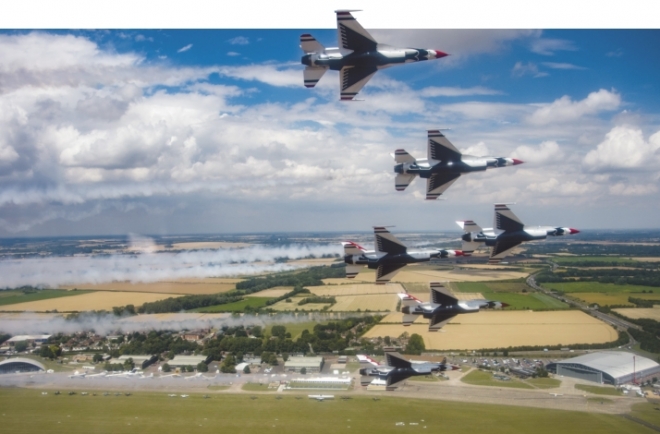 Defenders of Liberty Air Show takes flight
Every spring before the pandemic, Bossier City and Shreveport residents craned their necks to catch a glimpse of the military aircraft gamboling across the skies in the annual Barksdale Air Force Base Air Show. In the days leading up to the actual event, jets and even vintage aircraft could be seen practicing their tactics in preparation for their performances.
Inaugurated in 1933, the Barksdale Defenders of Liberty Air & Space Show featured a weekend of spectacular flying and displays of military aircraft, old and new.
2020 and the Covid virus slammed the airbrakes on the event.
But the good news is you can't keep a good airshow down.
This year the event is back May 8 and 9 despite Covid with some familiar features and some new accommodations.
If you're going, you need to have a printed ticket this year. That's because instead of milling around as in past years, this year each vehicle will be assigned a designated parking place, and visitors are asked to remain in their individual area for virus mitigation reasons. Visitors will need a ticket to attend because there is limited space in the viewing area due to Covid restrictions. The tickets are free, and you can get them at https://www.eventbrite.com/e/barksdale-defenders-of-libertyair-space-show-100-years-on-target tickets-145929373685.
Be sure to print the ticket before heading to the base; you must have a hard copy to show security at the gate.
Major Dan Dreier is the Air Force lead for the event. "For Covid mitigation, we're calling it a drive-in format. Each vehicle, family or group of friends is going to get an allocated spot. In that spot, they will be able to park their vehicle. Directly adjacent to their vehicle, they will have about a 10- to 15-foot square going up to the next vehicle that they will be able to tailgate in. You can get out of your vehicle, set up a table and chairs, and watch the air show."
You can dispense with your mask in your designated area, but you are asked to adhere to Covid mitigation protocols if you leave your space. There will be restrooms available in the viewing area with designated paths to access the facilities.
"People can bring food and water," Major Dreier explained. "We ask that nobody bring smoking devices, vaping, or tobacco, or alcohol, and no cooking devices. We're worried about the safety of our aircraft and people on the ramp. So we're just trying to make sure that people aren't starting any fires."
Major Dreier said the airshow is a good way for the community and the base to communicate. "Showing people what we do on a daily basis is super important. People probably have a lot of questions about what do we actually do. What planes do we fly? Having these airshows allows us to have closer relations with the local communities."
Captain Chris Sullivan, Chief 2d Bomb Wing Public Affairs, added that the airshow is potentially a great recruiting tool. "It's interesting being in the Air Force. You talk to a lot of people, pilots and people who do different jobs in the Air Force. One thing that you can find common to them is that they gained a love for aviation when they went to an airshow.

That really started something in them and gave them a spark. A lot of us got our love of the Air Force from there. It's something we want to share with the next generation."
As in past years, there are rules that you must follow to gain admission to the base; among them are restrictions on what you can and cannot bring with you. Those requirements can be found on the airshow website: https://www.facebook.com/barksdaleairshow.
Be sure to review them before heading for the show.
The gates open at 9 a.m. both days of the event, and if your designated parking area is not filled by the 11 a.m. start time, you might lose your place, so it's a good idea to be on time. And, remember, the Air Force is taking Covid seriously.
"We want to ensure that people are abiding by the Covid mitigation procedures," Major Dreier said. "We really want to defend the defenders. We're very worried. We don't want to spread Covid. We don't want to spread it to people on base, and we don't want to spread to people off base. We want a safe environment for the community and the people on base."