Professional Tips on Daily Skin Care
Protect your skin from sun damage, aging
Spring is officially here, which means more time outside with friends and family. While spring is my favorite time for social activities, it is also the worst time of year for my skin, with all the weather fluctuations. Now is the most important time of year to protect your skin from sun damage and skin aging.
There are two simple things you can do on a daily basis to protect your skin. The first and most important is to wear sunscreen every day, no matter what the weather is doing outside. Find a sunscreen that you like and make it part of your daily routine.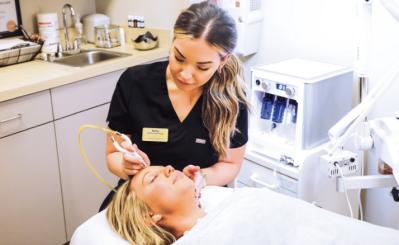 The American Academy of Dermatology recommends wearing a minimum of SPF 30. My favorite daily sunscreen I recommend for everyone is EltaMD Clear. It is an SPF 46 that blocks the sun's harmful rays in two different ways by utilizing both a physical and chemical sunscreen in one product. If you prefer a tinted sunscreen in place of make-up, then try Revision Skincare's Intellishade SPF 45 or SkinCeuticals Physical Fusion SPF 50.
For those midday touch-ups, I recommend the ColorScience Sunforgettable powder brush, SPF 50. This brush is so easy to administer; it's excellent for both the top of your head and my toddler!
The next thing you need to do to protect your skin from the sun is a topical antioxidant serum in the morning. Topical antioxidants, such as vitamin C, help neutralize the oxidative stress and free radicals in your skin caused by the sun. This will also help reduce redness and pigmentation while improving skin tone.
A personal favorite for all skin types is SkinCeuticals CE Ferulic Serum. It contains medical-grade vitamin C antioxidants to protect your skin from environmental damage while reducing the appearance of fine lines and wrinkles. It also improves the brightness of your skin's complexion while decreasing any loss of firmness.
If your skin needs a little spring cleaning, our most popular treatment is the DiamondGlow Dermalinfusion. This treatment simultaneously exfoliates, extracts and infuses skin with conditionspecific serums for immediate and longlasting results on all skin types with no downtime! This is an excellent option for cleaning out those pores and refreshing that top layer of skin. Depending on your skin goals, this facial can be tailored with serums specific to your individualized skin issue to provide hydration, skin brightening for pigmentation, antioxidants, improving or preventing acne, or boosting collagen production with medical-grade patented growth factors.
If you are looking for more in-depth improvement of the texture and tone of your skin, then microneedling with platelet-rich plasma (PRP) is for you. Before the treatment, we draw your blood and centrifuge it to extract your platelets, containing the growth factors needed to improve collagen production. The microneedling device also creates dozens of precise micro-injuries, stimulating collagen production. This procedure helps improve fine lines and wrinkles and gives your skin a beautiful glow with minimal downtime.
If you genuinely need skin tightening, though, traditional microneedling will only minimally improve skin tone. For you, adding radio frequency to the microneedling is perfect. The Morpheus8 combines this dual technology to help tighten the skin while regenerating collagen for a more youthful and radiant appearance. This is the most advanced option for skin tightening that requires little to no downtime. After the Morpherus8 procedure, we apply the PRP to speed your recovery and further boost collagen.
The Morpheus8 and traditional microneedling can be used from head to toe to treat wrinkles, stretch marks and crepey skin. Pairing these treatments with SkinCeuticals' Body Tightening Concentrate will help firm and lift sagging skin.
Another skin-tightening option before summer arrives is the new Exilis Ultra. Exilis is the first and only treatment that combines radiofrequency and ultrasound to tighten and smooth skin while stimulating collagen production. This treatment is painless with no downtime. I personally use it and find it feels like a hot stone massage. It's perfect for patients at any age who want firmer skin. Exilis can be done on the face, neck, arms, abdomen, buttocks, thighs or above the knees.
Use this spring as a time to refresh, protect and prepare yourself for this summer.
Dr. Souyoul is a board-certified dermatologist. She works with Dr. Lindsey Pennington, a double board-certified facial plastic surgeon. Find them in Shreveport at 6030 Line Ave., Suite 110, Mon.-Sat., or call 318-216-5366 to schedule a consultation.