How did your vote stack up
Landslide Winners/Blockbuster Winners All we can say is WOW! What a turnout
We continue our round-up of the Best of 318 businesses by looking at the top vote gatherers on the following pages. Also included are our Top 5 in each category in order of win. Enjoy and thank you for casting 262,812 total votes!
2JOHNS STEAK AND SEAFOOD
• Best Steak

• Best Steakhouse

• Best Martini

• Best Overall Restaurant

• Best Place for Date Night
Capturing five first-place and six Top 5 awards, John Montlepre has come a long way from his modest barbecue stand on East Kings Highway to becoming a favorite on the jammed Airline Drive food corridor. And new to the restaurant is the indoor patio, being billed as the perfect spot for when the Louisiana heat is too much to sit in the courtyard. They're open for dinner Tuesday through Saturday in Airline Plaza and offer an extensive menu of steak and seafood as well as a well-appointed wine list. Reservations are highly recommended.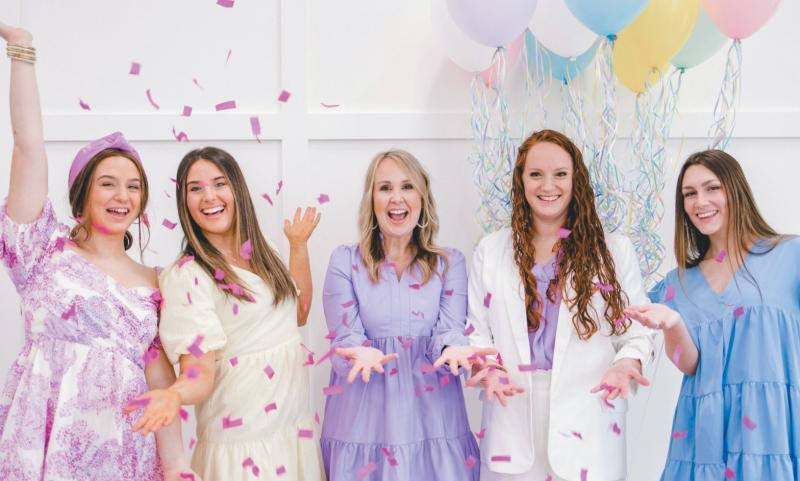 SIMPLY CHIC BOUTIQUE
• Best Women's Boutique
It's no simple matter to be the best, but Simply Chic Boutique topped the charts with customers. One reviewer on their Facebook page writes, "This place is amazing! The ladies are helpful, encouraging and make great recommendations! Do yourself a favor and go grab a top or dress (or more) – you'll be styling, and your wallet won't be mad at your great deal." Whatever the season, whatever your style, even if you aren't sure, the staff is ready and eager to ensure that you'll be Simply Chic before you walk out their door.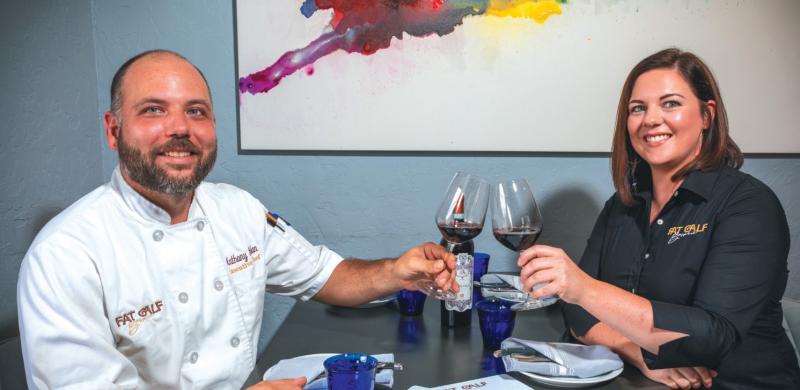 FAT CALF BRASSERIE
• Best Bartender

• Best Caterer
Anthony and Amanda Felan carried away lots of accolades for their Fat Calf Brasserie, including Best Bartender, Best Caterer, Top 5 Best Appetizers, Best Happy Hour and Best Overall Restaurant. Not too big a surprise when you learn that Anthony is a graduate of Le Cordon Bleu College of Culinary Arts in San Francisco, even if you don't speak French. Located in the Highland neighborhood, Fat Calf offers take-out, delivery and sit-down dining. Most evenings, you'll find the faithful gathered on the outdoor patio sharing companionship and fine food.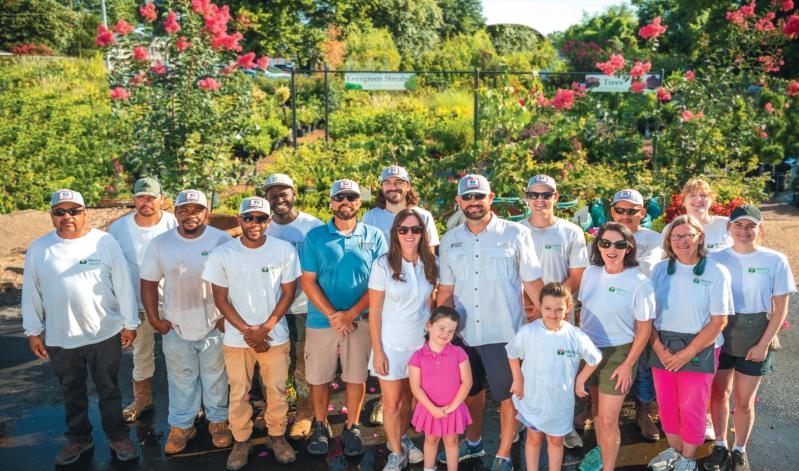 AKIN'S NURSERY & LANDSCAPING
• Best Nursery/Garden Store
Not much of a surprise that the home of the local TV "Plant Doctor" came away with the prize in the Best Nursery/Garden Store category. Boasting a longevity that few can match, it opened in 1943 by E.P. Akin. It's still owned locally by Brian and Jennifer McGimsey, with more than 30 employees dedicated to making your yard or business the envy of the neighborhood. Offering annuals, perennials, bulbs, shrubs and landscaping using all the varieties that perform the best in our area, Akin's will help the gardener from planning to planting to enjoying no matter what color their thumb is.
SUPERIOR BAR & GRILL
• Best Chips & Salsa

• Best Margarita
With a name like Superior Bar & Grill, it's hardly surprising that they claimed superior honors. And it's not a surprise that they topped the tabulations in the Best Chips and Best Margaritas categories. But you might be surprised to learn they offer vegetarian-friendly and vegan options as well as gluten-free selections. It's easy to satisfy your craving for Southwestern and Mexican cuisine at one of this area's long-time favorites at lunch, dinner and late night. Plus, they've snared over 500 "Excellent" and "Very Good" ratings on Trip Advisor ® .
IVAN SMITH FURNITURE
• Best Furniture Store
To say that Ivan Smith Furniture is a fixture in the ArkLaTex is a classic understatement. Everyone remembers they even had local icon the late Bob Griffin as a spokesman. Ivan Smith took top honors by offering sought-after designs and affordable prices for famous brand selections from individual pieces to whole-room collections. Ivan Smith Furniture bills itself as the thinking person's choice for quality, selection and value. They offer financing, online bill pay, and even text and chat features on the website to meet your furniture needs. They also serve multiple locations in Texas, Louisiana and Arkansas, from Fort Worth to Monroe and Arkadelphia to Winnfield.
LA BLOOM
• Best Florist
Bill Specht has been open since the retail corridor of Youree Drive south of 70th Street exploded, and he's managed to earn a reputation as the Best Florist in our polling. They offer floral solutions for weddings, funerals, bouquets and even that "get out of jail" gift for a significant other. They can fulfill your blooming needs whether you're looking for classic or traditional, modern or trendy, soft and romantic, or even offbeat. They promise to meet any budget while complementing any occasion delivered fresh from a local Shreveport florist with easy online ordering available 24 hours a day.
CHEMISTRY HAIR SALON
• Best Hair Salon
A lot of good chemistry is going on at 318 Forum's Best Hair Salon top vote getter, Chemistry Hair Salon. Owner and Executive Director Bryan Sullivan is an award-winning stylist, colorist and educator with experience in the industry spanning 28 years. With locations in Shreveport and Bossier, Chemistry Hair Salon's Shreveport shop is even open on Sunday for those special Sunday night events. The salon has been named to the Top 200 Salons in the country twice by Salon Today. The team of stylists invite you to stop by and make your new look start a reaction.
LOCKHART JEWELERS
• Best Jewelry Store
Lockhart Jewelers, a third-generation, family-owned business, turned in a glittering performance as Best Jewelry Store. They pride themselves on creating a comfortable atmosphere at their Youree Drive location, where customers can come as they are and try on anything they'd like. They're happy to answer questions, let you browse through the inventory, or help you find the perfect gift – even if that means designing a custom piece just for you. As one satisfied customer wrote, "Absolutely love this place, and it will always be our first choice!" Closed Sunday and Monday, the shop is open by appointment only on Wednesday. Check the website for details.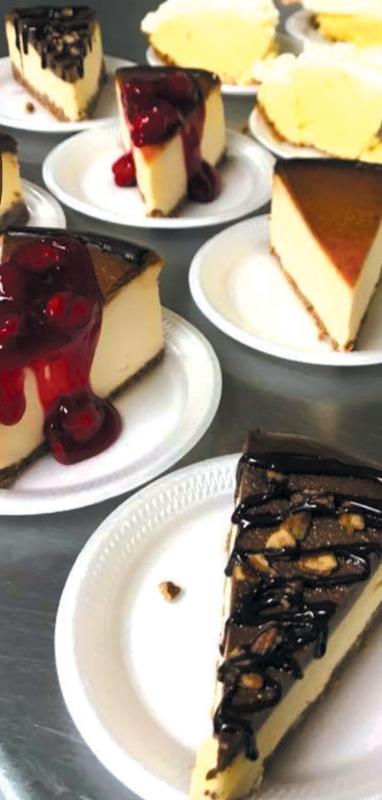 JULIE ANNE'S BAKERY
• Best Desserts at a Local Restaurant
Whether you're looking for a light lunch, a special dessert or a decadent snack, Julie Anne's Bakery and Café on Line Avenue across from Byrd High School is a convenient destination. The establishment garnered votes in three categories: Best Desserts at a Local Restaurant, Top 5 Bakery and Best King Cakes. They offer pies, cakes, cookies, light lunch salads, sandwiches and beverages to complement every meal. It's hard to find a time of day that the seats aren't busy, especially at the end of the school day. Unlike many Shreveport businesses, Julie Anne's has stayed the course as a go-to choice for local sweet tooths.