The Wonderstick can be seen in A & E's "Best in Chow"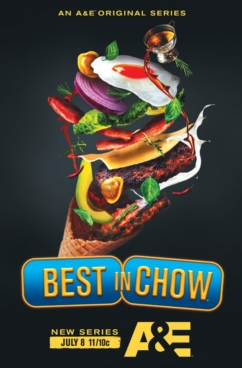 What do you call an ice cream cone that is as big as your arm and is shaped like the letter "J" or an upside-down candy cane?
At fairs and festivals all across the country, you call it Wonderstick, and it's the proud variation of a theme of a local man whose father found the confection on a trip to South Korea 10 years ago.
Since then, Lee Grigsby has turned the sleeve of sweetness into his only job, one he says is lots of fun with no regrets. After his dad, Dr. Tobin Grigsby, found the colossal cone, Lee went to South Korea to find out more.
"The Koreans showed me the way. I brought it back over here, Americanized it – put a little sugar in it, we've got a cinnamon one, we've got a sugar one – put it at Mudbug Madness 2015, worked out of a tent, and it was a big hit."
Soon, Grigsby acquired what he called "a proper concession stand," and by 2023, they will have five stands that go to many of the state fairs and large county fairs as well as other large events around the country.
His "season" is just getting into full swing. "The fair season is focused around 72-degree weather.
We're trying to go chase it up there this next couple of months," he said. "Up there" is his northern route, which stops at places like Nashville, Des Moines, Minnesota, South Dakota and Missouri before Labor Day.
"After Labor Day," Grigsby said, "our units come back down to our parallel. We go out to Albuquerque, Oklahoma City, Little Rock, Jackson, Miss., Pensacola, everywhere in between."
It was on last summer's swing through the southern route that Grigsby and his Wonderstick team were approached by the producers of the A&E Network program "Best in Chow." The program travels around the country to various events and locations and holds a competition to who represents the "Best in Chow" at each venue.
"They found us when we were at the New Mexico State Fair. We filmed with them for a few days out in Albuquerque. That episode is scheduled to air on July 22 at 10:30 a.m. Central Time."
Grigsby said the producers have been playing it pretty close to the vest about how his team did in the competition, so we'll have to tune in to the broadcast to see what happens next.
The Wonderstick team believes the uniqueness of their product is a big plus, or more accurately, a big "J."
"The shape of it looks like a "J" or an upside-down candy cane. It's a gluten-free cone, corn-based, rather than a typical ice cream cone. It doesn't get soggy, and it's crunchy the whole time you're eating it. You get a bottom of the cone bite in every bite. Cone all the way."
In the meantime, Grigsby, who describes himself as a "full-time icecream man," is not resting on his laurels.
He said his five units would travel the northern route, hitting the big fairs and festivals where hungry customers can find a cool confection to beat the northern heat. "We're trying to go chase it up there this next couple of months. School starts the Tuesday after Labor Day in most of the northern states, so summer's over, school's back up. Frankly, the temperature drops, it gets a little chilly there by that time," he explained.
So, it will be back to the sunny South, where he admitted you can get the odd 100-degree fall day. And that meteorological marvel is what Wonderstick counts on to help put the ice cream-packed "J" at the top of the confection menu.
Try Wonderstick July 14-14 at the Red River Balloon Rally at Louisiana Downs.