An Evening For Healers celebrates and honors first responders, doctors, nurses and health care providers.
LSU Health Shreveport Celebrates 12 Years of Heroes, Healing and Hope
Samantha Roberts, LSUHS Foundation
The LSU Health Sciences Foundation will host the 12th annual An Evening for Healers at the Shreveport Convention Center on Thursday, Aug. 31. The Foundation's signature fundraising event benefits LSU Health Shreveport – North Louisiana's only academic medical center.
An Evening for Healers was created in 2011 to celebrate and honor the Shreveport-Bossier community's first responders, physicians, nurses, allied health professionals and other health care providers who work tirelessly every day to save lives at Ochsner LSU Health Shreveport, North Louisiana's only Level 1 trauma center. More than 800 "healers" have been recognized over the past 12 years for their expertise and compassion.
This year's event will honor more than 50 first responders and health care providers and retell their patients' stories through inspiring documentaries directed and produced by local video producer CRM Studios. This year's featured patients reside in Longview, Texas, and West Monroe, La., which demonstrates the reach of Ochsner LSU Health Shreveport's highly specialized care.
An Evening for Healers has now raised more than $3.5 million to support LSU Health Shreveport's greatest needs through the Chancellor's Fund, including recruiting and retaining top faculty, acquiring cutting-edge equipment and supporting programs for students at all three schools – the Schools of Allied Health, Graduate Studies and Medicine.
LSU Health Shreveport welcomed its new chancellor, David S. Guzick, MD, Ph.D., in January. Dr. Guzick is a reproductive endocrinologist and academic health center leader. He served seven years as the dean of the University of Rochester School of Medicine and Dentistry and nine years as the University of Florida's senior vice president for health affairs and president of UF Health. He is the only active physician in the state of Louisiana who is an elected member of the National Academy of Medicine.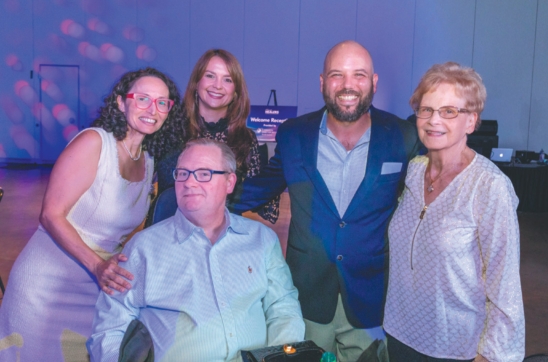 Family and friends along with their heroes gather to celebrate victories and milestones.
"I am excited to experience my first An Evening for Healers," said Dr. Guzick, and "to meet even more of our generous donors. I equally look forward to recognizing and celebrating those whose dedication and skills have forever changed the lives of patients and their families."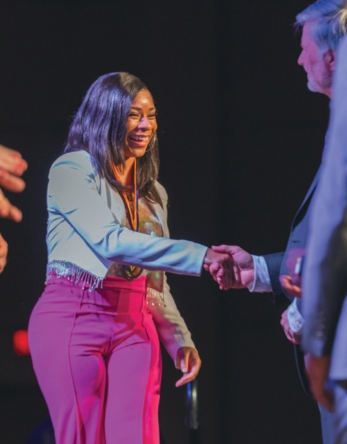 Ochsner Health is the presenting sponsor for An Evening for Healers. Ochsner Health and LSU Health Shreveport will celebrate five years of their partnership, Ochsner LSU Health Shreveport, this year. The two entities joined forces in 2018 with a vision to improve the health and wellbeing of its communities, access to care, quality and facilities, expand patient-centered technology, grow the medical school and enhance research in North Louisiana.
"Most people in our community are aware of the hospital and medical school, yet An Evening for Healers highlights a side that many don't know about unless they have experienced it firsthand: The magic that happens when you combine the highest levels of expertise seen in these physicians and care teams with the immeasurable compassion and drive they have to help every person have the best life possible. The care teams don't accept 'good enough.' They go to great lengths, garner every resource available and experience personal sacrifice to save lives, heal the whole person and make a fulfilling life possible for the patients and the family and friends who support them. This is what you'll see in these stories shared of our Healers, and these are the doctors and clinicians that are training our health care teams of tomorrow," said Chuck Daigle, CEO of Ochsner North Louisiana, Baton Rouge and Lake Charles.
David and Liz Means, longtime LSU Health Shreveport supporters, will chair the event with their daughter, Dr. Anna Moore, and her husband, Dr. Justin Moore. Anna received master's and doctorate degrees in physical therapy at the LSU Health Shreveport School of Allied Health Professions and is the co-owner and founder of The Edge Physical Therapy in Shreveport. Justin graduated from the LSU Health Shreveport School of Medicine in 2009 and is the medical director of Emergency Medicine Services at Christus Health Shreveport-Bossier.
"An Evening for Healers is the event we look most forward to each year," said Kevin Flood, president and CEO of the LSU Health Sciences Foundation. "We are celebrating a record-breaking fundraising year, and we expect more than 1,000 people in attendance. We thank Ochsner Health, the members of this community and LSU Health Shreveport alumni, faculty and staff who have generously supported this event. Funds raised through An Evening for Healers ensure LSU Health Shreveport remains a pillar of this community for years to come."
How to Attend: Sponsorship opportunities remain available starting at $2,500, and individual tickets can be purchased for $150.
The doors will open at 6 p.m. for the welcome reception, with dinner and the program beginning at 7 p.m. Semi-formal attire is recommended.
More information can be found at www.lsuhsfoundation.org/healers or by calling the LSU Health Sciences Foundation at 318.861.0855.