Great Raft Shares its Success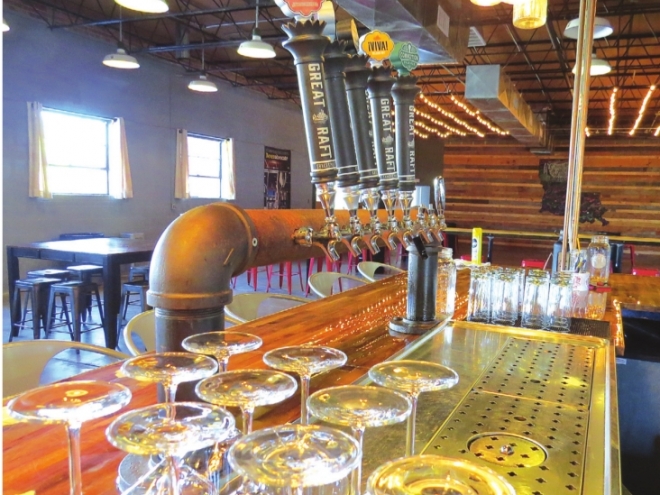 Locally made beers expand beyond Shreveport – Bossier
Just over three years ago, the first locally brewed beer since Prohibition was served in Shreveport on Oct. 15, 2013.
Great Raft Brewing, co-founded by Andrew and Lindsay Nations, served up a pint of one of their three flagship brews, Reasonably Corrupt, at Zocolo Neighborhood Eatery and Drinkery. In the short time since that first pint, Great Raft Brewing has exploded onto not only the Shreveport craft beer scene, but all over the Ark-La-Tex region.
Only two months after serving their first beer, their ever-popular tasting room opened at the brewery. Originally open Thursday through Saturday, to meet demand the tasting room is now open Wednesday through Saturday, most often with a local food truck, so you can quench your thirst and hunger in one stop. On Saturdays, free tours of the brewery are offered, which explains the beer-making process from start to finish.
After less than six months in operation, Great Raft Brewing announced their first of many distribution expansions, which was Ruston, La. Their second expansion announcement added New Orleans. Multiple expansions later, Great Raft beer can now be found in more than 1,200 locations in Louisiana and more than 120 locations in Arkansas. Their most recently announced expansion now includes the addition of East Texas. Cities like Jefferson, Longview, Marshall, Nacogdoches, Tyler and Sulphur Springs can now enjoy the three flagship Great Raft beers: Reasonably Corrupt, Southern Drawl and Commotion.
"We are excited to share our beers with our patient fans and new consumers alike in these markets," Andrew Nations said. "East Texans visit us at the brewery quite a bit and have been very vocal about their desire to get Great Raft beers a little closer to home. We're happy to finally have the capacity to be able to do that." More cities in Texas will be added in 2017. Each year on their October anniversary, Great Raft has hosted the Great Raft Anniversary Ramble day-long party, featuring multiple local and regional bands for entertainment while they serve up exclusive beers created just for the party. The number of beers grows each year, with this year's party featuring 37 different beers to sample. Some of the most unique flavors included: Jamaican Rum Barrel Aged Reasonably Corrupt, Buffalo Trace Barrel Aged Old Mad Joy and Pappy Van Winkle Barrel Aged Rye Old Mad Joy.
What can a local brewery accomplish in three years? Here's a breakdown of the numbers:
2,927,000+ pints sold
1,700,000+ recyclable aluminum cans filled
413,000+ gallons of Shreveport water turned into world-class beer
676,400 pounds of mash crushed
13,650 pounds of hops consumed
25 dedicated employees
In addition to their annual anniversary party, you'll find many other events going on at the brewery's tasting room all year long. On any given weekend, you'll likely find that they're hosting a launch party for one of their newly crafted beers, like You, Me & Everyone We Know, which is a sour blonde ale aged in chardonnay barrels and refermented with Louisiana peaches. Great Raft also partners with many local nonprofit organizations and hosts fund-raisers in the tasting room. Since opening, Great Raft has donated more than $30,000 to Louisiana based charities.
If you've never sampled a Great Raft beer, there's never been a better time with more variety available to try one. Their brewery and tasting room is located at 1251 Dalzell Street in the Highland Neighborhood of Shreveport. They are open from 4-9 p.m. Wednesday through Friday, and 12-9 p.m. Saturdays.
– Mark Crawford