Jewelry designer features collection at trunk show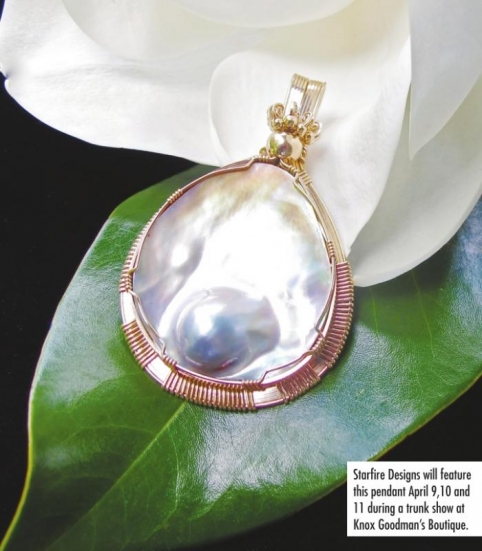 It's been said that good luck is the fortunate result of preparation merging with opportunity. Whether or not he was aware of it at the time, Starfire Designs creator Charlie Wharton probably began the preparation phase of his future jewelry design career when he chose art as his college major. The stage was set for good luck to follow.
Knox Goodman's Boutique has carried Starfire Designs for five years and will host a trunk showing April 9, 10 and 11.
Subsequently, Wharton's 25 years in the fashion industry as a traveling menswear and womenswear consultant undoubtedly provided further readiness. However, Wharton enthusiastically credits his wife, Jean, with giving him the necessary nudge at just the right time when opportunity presented itself.
"She really is the 'wind beneath my wings,'" he said.
Wharton had thought it a good idea to add jewelry enhancement to the women's apparel he was selling. He was going to simply use finished pieces, but Jean strongly urged him to create his own designs, and he listened to her.
In a telephone interview from his studio nestled in the Blue Ridge Mountains of Asheville, N.C., Wharton reflected on his first days in jewelry design.
When asked if he remembers the first piece he designed, he laughingly said, "Yes, from a rock I picked up in the driveway. But, I chose the prettiest one!"
From experimenting with that pebble, he said he would soon prove that great and wonderful things do, indeed, come from small and simple beginnings. With his wife by his side and drawing on his college art education, Wharton said he soon became proficient in every aspect of jewelry design, crafting and production. His expertise has earned him the distinction of being regarded one of the leading jewelry designers in the nation.
Through carefully studying precious and semi-precious gemstones from around the world, Wharton hand selects each stone. He designs in such a manner to reveal the natural intrinsic qualities and characteristics of the stones. Settings are enlivened by use of exquisite Egyptian wire wrapping from the finest gold and silver. Each piece is embellished with his artistic signature "crown" at the top. His collection has expanded to pendants, collars, bracelets, rings and earrings.
Although well-known national female personalities that include celebrities, politicians and news anchors are among his clientele, Wharton does not choose to have a flagship store. He prefers, instead, to partner with specific shops and boutiques around the country which he visits regularly.
Wharton, of course, will be on hand at Knox Goodman's during the show to personally meet customers, build relationships and display his latest artistic work.