Groomer takes pride in presentable pooches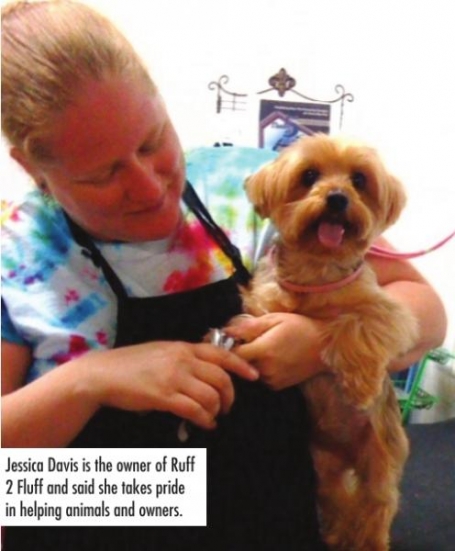 For a pet, visits to the grooming salon are no longer considered just an indulgent luxury in Shreveport- Bossier City.
Jessica Davis, a Shreveport groomer and owner of Ruff 2 Fluff, said the ability to win the trust of the owner along with a patient nature are important in her business.
The daughter of a military family, Davis resided in Montana and California before moving to Louisiana.
It was while attending high school in Bossier City that she was first introduced to doggie grooming when she helped out in a salon by making bows, bathing dogs and spending time observing the grooming process. Her passion for it would not diminish.
Following a two-year stint at Southern Arkansas University Tech, where she majored in multimedia design, Davis felt dissatisfied in this career choice.
She credits her good friend, Shawna Millen, owner of Shawna's Posh Pets in Bossier City, with inspiring her return to grooming.
"You don't have to be this unhappy. Come back to dogs!" Millen told Davis.
Davis joined Millen in her business and specialized in dog bathing for six years while becoming acquainted with other tools of the trade. By watching Millen and her staff, Davis learned not only cutting technique, but she acquired skills in handling and controlling the dogs also.
In 2012, Millen decided to move Shawna's Posh Pets closer to her home in Bossier City. Davis was residing in the Highland area in Shreveport and decided that the time had arrived for her to operate a salon of her own nearer to her home as well.
She had become fond of the Highland section of the city, so when she found available space at 3007 Line Ave., she knew it would be the perfect location for Ruff 2 Fluff to open its doors in December 2012.
"There are many direct health benefits to having your pet groomed," Dr. Catherine Foret, of University Veterinary Hospital in south Shreveport, said. "Regular grooming and bathing of pets, despite coat length or type, help to keep the coat and skin healthy. A professional groomer also can help you determine the frequency a bath or groom may be needed. Different types of skin and coats have different needs."
Foret said investing in a professional groomer can be necessary for some breeds.
"In addition to the direct benefits to your pet's coat, grooming may help point out abnormalities in your pet's body, such as sores, growths, an ear infection and other dermatological medical issues," Foret said. "A professional groomer will aid in the early detecting of skin problems and insure that if a lump does appear, you are aware of it sooner rather than later. Timely detection and diagnosis can be crucial in a positive outcome to an otherwise deadly health scare." Professional groomers, like Davis, typically understand a pet's usual behaviors and body conditions and will tell owners when something appears abnormal.
"Multiple times, I have personally thanked groomers for saving an animal's life," Foret said. "A good professional groomer not only keeps your loved one looking good but can be a valued part of your pet's healthcare team."
Long before and ever since starting her business, working with rescues has been a sincere labor of love for Davis.
"My regular customers take such wonderful care of their babies, and they usually only require maintenance. However, shelters and rescues around the world are full of pups that are truly in need, and I would save every one of them if I could. Of course, financially and responsibly, I cannot. Therefore, grooming for the local rescues gives me an opportunity to give these pups a new chance with someone else who might have overlooked them under all those layers of ungroomed hair.
"As much as it pains me to see a dog neglected, it brings so much joy to my heart to turn a pitiful pup into a beautiful fluff! This really makes my job feel worthwhile," Davis said.