Remodeling tips from a contest winner
It was one of those moments you don't soon forget. Your husband walks into your bedroom of the house you have only owned for a month-and-a-half and said, "I have something to tell you. But, don't get mad at me."
What?!?! Excuse me?! That might have been the longest pause or break in conversation I have ever been a part of. I remember the odd feeling more than the actual thoughts, but I am sure I was thinking, "What did you break?" Then, the revelation. "I entered us into an ugly bathroom contest," he said.
After I let out a huge sigh of relief from avoiding that fight, I quickly chided him for scaring me. "Don't ever start a conversation that way again," I am sure I said. But then I just wanted to know the details.
We had just purchased a new home: a lovely, charming and very Southern larger home with many amenities we had been looking for but hadn't quite gotten in our first home, though it was a charmer itself. But, the affordable price tag came with outdated bathrooms filled with colorful tile and a kitchen that was nice but definitely stuck with a '90s feel.
My husband was particularly not fond of the pink guest bathroom in the house. I am not sure what he didn't like about the pink tile walls, pink bathtub and surrounding tiles in the shower, pink sink, and the piĂšce de rĂ©sistance – a pink toilet, made two-tone by a bad, and now peeling, paint job on the tank to try to match the seat and bowl.
JEB Design/Build, The Plumbing Warehouse and Kohler were just what my husband needed to get this bathroom into the 21st century.
To enter the contest, we sent a picture of our bathroom, and the JEB team put it on Facebook along with approximately 80 others. Each participant had the entire month of July to acquire the most "likes" on their ugly bathroom photo. The photo with the most "likes" by the end of July would win a full bathroom makeover. The stipulations seemed fair to us – no plumbing would be moved, no walls removed or any other major structural renovation. Our bathroom layout was fine, it just looked like someone threw up Pepto-Bismol all over it. So, we were in!
July was quite possibly the longest month of our lives. We were sharing this photo multiple times a day and working on posting during heavy traffic times for Facebook. Luckily, we didn't have to resort to begging as many of our friends got on board without much prodding from us and even began sharing the photo, garnering "likes" from people we did not know from Iowa to New York and all other corners of the country.
Approximately 800 Facebook likes later, we slid into August as the winners of a new bathroom. This was a big surprise to me for many reasons but namely two: neither my husband nor I knew all 800 people who liked our photo, and it was astounding that strangers (or friends of our friends really) voted for our pink palace; and, we never win anything. We could not believe it. And really, the best part about this entire bathroom remodel process is that this was a Facebook contest. This bathroom remodel has been a remodel for everyone and it has been so much fun to share it with others far and wide, friend and stranger, through posts, photos and personal one-on-one conversations about the updates. I even coined our own hashtag: #byebyepinkpalace.
But, winning was only half the battle.
Anxiety began to set in just days after winning the contest. We had never really remodeled a room in our first home, just added paint and decor changes here and there. This, this was a major undertaking. Then came picking out all of the new pretties that would soon make our guest bathroom the most beautiful room in the house, as well as the weeks-long process of people in and out of our house to turn that all into a reality.
Here are the top six things I learned during our first remodeling project:

1. Designer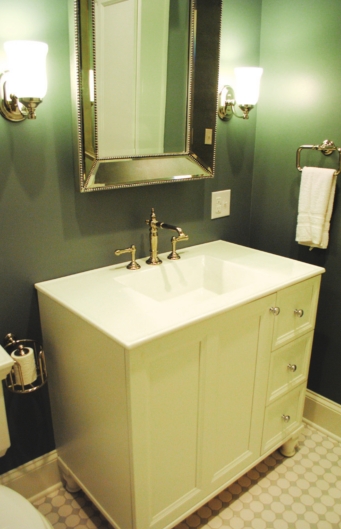 In the first weeks after winning, we had contractors coming by the house, and we were meeting with a designer. A designer? You mean someone to help us make choices? Oh, gosh! While that should have felt like a luxury, and sometimes it surely did, it sometimes felt more overwhelming because if I pick crazy combinations, this woman will know and make mean faces at me! (By the way, she did not make mean faces at me. So, I either have impeccable taste, she is really nice or she steered us in the right direction as she made us "think" we were making the decisions. I like to think it was some of all three.)
Kristen Wysong, with JEB Design/Build, was the best designer I could ask for. Not only did she not make faces at us, she helped us through every step of this process, even things that did not really fall under her job description. I had very specific ideas about some things I wanted like the tile and vanity, but there were many things I had less opinions about and did not think I possessed the knowledge to choose. It was wonderful to have Kristen choose my trim color and pick out door pulls for the vanity. And, both look great. It was also great to know that someone was there when I stood in my dimly lit middle-of-the-process bathroom thinking this could not possibly be the wall color I had chosen. After a quick visit by Kristen to our house, she reassured me that when the lighting was all in, that was, in fact, the right color, and it would look great. She was right.

2. The Dust is for Real
We were warned about the "remodel dust," but I really had no idea what they were talking about. I jotted down my feelings about the dust on just Day 2 of this remodel:
"The dust is real. This is not an exaggeration or hyperbole: There is a ton of dust! You will track it all through your house, and you will clean, and it will still be there. Now I am no stranger to dust as someone accustomed to hardwood floors and the prevalence of the little bunnies everywhere. However, this dust brought me to my knees, paper-toweling the floor after mopping because I could see wet wads of dust forming. Oh the dust."
Luckily, it isn't quite as bad after the demo is done and our wonderful friends at JEB provided us with extra air filters (You didn't want to see those!). I can gladly say after many weeks and a complete cleaning provided by JEB from Taylor of Annointed Hands, the nightmares of dust storms are just a mere memory around here.

3. Prepare for the Unknowns

While this sounds like a contradiction, it is really some of the best advice I can give anyone. Everything will not go as planned, or as you have planned it in your head. There will be rotten wood underneath your floor tiles in your 88-year-old bathroom (no way!), but luckily, it was minimal. There will be a week with little activity while you wait for inspectors to come by. There will be ice and snow, apparently. Some items won't be the right ones. Some things won't look right to you in the middle of the remodel process.
Guess what? Definitely speak up when you think something is not quite right, but be prepared for legitimate answers like, "just wait." Not to give myself too much credit, but I think one of the smartest ways I asked questions on some things was by saying, "What is our margin of error here for this?" I mean, after all, the walls just weren't going to be perfectly square when remodeling said 88-year-old bathroom. I totally got that after they explained it to me. But, as a person in their first remodel, it just wasn't something I thought about. Having a great team of professionals like our project managers on hand really calmed us as they navigated this process with us.

4. Trust Your Choices and Have Fun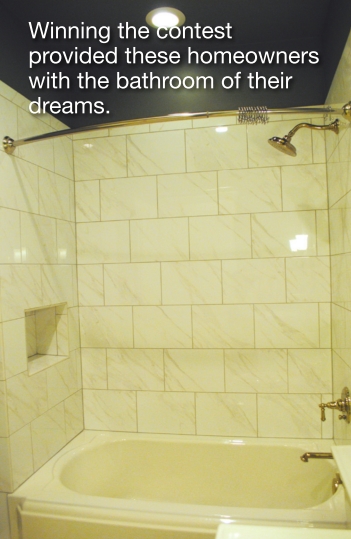 I love old houses. I am drawn to their charm and character. And, there are many original things that I love in old houses, so getting rid of the pink tile and the plaster flowers above the linen cabinet came at a cost for me. But, it was wonderful to dream about what this space could become and how truly beautiful it could be.
Pinterest, of course, was a good friend to me as I began to really imagine what I wanted our space to look like. As a nod to the decade our house was built in, I knew I wanted art deco touches in the room, which really came through in the detail shape of our bathtub and coordinating toilet. We got some of that Old Hollywood glam factor with the mirror and the sconces as well. But, my two favorite retro nods in this bathroom were the faucet and coordinating accessories with their elegant and vintage feel, as well as my hexagon tile floor. I knew from Day 1 of winning this competition that I wanted that hexagon floor and the faucet was No. 2 on my plan.
With these retro and art deco looks going on, I was unsure whether my furniture style vanity, the beautiful marble-style tile and my unconventional wall color choice would work to complete this look. I remember firing off a frantic email to Kristen one day.
"Be honest, I know you said it, but do those two really go together OK ... the hexagon floor and marble-look tiles? I love them both, but I don't want it to look silly because I am hung up on hexagon."
She said it would be retro elegant. We were both right. I do love them both, and they do look great together.

5. Be Careful, It is Contagious

Before winning the contest, our first project in this "new" house was supposed to be a remodel of our '90s-style kitchen. After winning the contest, we chose to focus on one remodel project at a time. Now that the bathroom is sparkling new and so beautiful, I can't wait to get my hands on other rooms in this house. One day, I know I need to be patient and work on this house one thing at a time and let it all grow on us. The next minute, I have my phone in hand, ready to call to order that bold wallpaper I envision for our small half-bath. Two other bathrooms and our kitchen are just awaiting a new touch, and I can't promise my husband that at least one of them won't be finished before the books have closed on 2015. Having one completely updated room really makes you want to get everything up to par. The bug has bitten me!

6. Say Thank You!
None of this would have been possible without the wonderful professionals at The Plumbing Warehouse-LCR, JEB Design/ Build and Kohler. They brought us together with some great subcontractors who helped us complete the look: Steven VanHolten Construction, LLC; Clapp Drywall; Central Aire Heating & Air Conditioning Inc.; Ideal Tile Works; Daltile; Artisans Millwork, LLC; Barber Plumbing Inc.; Bob Davis Electric Co.; Annointed Hands Cleaning; and Custom-Bilt Cabinet and Supply.