More than 30 health care workers honored
Susan Belanger said her husband's story with Parkinson's disease is nothing short of a miracle after the treatment and support they received from numerous local health care professionals.
"This is a complete and total miracle because last April, prior to his surgery, he was in a wheelchair all the time or on a walker – when he could even use a walker," Susan said. "He is now able to do anything he wants to do. He mows the lawn, edges, washes cars – he's out here fixing lamps. Anything he could do beforehand, he can do now."
More than 30 health professionals related to David's story and Hailey Clutter's story will be honored 7:30 p.m. April 30 at An Evening for Healers at the Shreveport Convention Center. Susan was quick to point out that the physicians who supported David were deserving of his honor.
Ten years ago, David was diagnosed with Parkinson's disease. As the disease progressed, his ability to walk, eat, work and go about his day declined. Susan said she was desperate to restore David's quality of life. Just as they were exploring a surgical option called deep brain stimulation in Texas, LSU Health Shreveport recruited neurosurgeon Dr. Jessica Wilden, whose team would give David life-changing care.
Soon Wilden began working with the Belangers. After a number of intensive tests and evaluations, David was cleared for the DBS procedure.
"We have treated over 20 patients with excellent clinical results and are continuing to see new patients every week with Parkinson's disease, essential tremor and dystonia who may be candidates for our unique therapy called [DBS]," Wilden said. "Our patient satisfaction has been high, particularly in regard to our specialized method of 'asleep DBS.'"

Wilden said during asleep DBS, the brain is put on a pacemaker under live MRI guidance in a specialized operative suite with the patient under general anesthesia for comfort. They implant electrodes with wire leads into his head to stimulate the brain.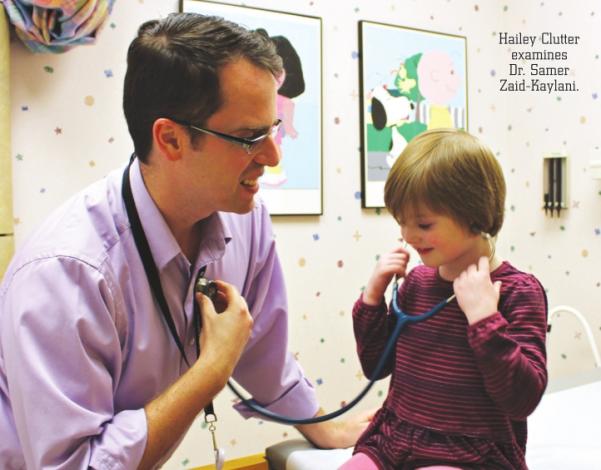 After two surgeries and several weeks later, Wilden turned on the machine.
"I think probably the singularly most impressive thing for me was that I was sitting right next to him and traditionally Parkinson's patients have what they call a 'masked look' on their face, meaning the face is somewhat elongated," she said. "As they turned the device on, I could literally see the muscles in his face tighten. He instantly had a much more pleasant look on his face."
Susan said after having the surgery, he can now do everything physical that he used to. She said she is so thankful for the work and support of Wilden, Dr. Meghan Harris and Ashley Hamby, a physican's assistant.
"I think it shows that the medical community in Shreveport is extremely progressive and is on the cutting edge of medicine – certainly DBS surgery is the cutting edge of surgery for this type of [disease]," Susan said.
She said their outlook is positive after working with local professionals.
"Our prayers and hope is that with research and the way the research is going, within eight to 10 years, we will be able to do something else that will keep him at the level he is now," Susan said.
Another story and team of professionals who will be honored are the healers of Hailey Clutter, who was diagnosed with a type of kidney cancer at a very young age.
"Hailey's healers had the confidence to offer her the most effective surgery, radiation technique and amount of chemotherapy for her nephroblastoma," Dr. John Benjamin Wilkinson, radiation oncology, said. "Hailey and her parents deserve a perpetual standing ovation. They stand out as a courageous family who took each phase of therapy in stride, supporting one another, which has helped lead to today's victory."
Fred Moffitt, owner of Moffitt Mazda, Volkswagen Porsche and Audi, will be honored as a community hero. Moffitt turned his encounter with cancer into a cause and has spent the ensuing years giving back to support the work of the LSU Health Shreveport team who cured it. In 1998, he was diagnosed with cancer in his gums. While some friends and family encouraged him to seek treatment at MD Anderson or some other big name facility, he decided he should first find out what his options were. He was referred to Dr. G. E. Ghali, chairman of the department of oral and maxillofacial surgery, who is known nationally and internationally for his surgical prowess. The 14- and a-halfhour surgery replacing his lower left jaw bone with a leg bone and formation of a new jawbone was successful, and Moffitt said he never forgot the people at LSU Health Shreveport who helped him – from hospital staff to surgeons.
"They did a real good job," he said, adding Ghali even made a house call to check on him after he was discharged.
Moffitt joined the LSU Health Sciences Foundation board to help further the mission of the health sciences center. He served on the board ten years and for many years, he and his family have been principal sponsors of the foundation's annual fundraising event, providing the impetus for the successful event it has become. Moffitt is an outspoken advocate for LSU Health Shreveport School of Medicine.
"When I joined the foundation staff, Fred was the very first person that I met because I heard he was a vocal advocate and supporter of LSU Health Shreveport," Kevin Flood, executive vice president for development at LSUHSC, said. "Upon meeting him, I immediately found this to be absolutely true. He will proudly tell you of his fight against cancer and how Dr. Ghali and others saved his life. Fred has been an outspoken advocate and generous donor to LSU Health for almost two decades Through is advocacy and support, Fred has not only impacted LSU Health but health care for our entire region. We are proud to honor him as this year's community hero."
Moffitt is also a successful businessman, devoted family man and community leader, having won numerous honors and awards from the organizations he is involved in, including Shriners, Shreveport Symphony, Shreveport-Bossier Military Affairs Council, and the Order of the Holy Sepulcher. In 2010, he was named Outstanding Philanthropist for his work in the community and in 2014, celebrated the 50th anniversary of Volkswagen dealership. He has received numerous honors for his business achievements and service to other community organizations and was named Outstanding Philanthropist in 2010.
Community volunteers Clare and George Nelson are chairs for this year's event. "While we have always been big supporters of the medical center, we are ever more committed to do everything we can to help ensure its success," Clare said. "As parents of a medical student, we have seen from personal experience the wonderful work being done right here in our community to educate the next generation of doctors and health care providers."
Jenny Barish will once again serve as honorary chair. Willis-Knighton Health System is the title sponsor. More than 30 health care professionals from LSU Health Shreveport, CHRISTUS Health Shreveport-Bossier, Willis-Knighton Health System and University Health Shreveport will be honored.
As attendees arrive at 5:30, they will be able to enjoy a cocktail hour featuring piano music provided by a LSUHSC student. Dinner will begin at 7 p.m., and Dr. Robert Barish, chancellor of LSUHSC, will emcee the program.
Last year's event raised over $225,000 to support LSU Health Shreveport. Proceeds from the event help to equip the medical school with state-of-the-art teaching tools like the Anatomage digital dissection table, a 21st century supplement to the traditional anatomy lab. Thanks to funds raised in previous years, students in the School of Allied Health Professions' physical therapy program are using new robotic gait training technology to help patients relearn to walk after a catastrophic accident, stroke or other illness.
Last year's event drew more than 800 to the Shreveport Convention Center. "Because it is so well attended, this event lets us showcase some of our wonderful and talented faculty," Barish said. "Having our schools of medicine, allied health and graduate studies in Shreveport means that community members have access to some of the best specialists because they are not only teaching the next generation of doctors, but also bringing unique health care services that are usually only available with an academic medical center. We recruit faculty from all over the country, and they become part of the fabric of this community."
The help of local Healers
Want to go?
Tickets and sponsorship opportunities are available by calling 861-0855 or go to the foundation website at lsuhsfoundation.org.