| ART/EXHIBITS
THROUGH JULY 28: "INDIGENOUS IMAGES," Artists Bill Bryant, Charlie Viers and Tony McDonald will have their work on display at the Norsworthy Fine Art Gallery, located at 214 Texas St., Shreveport. Gallery hours are 1 to 5:30 p.m. Tuesday through Friday; noon to 4:30 p.m. Saturday, and also by appointment. Call 424-6764.

THROUGH JULY 26: "MASTERWORKS FROM THE INTERNATIONAL GUILD OF REALISM," intended to recognize achievement in realism and resulting in a traveling museum exhibition. R.W. Norton Art Gallery.

JULY 27-31: ROBINSON FILM CENTER COMEDY CAMP, Students grades six through 12 are welcome to use their comedic chops to write and star in a short comedy film. To register, go to bossierarts.org/.wordpress1/summercamps2015/.

THROUGH JULY 31: MARLENE YU'S "THE CRYSTAL REEF SERIES," The final exhibition of the Lucky Sevens. Bossier Art Council's East Bank Gallery.

THROUGH JULY 31: EMERGING ARTIST HANNAH COOPER MCCAULEY, The Bossier Arts Council is proud to host the fantastical artworks of Hannah Cooper McCauley. The Emerging Artist Gallery is a project of the BAC and hours are 11 a.m. to 5 p.m. Tuesday through Saturday. Go to www.bossierarts.org or call 741-8310.

THROUGH JULY 31: ASHLEY WACHAL WORKS, on display in Boomtown Casino's 1800 Prime Steakhouse.

AUG 1-OCT 31: DONALD JOHNSON ARTWORK, Donald Johnson is an oil painter who paints everything from landscapes to abstracts. His work will be available at the East 70th branch of Community Trust Bank inside the lobby from 9 a.m. to 4 p.m.Monday through Friday.

AUG. 1-29: VAUDOUX AND SOUTHERN FOLK LORE: TEMPTING LOVE AND FATE, The artwork at this exhibit will feature southern culture and folklore based on Karen LaBeau and Lynn Laird's personal stories and experiences in the South. Opening reception will be from 3 to 5 p.m. Aug. 1 at the Norsworthy Gallery.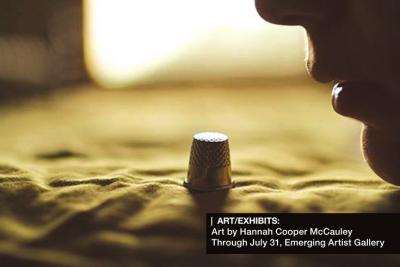 AUG 1-SEPT 30: JIM COPELAND'S ARTWORK, Jim Copeland is the latest artist to be showcased in the Emerging Artist Gallery at the Bossier Art Council, located at 630 Barksdale Blvd., Bossier. An opening reception will be held from 2 to 4 p.m. Aug. 8.

AUG. 1-OCT. 31:ART BY MEGAN DAVIS TAYLOR, The Bossier Arts Council is proud to announce that the artworks of Megan Davis Taylor will be on display at Boomtwon Casino's 1800 Prime Steakhouse. A reception celebrating Davis' work will be Aug. 13. Prime is open from 5 p.m. to 9 p.m. Thursday and Sunday and from 5 p.m. to 10 p.m. Friday and Saturday.

THROUGH AUG. 30: "THE ART OF THE LINE: THE DORE COLLECTION," The R.W. Norton Research Library is proud to present the remarkable draftsmanship of one of the great masters of the print. With illustrations from popular fairy tales, Dante's Inferno, Don Quixote and many more. The library is open from 1 p.m. to 5 p.m. Saturdays and Sundays. R.W. Norton.

THROUGH AUG. 30: "NATURAL LOUISIANA," Photography exhibit by Ronnie Maum, Shelby Townsend and Toni Townsend, in the front lobby of Magale Library on the Centenary College campus. Free and open to the public. Call 869-5047.

FIRST SATURDAY OF THE MONTH: SHREVEPORT WRITERS CLUB, Writers from all stages of life in all genres and styles of writing meet to share their thoughts in written form with other people who love words; guests welcome. Free. 10 a.m. to noon. Bossier Arts Council Annex, 630 Barksdale Blvd., Bossier City.
| BARS/NIGHTLIFE
2JOHNS STEAK & SEAFOOD: 2151 Airline Drive, Bossier City. 841-5646. 5 to 10 p.m. Tuesday through Thursday. 6 to 11 p.m. Friday and Saturday. Drew Ley, Tuesdays and Fridays; Winston Hall, Wednesdays; Winston Hall & Chris Allen "Jazz Night," Thursdays.
BABY HUEY'S ON THE BAYOU: 1709 Sligo Road, Bossier City. 752-9465. You Can Be a Star Karaoke, 9 p.m. to 2 a.m. Fridays.

BEARS ON FAIRFIELD: 1401 Fairfield Ave., Shreveport. 272-1643. Tickets available at Ticketweb.com. Reverend Horton Heat, Aug. 5; of Montreal, Sept. 3.

CHICAGO/THE HOOKAH ROOM: 118 Texas St., Shreveport. 221-0490. Acts are 10 p.m. to 6 a.m. unless otherwise stated. Loco Lounge featuring the best selection of electronic dance music artists in town, Fridays; Floyd Grigsby and the 5GK Band, Saturdays.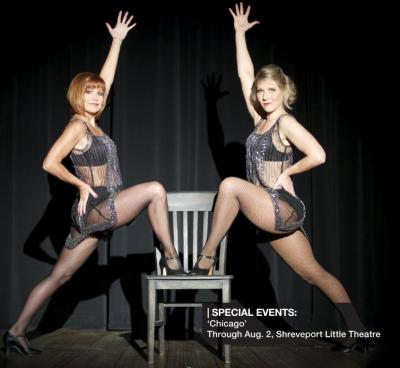 COVE ON CROSS LAKE: 1612 Dilg League Drive (off Lakeshore), Shreveport. 635-0262. 11:30 a.m. to close Monday through Saturday.

EL PORTRILLO MEXICAN RESTAURANT: 6614 Youree Drive, Shreveport. Wayne's FM Karaoke, 6 to 10 p.m. Tuesdays.

FROG'S BREATH SALOON: 1984 Airline Drive, Bossier City. You Can Be a Star Karaoke, 9 p.m. to 1 a.m. Wednesday through Saturday.

FLYING HEART BREWING: located at 700 Barksdale Blvd. in Bossier City and housed in a historic building that was once home to Bossier City's Fire House No. 6. The tasting room is open each Friday and Saturday from 4 to 9 p.m. and tours are available at 3:30 p.m. Tours cost $5 and include a pint at the end of the tour. Guests must be 21 or older.

GREAT RAFT BREWING: located at 1251 Dalzell, Shreveport. Open every Thursday and Friday from 4 to 9 p.m. and Saturday from noon to 9 p.m. Free tours are available at 1 p.m., 2 p.m., and 3 p.m. Saturday.

H&H LOUNGE: 717 Hope St., Shreveport. 424-9297. Good Vibes Night every Wednesday. Drum Circle, 6 to 9 p.m.; VJ-DJ music, 9 p.m. to midnight.

HANGAR 21: 616 Commerce St. Shreveport. 221-0064. Shows start at 10 p.m. unless otherwise stated.

LEE'S: 639 E. Kings Hwy., Shreveport. 861-2151. Acts are 8 p.m. to midnight weekdays, 9 p.m.Fridays and 9:30 p.m. Saturdays. Jerry Beach Blues Jam every Monday night. Seaman & Sands, July 24, Aug. 14, 15; Kandu, July 31, Aug. 1, 8, 22; Lost Boys, July 25; Rex Goliath, Aug. 7; Thunder Mouse, Aug. 21; Funhouse, Aug. 28.

MUDDY WATERS SPORTS BAR: 5000 Benton Road, Bossier City. 741-7635.

NOBLE SAVAGE: 417 Texas St., Shreveport. 221-1781. Open 5 p.m. to 2 a.m. Dirty Redd's Jam Session featuring area artists playing all around good music every Thursday from 8 p.m. to midnight.

RISTORANTE GIUSEPPE: 4800 Line Ave., Shreveport. 869- 4548. Jazziana, 7 p.m. every Friday and Saturday.

SHREVEPORT HOUSE CONCERT SERIES: 1508 Fairfield Ave., Shreveport. 670-3567. Shows begin at 7 p.m.; Eric Taylor, July 26; Raina Rose, Sept. 13. Go to shreveporthouseconcerts.org/.

STRANGE BREW: 235 Wall St., Shreveport.

SUPERIOR GRILL: 6123 Line Ave., Shreveport. 869-3243. Live music on the patio 6:30 to 10:30 p.m.

SUPERIOR'S STEAKHOUSE: 855 Pierremont Road No. 120, Shreveport. 219-4123. 6 to 10 p.m. Kenny Bill Stinson on Wednesdays and Fridays; Haley Brooke on Thursdays; Nathaniel Hooten on Saturdays.

THE BRASS MONKEY: 3104 Youree Drive, Shreveport. 754- 4231. Shows start at 9 p.m.

THE OFFICE: 1303 Shreveport-Barksdale Hwy., Shreveport. 216-3346. Happy hour every day 11 a.m. to 7 p.m. Featuring $2 domestics, $2.50 imports and $6 Patron and Jameson.

THE STAGE AT SILVER STAR: Live entertainment. Gates open at 7 p.m. unless stated otherwise. 1201 Dixie Overland Road, Bossier City. Call 752-3633. Schedule: Sammy Kershaw, July 24; John Conlee, July 31; Jason Boland, Aug. 7; Josh Abbot Band, Aug. 14; Neal McCoy, Aug. 20; Delbert McClinton, Oct. 23.

TIKI BAR: 639 E. Kings Hwy., Shreveport. 868-6355.

TREJOS MEXICAN RESTAURANT: 5795 N. Market, Shreveport. 929-0299. Wayne's FM Karaoke, 6 to 10 p.m. Fridays.
| MUSIC/COMEDY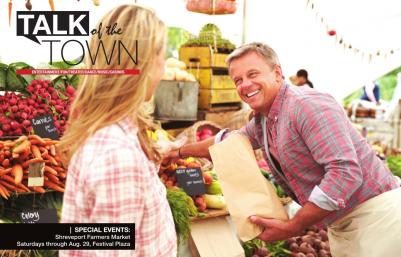 JULY 30-AUG. 8: "JESUS CHRIST SUPERSTAR," Tim Rice and Andrew Lloyd Weber's timeless rock opera tells the story of the last seven days of Jesus through an extraordinary, groundbreaking score. Tickets are $22 for adults, $20 for seniors and $15 for students. Performances are at 7:30 p.m. July 30, 31 and Aug. 1; 3 p.m. Aug. 2; at 7:30 p.m. Aug. 6,7; 2 and 7:30 p.m. Aug. 8. All shows are at Emmett Hook Center, 550 Common St., Shreveport. Call 218-9978 or email stagecenterla@gmail.com.

AUG. 14: "HOTEL CALIFORNIA," Enjoy this dynamic show saluting the music of The Eagles. This show kicks off the Strand's 31st season. 8 p.m. To purchase tickets, call 226-8555.

AUG. 28-30: ARK-LA-TEX MUSIC HERITAGE FESTIVAL, This free festival showcases local music heritage with local and regional talent. There are 50 bands over the three-day festival in the Red River District in Shreveport. Dates and times: 5 to 10 p.m. Aug. 28; 10 a.m. to 10 p.m. Aug. 29; 10 a.m. to 6 p.m. Aug. 30.

SEPT. 25: "RICKY NELSON REMEMBERED," Nelson's twin sons relive the music and memories in their multi-media show featuring hit songs like "Travelin' Man" and "Hello, Mary Lou." Show starts at 8 p.m. Call 226-8555. Strand Theatre.

OCT. 1: GODSMACK, The Grammy Award-nominated, multi-platinum Boston hard rock band will perform at the Shreveport Municipal Memorial Auditorium with special guests, Sevendust. Go to www.godsmack.com for more information and ticket information.
| SPECIAL EVENTS
JULY 23: RUM & TAPAS PAIRINGS, artspace and Republic National Distributing will pair unique rums and tapas created by Chef Steve van Noppen. The event starts at 6:30 p.m. at artspace. Tickets are $45 at the door.

JULY 23-24: A RETREAT FOR REFLECTION AND RENEWAL, This peaceful retreat led by Jodie Goens is for anyone looking to take a break from your busy life and have a quiet, relaxing time away. Choose Thursday from 1 to 4 p.m. or Friday from 9 a.m. to midnight for the retreat held at 2285 Benton Road, Bossier City. The cost is $30. Call 230-3095.

FRIDAYS THROUGH JULY 24: MALL ST. VINCENT SOUTH HIGHLAND SUMMER MARKET, Every Friday from 5 to 9 p.m. under a large tent in the Mall St. Vincent parking lot, the community can enjoy 20 of the area's most talented chefs, gardeners, artists and handcrafters.

JULY 24, 31: BIOLOGY & ART EXPLORATION PROGRAM, The Rainforest Art Foundation introduces this summer program designed for children 3 to 10 years old that focuses on art and science. BAEP takes place at Young Artist Gallery at RAF, located at 710 Travis Street, Shreveport. Parent or guardian is required to be with the child at all times. Admission is free.

JULY 24: CIRQUE DU LAKE, Join the businesses of Lake Street as they celebrate a successful year since opening last year. Friends of The Agora Borealis, iArchitecture, Vintage Design Group, LLC and Bear's on Fairfield will flood the streets for an evening of local music, art and food! The event is from 4 to 8 p.m. at Agora Borealis, 421 Lake Street, Shreveport.

JULY 25: PARKVIEW SCHOOL REUNION, Classes 1900-65 are welcome to join the festivities beginning at 1 p.m. at Lakeview United Methodist Church (formerly Park Avenue Methodist Church). Please bring any school pictures, Caddo Mission, churches and the neighborhood. No alcohol. Hosted by West End Kids. Go to the West End Kids Facebook page for more information.

JULY 28: FRESH AIRE MUSIC SERIES, Fresh Aire hosts and curators Airheart take the stage once again to bring a Beatle tribute to stage. Come celebrate with cash bar, food truck and music from 6 to 8:30 p.m. at Central ARTSTATION. Admission is $10.

JULY 26: BREWS AND CRUISE, Twisted Root Burger, Rotolo's and Marilynn's Place have teamed up to bring Shreveport the first limousine pub crawl benefiting the Cinderella Project. The inaugural Brews and Cruise will begin at 2 p.m. where limos will take participants to each restaurant. and will be rotating from each restaurant in approximately 15-minute intervals until the last drop off at 5:30 p.m. Tickets are $75 and can be purchased at each participating restaurant and at Kings Hardware. Email BrewsandCruise@ gmail.com or go to www.facebook.com/brewsandcruise.

JULY 30: THURSDAY GAME NIGHTS, Turn Thursday's happy hour into a happy evening at artspace with trivia, "Battleship Bingo," and other prize winning games and drinks. The event is free with a cash bar and starts at 6 p.m. at artspace.

JULY 31: BACK TO SCHOOL HEALTHY CHECK UP, CHRISTUS Health Shreveport-Bossier and Sci-Port: Louisiana's Science Center along with the other healthcare and social service agencies partner for this event to ensure children have access to healthcare each year before the school year starts. The event is from 9 a.m. to 1 p.m. at Sci-Port and is an opportunity for children to receive a free checkup by medical professionals. Once each child has completed a checkup and visited four social service agencies, they will receive a new backpack with supplies.

AUG. 1: NEST FEST, The annual fundraiser will feature food, live music, a silent auction and the second annual CHAIRished Beginning Design competition. The event is a fundraiser for the Renesting Project Inc., which helps clients transitioning from homelessness in Shreveport-Bossier and is from 6 to 10 p.m. at the Bossier Civic Center. Tickets are $50 and can be purchased at www.renestingprojectinc.org/nestfest.

AUG. 1: SECOND ANNUAL DIABETES WALK, Join the walk to cure diabetes with this three-mile walk that has something for everyone –a health screenings, healthy snacks, giveaways and other activities. Registrations begins at 8 a.m. and the walk/run starts at 9 a.m. at the Bill Cockrell Recreation Center, located at 4109 Pines Rd. Contact Noble Richard Ball at 402-8420.

AUG. 1: BOSSIER cITY FARMERS MARKET, Supporting all local business in the Bossier City, Shreveport and surrounding northern Louisiana areas, this farmers market will be held from 9 a.m. to 3 p.m. every Saturday from Aug. 1-Dec. 19 in the Pierre Bossier Mall parking lot.
AUG. 3: AMERICAN JUNIOR GOLF ASSOCIATION/ SHREVEPORT-BOSSIER SPORTS COMMISSION/ DAVID TOMS FOUNDATION GOLF TOURNAMENT, You and your three-person team will join a AJGA junior player, allowing you to play a competitive round of golf with one of the future stars of the game. Tournament hosted by Southern Trace Country Club. Schedule of events include 6:30 a.m. driving range opens; 6:30 to 7:45 a.m. registration and breakfast; 8 a.m. shotgun start; 1 p.m. lunch and awards. Email dneslon@ajga.org.

AUG. 3-7, 10-17: GSK SCIENCE IN THE SUMMER, The courses will use the GSK Science in the Summer chemistry curriculum. The course is targeted at students entering second through sixth grades and is led by science educators. The national GSK Science in the Summer program will teach students the basics of chemistry through hands-on experiments. Sci-Port: Louisiana's Science Center. Go to www.scienceinthesummer.com.

AUG. 6: URBAN CENTURY – AMERICA'S RETURN TO MAIN STREET, The Downtown Development Authority brings this film that looks at the revitalization of several downtowns as examples of how places from the past could be the key to the future. The film begins at 5:30 p.m. at Robinson Film Center, 617 Texas St.

AUG. 8: CUMULUS BACK TO SCHOOL C.R.A.S.H., Cumulus Broadcasting will host a back to school event with spacewalks, food, fun, games and contests. The Cumulus Reaching Area Students and Heroes (C.R.A.S.H.) will help kids get ready for the new school year by providing free haircuts, styles and braids; limited edition backpacks provided by Dudley DeBosier Injury Lawyers, and more. The event is from 10 a.m. to 2 p.m. in the Heart of Bossier Shopping Center. Call 318-549-8561.

AUG. 8: ARK-LA-TEX GENEALOGICAL ASSOCIATION'S ANNUAL SEMINAR AND BOOK FAIR, Charles Gardes, professional genealogist, will lecture on a variety of topics regarding geneaology in addition to Barnes & Noble special selection of genealology and history books.The seminar is from 9 a.m. to 3:30 p.m. at the Broadmoor United Methodist Church (Pearce Hall), 3715 Youree Drive, Shreveport. Due to limited seating, advance registration recommended. Registration fee is $40 and includes lunch if pre-registered. Go to www.rootsweb.ancestry.com/~laaltga/ or contact Jim Johnson at 746-1851 or email jjohnson747@suddenlink.net.

SATURDAYS IN JULY: FAMILY FUN HANDS ON ACTIVITIES DAYS, Bring the entire family to artspace for hands on art activities led by area artists. Conjure the Red with projects using mud from the river. Every Saturday in July from 12:30 to 2:30 p.m. at artspace. Cost is $15 per child.

SATURDAYS THROUGH AUG. 29: SHREVEPORT FARMERS MARKET, with 140 booths of locally grown produce, meat, honey, plants, artisan food products and Market Cafe. The farmers market takes place in Festival Plaza at 101 Crockett St. from Market Street to Commerce Street. Saturday markets take place from 7 a.m. to noon through Aug. 29.

SUMMER CONCERTS EVERY SUNDAY THROUGH AUG. 30, Shopping and music come together during this summer concert series at King's Antique Mall, located at 133 Kings Hwy. Every Sunday a local artist will perform a free concert to patrons from 2 to 6 p.m. Store hours on Sundays are noon to 6 p.m.
| THEATER/PERFORMANCE
JULY 24-26, 31 AUG. 1, 2: BPCC'S PRODUCTION OF "THE TURN OF THE SCREW," Join the Bossier Parish Community College Theatre Program and Cavalier Players for their final production of the season. Adapted by Jeffrey Hatcher, this show is based on the Henry James' novel. Performances begin at 7:30 p.m. for the July 24, 25, 31, and Aug. 1 shows, and at 2 p.m. for July 26 and Aug. 2 shows. All performances are held in the Performing Arts Theatre, Building C on the BPCC campus, 6220 East Texas St., Bossier City. Call the Box Office at 678-6021.

THROUGH AUG. 2: "CHICAGO," presented by Shreveport Little Theatre. Show starts at 8 p.m. except Sunday shows that start at 2 p.m. Tickets are $25 and are on sale now. Call 424-4439 or go to shreveportlittletheatre.com.