The Ultimate Elvis Tribute Show Oct. 30, Paradise Theater
DIAMOND JACKS CASINO & RESORT: 711 DiamondJacks Blvd., Bossier City. 678-7777. New members receive up to a $100 refund in the mail. Mail offer based on play. See Rewards Club for details. Restrictions apply. Come in on your birthday, swipe your Rewards Club card and receive a present from us! $90,000 Open Season Giveaway. Cash and JackPlay drawings every Friday and Saturday; 7 to 10 p.m. Five winners will take home a hunting/seasonal prize every Saturday at 11 p.m. Win one of two 2016 Yamaha Wolverines side by side Saturday, Oct. 31 at 11 p.m. 10X Entries every Monday towards weekend drawings! Mystery Point Multiplier is every Sunday win up to 10X points. Get more cash and JackPlay at the game. Pumpkin Picks Tuesdays with a guaranteed winner with every spin from 10 a.m. to 8 p.m. Lots of free play, free hotel and more with 10 slot points. Halloween Hot Seat Wednesdays. Be in the right seat at the right time and win up to $250 cash! Drawing Entry Multiplier Thursday with 5x Chairman, 3X Platinum, 2X Gold. 10X points every Friday 8 to 10 p.m. Get more cash & JackPlay at the game! Take Your Chances Game Show is coming Nov. 13 and 14 with free admission with Rewards Club card! Celebrate Columbus Day with a cruise giveaway Oct. 9-12. Swipe at MACK 10 a.m to 8 p.m. with 10 slot points. Three swipes per day.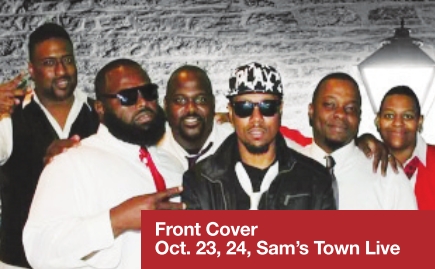 LEGENDS BUFFET: 50 percent off every Monday and Tuesday for guests 50 years or older. Salute to our troops with 25 percent off every day; must have military ID (active or retired). Columbus Day Buffet, from 11 a.m. to 9 p.m., Oct. 12, $9.99.

AGAVE: Happy Hour every day 5 to 7 p.m. Two for one well, wine and draft. All shows are 10 p.m. to 1 a.m. Keith Horton Band, Oct. 2,3; The Pack, Oct. 9,10; Legato Stone, Oct. 16, 17; Flashback 5, Oct. 23, 24; Side FX, Oct. 30. Halloween Party in Agave featuring Side FX, from 10 p.m. to 1 a.m., Oct. 31 with $2 bottled beer and a $100 costume contest. Watch your favorite pro or SEC football game every Saturday, Sunday and Monday. Free popcorn, food specials, $2 draft, $12 pitchers.
ELDORADO RESORT CASINO: 451 Clyde Fant Pkwy., Shreveport. 877-602-0711.

THEME NIGHTS IN ALLURE AND CELEBRITY LOUNGE: Featuring live music Tuesday through Saturday. Enjoy two for one drinks 5 p.m. to 7 p.m. every night in Celebrity. Flashback Fridays every Friday night.
PIGSKIN PAYDAY: Football and cash in Celebrity Lounge. Every time the Saints, Cowboys or LSU scores a touchdown, we give away $100 cash. You could also win a pair of tickets to select Saints and Cowboys home games! Domestic buckets are $12; import buckets are $15. Enjoy sliders, hot wings, and loaded nachos with purchase of any beer bucket during the following times: 11 a.m. to 5 p.m. Saturday and Sunday; 6:30 to 9 p.m. Monday and Thursday.

THE NOODLE BAR INSIDE SPORTSMAN'S PARADISE CAFÉ: Egg rolls, noodles, pho and other amazing Vietnamese delicacies. Open 5 p.m. to 1 a.m. Monday and Thursday; 5 p.m. to 2 a.m. Friday and Saturday; 2 p.m. to 10 p.m. Sunday; Closed Tuesday and Wednesday.

CELEBRITY LOUNGE: Joe Nadeau Band, 8 p.m., Sept. 30.
MARGARITAVILLE RESORT CASINO: 777 Margaritaville Way, Bossier City. 855-346-2489.

PARADISE THEATER: Charlie Daniels Band, Oct. 10.; The Ultimate Elvis Tribute Show, Oct. 30; Morris Day, Nov. 14; Hypnaughty, Nov. 26, 27, 28; Kathleen Madigan, Dec. 12. All tickets are available at the Margaritaville retail store and all Ticketmaster outlets.
SAM'S TOWN HOTEL & CASINO: 315 Clyde Fant Parkway, Shreveport. 424-5609. For more details, go to samstownshreveport.com. $100K Hot Seats – Fridays and Saturdays in October from 5 to 11 p.m. One guest will be selected every 15 minutes to win $400 cash! No play required, just insert your card at any slot or video poker machine, or give your card to a table games dealer, and you will be eligible to be randomly selected as the hot seat winner. 10X Points – from 10 a.m. to 10 p.m. Sundays in October. A 10x point multiplier will be available on Sundays in October! Play with your B Connected card on any slots or table games. Points earned on video poker are not valid for the promotion. 100,000 point cap for slot and table game play. Pigskin Party – Mondays in October starting at 7:30 p.m. Receive an entry into the Pigskin Party giveaway for each score change during Monday's football game while playing table games with your B Connected card. Six lucky guests will win $250 in gaming chips at half-time and at the end of the game. Earn and Play Slot Tournament – Wednesdays in October from 1 to 7 p.m. Gain entry into the Earn and Play Slot Tournament every Wednesday in October by earning 1,500, 3,000 and 6,000 points. First place in each round will win $50 slot dollars, and second place will win $20 Slot Dollars. The highest scorer from each hour will win an additional $50 slot dollars. Bonus: Players 50 plus receive one complimentary round by simply swiping at a kiosk for a total of four rounds available to play per day. Jackpot Bonus – Thursdays in October from 6 a.m. to 10 p.m.Only on $1 or more slot machines, get a jackpot bonus on Thursdays in October!

SAM'S TOWN LIVE: Professor Pork Chop and the Dishes, 7 to 11 p.m., Oct. 1, 8, 15, 22, 29; Lady Chazz and the Tramps, 6 to 9:30 p.m., Oct. 2, 3; Elegant Few 10 p.m. to 2 a.m., Oct. 2, 3; Flash Back 5, 6 to 9:30 p.m. Oct. 9; Trig County, 10 p.m. to 2 a.m., Oct. 9, 10; Football – LSU vs. South Carolina, Oct. 10; Ambush, 6 to 9:30 p.m., Oct. 16; Caravan, 10 p.m. to 2 a.m., Oct. 16, 17; Football LSU vs. Florida, Oct. 17; Wizards of Voz, 6 to 9:30 p.m., Oct. 23, 24; Front Cover, 10 p.m. to 2 a.m., Oct. 23, 24; Legato Stone, 6 to 9:30 p.m., Oct. 30, 31; Vegas Stars, 10 p.m. to 2 a.m., Oct. 30, 31.
HORSESHOE CASINO & HOTEL: 711 Horseshoe Blvd. Bossier City. 800-895-0711.

DARE POOL: Admission is $10. Pool hours are 11 a.m. to 10 p.m. daily. Concert tickets available online through Ticketmaster.com. Private cabanas and day beds are available for rent. Contact Jennifer Hall 741-7810 or at jhall2@caesars.com for pricing and availability.

WHISKEY ROADHOUSE: Hours are 6 p.m. to midnight Sunday through Thursday and 4 p.m. to 2 a.m. Friday and Saturday. Tuesdays Karaoke with DJ Reno.