Local star lights up the sky with her delectable cuisine
The Shreveport Downtown Airport is getting a new addition. On Cloud 9 Café, 1550 Airport Drive, is scheduled to open Aug. 15 at 7 a.m.
Owned by Tina Marie Palmisano, wife of Chef Ernest Palmisano of Ernest's Orleans Restaurant and Cocktail Lounge, and the former owner of Jester's food truck, On Cloud 9 will offer a variety of food for every palate.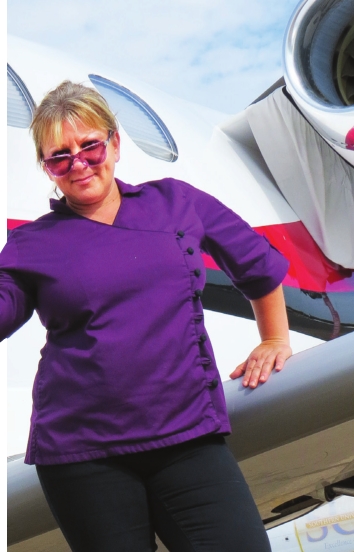 "We will serve a variety of French, Greek, Mediterranean, Italian, Creole and Latin cuisine with some good old downhome soul food and seafood," Tina Marie said.
There will also be a variety of coffee, espresso, Italian sodas, fresh teas and specialty waters available.
"We'll have sodas but will focus on freshness and organics in our beverages," Tina Marie said.
"The definition of Cloud 9 is a perfect state of happiness, euphoria or complete satisfaction," Tina Marie said. "It was the right name and the right time to fly with the eagles, or in this case, fly with the planes at our beautiful Shreveport Downtown Airport!" Those catching an early flight will have multiple choices for breakfast – from beignets, crepes, waffles, omelets, to local jams and jellies – before hopping on a plane.
Lunch options will include pasta, flatbread personal pizzas, turkey cobb melts, paninis, poboys, Philly cheesesteaks, burgers, gyros, Cajun Dawgs and veggie melts, to name a few. There will also be a variety of globally infused-themed daily and weekly specials.
"We'll carry our very famous 'Hot Tamale Tina' brand traditional and specialty tamales, as well," Tina Marie said.
There will also be an in-house pastry, cake and pie-maker on hand.
"We really hope to change the menu quarterly to keep it fresh and moving," Tina Marie said. "We're also looking to potentially include special house-baked treats for the furry members of the family."
Henry Thompson, director of airports for the Shreveport Airport Authority, looks forward to the new restaurant.
"Shreveport Downtown Airport is the region's original airport, dating back 87 years to 1929 as one of Delta Air Lines' original destinations," Thompson said.
"DTN is the largest general aviation airport in the state with more than 355 aircraft based there.
We hope that the new restaurant opening will bring people to DTN that have never been before or may not have even known that DTN existed."
"Shreveport is so rich in culture," Tina Marie said. "I support our culture and our community, our agreements and disagreements, and even our 'alikes and not-alikes' with each other because I know at the end of the day, I have never seen our community disagree on delicious food and the wonderful conversations shared when eating food cooked from the heart."

On Cloud 9 will eventually offer a beautiful patio area. "With a name like Cloud 9, we will have Wifi for you to come and sit on the patio in the fall, have a nice cup of coffee and finish that presentation on your laptop while enjoying some awesome housemade pastries and pies," Tina Marie said.
"We're always looking to improve the customer experience at both airports, and the new Cloud 9 Cafe will certainly do that at DTN," Thompson said. "In addition to serving breakfast, lunch and eventually dinner and brunch, Cloud 9 will offer catering services, as well as to-go food orders. The cafe will also be available to rent for parties, special occasions and business meetings, which will be a great new amenity offered at DTN."
"I look forward to helping the community discover what's going on at our beautiful downtown airport," Tina Marie said. "I feel that I can share my heart, my food, Shreveport's aviation history, our culture and good conversation right there at the airport."
The café, located at the Shreveport Downtown Airport at 1550 Airport Drive, will be open from 7 a.m. to 3 p.m. Monday through Friday and from 8 a.m. to 2 p.m. on Saturday.
Keep up with On Cloud 9 on their Facebook page, Cloud 9 Café.