Fully Stacked Bar & Grill
Stacked fries and cheese logs and pizza burgers, oh, my!
What:
Cheese Logs. These are no ordinary cheese sticks. These are massive, handcut logs of cheese, which are then fried to become golden, crispy and delicious. We tried the provolone and pepper jack logs. Both were superb!
The BaconFest Burger: the burger patty is 65 percent certified Angus beef and 35 percent ground bacon, topped with a fried egg, pepperjack cheese, mayonnaise and more bacon. This is a bacon burger like none other. Did you see where I mentioned there's actually bacon in the burger patty?
Pizza Burger: No bun here. This burger starts off with two 4-ounce patties, a slice of mozzarella cheese in the middle and pizza sauce, wrapped up inside pizza dough, topped with more cheese and pepperoni. If you love burgers and if you love pizza (and who doesn't?), this burger was made especially for you. Bacon Cheese Fries: crispy french fries, topped with a generous serving of melted cheese and bacon. These go along perfectly with one of the burgers on the menu or as an appetizer. Stacked Fries: the bacon cheese fries with warm chili poured all over them. Cheese, bacon, chili on wedge fries. Have your fork ready to eat these and some napkins.
Next:
The Pizza. If their pizza is half as good as the Pizza Burger, I'll never order from Pizza Hut again.
Dessert:
The Cheesemonger – deep-fried pastry with a cheesecake filling and a choice of chocolate or strawberry drizzle, topped with whipped cream and a cherry.
Popular: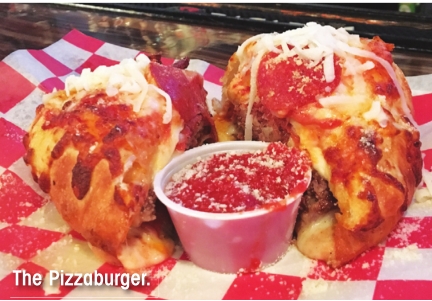 All-American Classic Cheese Burger: American cheese, bacon, lettuce, tomato, grilled onions, pickles and mayonnaise. How could you go wrong with this?
Vibe:
A relaxed, casual place to watch college football games this fall and enjoy a gourmet burger, with a happy hour that lasts 10:30 a.m. - 7 p.m.
Fun Fact:
The third Thursday of each month is Theme Night. This month's theme: The '80s. They'll offer costume prizes and drink specials, but check their Facebook page for more details. They also host a special event, Barks and Brews, where you can bring your dog to the Fully Stacked patio. There will be special dog-friendly treats and a photo contest. More details will be on their Facebook page.
Cost:
Appetizers start at $6.99 Salads start at $6.99 Burgers start at $10.95 Pizzas start at $10 – Mark Crawford
450 Clyde Fant Parkway in downtown Shreveport 318-517-6225 Web site: fullystackedshreveport.com 7 a.m.-2 p.m. Sun. • 10:30 a.m.-2 a.m. Mon.-Wed. 10:30 a.m.-4 a.m. Thurs. • 10:30 a.m. - 6 a.m. Fri. & Sat.