Academic medical center remains committed to the community
Thank you to the concerned citizens who continue to inquire about the "state of LSU Health Shreveport."
Your support is deeply appreciated and very meaningful to me and our dedicated employees. The faculty and staff work tirelessly to support LSU Health Shreveport's mission to provide patient care, education and research. I would be remiss if I did not publicly commend our employees whose "can do" attitude has remained strong in the midst of hiring freezes, suspended raises and other significant structural changes.
Several key facets make up LSU Health Shreveport:
• The School of Medicine

• The School of Allied Health Professions

• The School of Graduate Studies (PhD program)
• Graduate Medical Education (GME), the accredited training program for residents and fellows
• Research Our primary teaching hospital has been University Health since October 2013, when Gov. Bobby Jindal mandated the privatization of all public hospitals in Louisiana. Locally, we also have agreements with CHRISTUS Health, Willis-Knighton Health System, Overton Brooks VA Medical Center and Shriners Hospital for Children, allowing us to provide clinical services and broaden the scope of our medical education.
These are very challenging, yet exciting times, as we move to a new financial model. This model is essential if we are to continue as one of only 140 academic medical centers in the United States, most of which are located in cities much larger than Shreveport. Even though we are battered financially by the continued cuts in state general funds and the cost of privatizing our former teaching hospitals in Shreveport and Monroe that once provided the annual revenue to sustain our three schools, we remain steadfast in our commitment to:
• Continue serving the basic as well as the most complex healthcare needs of our community.
• Provide an outstanding educational experience for health-care professionals.
• Conduct meaningful research that addresses the most chronic and debilitating diseases, such as cardiovascular disease, diabetes, Alzheimer's, Parkinson's, ALS, addiction, and the list goes on.
Offering support through advocacy Many of you continue to ask, "What can we do to insure a strong and sustainable LSU Health Shreveport?" My answer is to advocate. If you are sincere in this request, I urge you to contact your legislators and let them know how important it is to you as a constituent for them to support LSU Health Shreveport. More than 70 percent of area physicians received training at our institution. We have a $2.9 billion impact in north Louisiana. Our physicians are performing cutting edge medical treatments, such as the first dissolvable stent procedure in Louisiana, along with numerous clinical trials. We are worthy of your support.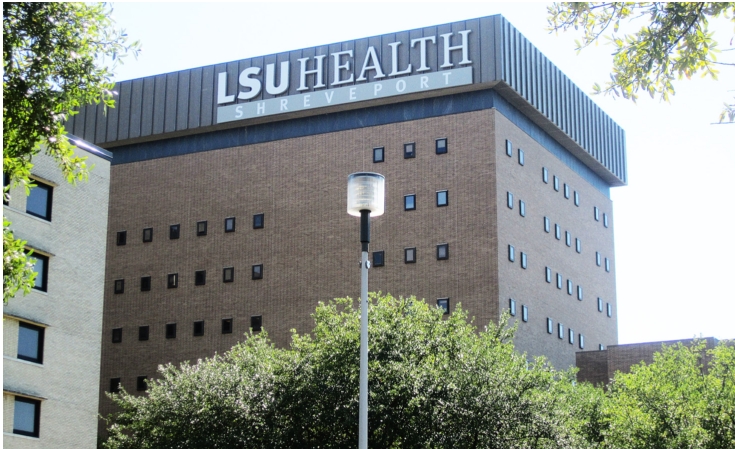 Getting back on track through Accountability, Collaboration, Transparency (ACT) You can be confident in knowing that we are doing our part to strengthen our financial state of affairs by:
• Increasing our management focus on efficiency in operations and in our services/programs to include missionbased budgeting.
• Seeking new clinical partners and expansion with current partners as a method to increase clinical revenue.
• Rebuilding medical leadership through creative strategies.
• Increasing out-of-state admissions in our School of Medicine to 10 percent, yielding more tuition dollars.
As chancellor, it is my responsibility to protect the educational interests of our students, residents and fellows, as well as to safeguard the quality and access to care for patients in north Louisiana. My goal is to see LSU Health Shreveport thrive, not just survive, but to do this, I need your help. Please continue to advocate for our Health Sciences Center by staying abreast of the issues and informing others, including elected state officials, of your support for our institution.
Dr. G. E. Ghali DDS MD FACS (Ed) is a professor and chairman of the Department of Oral & Maxillofacial Surgery at LSU Health Shreveport Health Sciences Center where he holds the Jack W. Gamble Chair in Oral & Maxillofacial Surgery and is director of the cleft and craniofacial surgery fellowship program. Ghali is the chancellor and dean of LSU Health Shreveport.