HEALTHY DOSE OF INFORMATION
CORBIN JOINS HANDS
WITH ALWAYS BEST CARE Michael Corbin of Helping Hand Technologies, LLC, has affi liated with Always Best Care – Shreveport.
Helping Hand Technologies, LLC, is exclusively licensed by Pennington Biomedical Research Center to market TK3, a web-based assessment and reporting tool designed to monitor changes in cognition, mood and mobility. TK3 is utilized to assist family members and physicians with care planning and proper placement of loved ones in independent and assisted living campuses. TK3 is also a useful tool for anyone who may have a concern or family history of cognitive disease.
Always Best Care will offer TK3 along with their existing services which include: part-time to live-in caregiver and sitter service, placement assistance in assisted living facilities and new mom post-birth assistance.
Always Best Care is located at 4700 Line Ave., Suite 111, Shreveport, LA, 424-5300.
• • •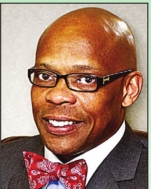 CADA RECEIVES THREE- YEAR ACCREDITATION The Council on Alcoholism and Drug Abuse (CADA) received a three-year accreditation, the highest possible from the Commission on Accreditation of Rehabilitation Facilities (CARF) in December.
CADA is a non-profi t organization that offers substance abuse treatment regardless of an individual's ability to pay.
A CARF team of industry peers conducted an on-site survey of CADA, including interviews with staff, clients and client families. CADA was surveyed on its commitment to offering programs and services that are measurable, accountable and of the highest quality.
According to CADA Executive Director Bill Rose, CADA met over 1,400 standards to receive this certification.
CADA operates four facilities in the Shreveport- Bossier area and is the sole provider of services to those who lack resources for treatment. Visit www. cadanwla.org for more information.