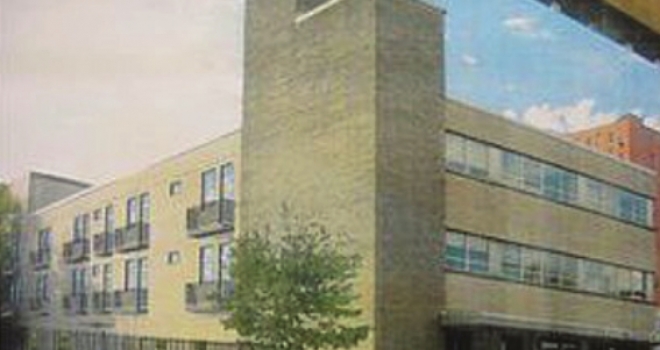 New purpose for Shreveport Commons mainstay
The Southern Bell, located at 627 Crockett in the Shreveport Common Art & Culture District, is being beautifully and respectfully restored by Bearing Service Properties, LLC.
"The property will be mixed-use, with 12 apartments, rentable office space with conference room and kitchenette, and a fully equipped restaurant space with a pub and public and private dining rooms. There's a fully equipped fitness room with Aqua Massage and a roof-top endless pool/spa with a lounge space for tenants," said BSP president Scott Harkey.
A two-bedroom penthouse will overlook the historic Strand Theater. Other living options are four one-bedroom, six twobedroom and one three-bedroom apartments.
The three-bedroom and penthouse are a spacious 1,860 sqare feet, while the other apartments range from 800 to 1,330 square feet. Tenants can have up to two pets, as long as they weigh 16 pounds or less.
"This building was constructed by Bell Telephone Co. as their headquarters here in Shreveport in the 1950s," Harkey said, who has worked with architect Kevin Bryan and general contractor Ralph Whitley Builders to restore some of the original features.
"The pay windows are still in place in the pub area, and we plan on repurposing them as the back bar and counter," said Harkey. The use of energy-efficient materials and modern design techniques bring the property into the 21st century.
"There are several green features to the design, from a repurposed turf roof covering with garden space, to solar electric generation and heated water for the pool and common areas," said Harkey.
"The front facade will remain the same, as will the west side of the building, except for the new Low-E thermal windows and Hunter Douglas Applause™ window shades," said Harkey. Modern aluminum and stainless steel balconies will be located on the east side of the building.
"We are consulting with Jon Whitehead, a LEED AP with Planet Aqua Group, the people building the Shreveport Aquarium, to make our building more LEED compliant. Right now there are only two LEED compliant buildings in Shreveport," said Harkey. "We hope that through the use of solar energy, reclaimed construction materials, high efficiency HVAC systems, and our rainwater collection system with bioswale, we will become one as well."